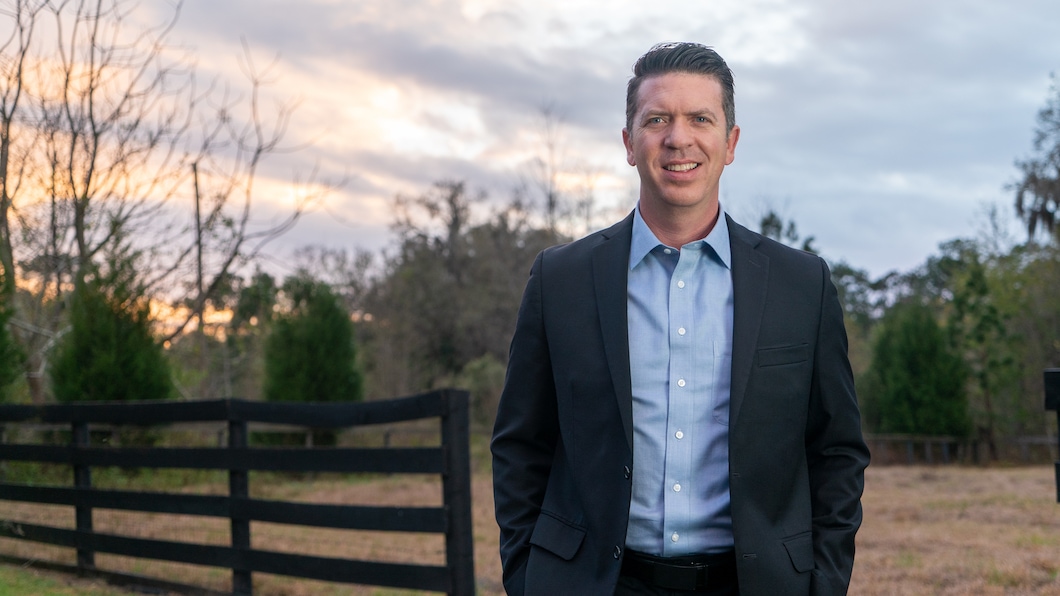 That means he will most likely succeed former Rep. Joe Harding.
Conservative author Ryan Chamberlin secured the Republican nomination for an open seat representing House District 24. The former congressional candidate came out on top in a five-Republican field running in a March 7 Primary.
The Belleview Republican received almost 36% of the vote, according to unofficial results from the Marion County Supervisor of Elections. He bested local businessman Jose Juarez's 26%, former Rep. Charlie Stone's 22%, physician Stephen Pyles' 8% and Soil and Water Conservation Commissioner Justin Albright's 8%.
After winning the Primary, the newly minted Republican nominee becomes the most likely successor to former Rep. Joe Harding.
"I'm extremely honored to be the Republican nominee for District 24 and am looking forward to the next step in this election cycle," Chamberlin posted on social media. "I congratulate my fellow opponents in a hard fought race, in which we debated the issues and submitted ourselves to the voters for the final decision. It's now time to come together for the good of our community and our movement. I'm always eager to work with those who embrace a conservative agenda for our county, state, and nation."
Chamberlin runs the True Patriot Network, which describes itself as "a no judgment, free speech, uncensored social media company that replaces big tech and allows individuals from all sides to share their true passions, feelings, and lives."
Though Harding won election unopposed to a second House term in 2022, federal prosecutors in December indicted the Ocala Republican for wire fraud and other charges stemming from a pandemic business loan. That prompted Harding's resignation.
That created a rush in the heavily Republican seat.
Stone, a veteran of Tallahassee, ultimately proved to be a prolific fundraiser. He pulled in $140,887 in donations to his campaign, and also put a $50,000 candidate loan in the pot. He spent a total of $178,541 before March 2, running in a district that included much of the jurisdiction he represented from 2012 to 2020.
Meanwhile, Chamberlin and Juarez ran as political outsiders. Chamberlin raised $70,935 and tossed in a $75,000 candidate loan. He burned through $81,053 of his cash before the end of the last financial reporting period.
Juarez pulled in $54,700 on top of $20,000 out of pocket. He appears to have saved his powder through the end of the race, having reported only $2,504 in spending as of March 2.
Albright, who enjoyed some name recognition courtesy of family already holding office in Marion County, reported spending $28,530 before the last financial reporting period. Most of that was covered by a $21,000 candidate loan but he also reported $8,125 in outside donations.
Pyles, who polling showed to be a nonfactor, raised $15,630 and tossed in a $60,000 candidate loan, and spent $60,243 before March 2.
The Republican nominee technically now advances to a May 16 Special Election, but no Democrats qualified for the seat. The Primary was closed to only registered Republican voters because write-in candidate Robert "Foxy" Fox qualified. Fox told Florida Politics he did that largely because he wanted the Primary closed, and he was considering dropping out before the General Election.
"We do have an opponent," Chamberlin told the Ocala Star-Banner, referencing the write-in candidate. "We're going to be focused and take this right to the end."
Regardless, the winner of the GOP nomination almost surely will fill Harding's House seat. The only remaining question is when the state will certify him as the winner.
The election notably took place during the first day of the 2023 Legislative Session. That means the candidate who fills Harding's seat could serve at least part of the Session this year but will be limited as far as filing bills and other tasks.
But elected as a redshirt freshman, he will have the opportunity to serve in as many as 10 Regular Sessions before term limits kick in.