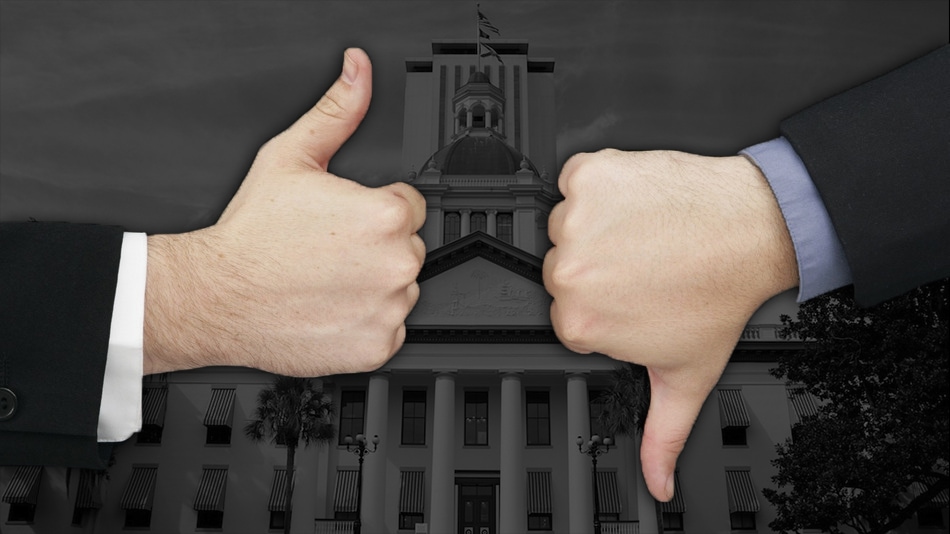 Duval dominates this week's edition.
Did Duval display hope for Democrats in Florida 2024?
After several major wins Tuesday night (much, much more on that later), state and national Democrats have to be wondering whether Florida could be in play after all in 2024.
First, a note of caution though. It's common to overstate the impact of a single local or state-level off-year contest on the next major election cycle. One major recent example of this: Virginia Gov. Glenn Youngkin's win in 2021 spawned breathless articles about how the GOP could use his blueprint to have success in 2022. Apart from Florida, the 2022 red wave ended up being a flop.
So Democrats would be wise to wait for more data points in the state before seriously ramping up resources for 2024.
Having said that …
We've spotlighted Democrats' reticence in the past to invest big in Florida in 2024. Others, while aware of recent GOP successes, have argued Florida is not off the table for President Joe Biden in his re-election bid.
But whatever the national party's current thinking is about 2024, Democrats should be at least open to the idea that Florida could be worth spending some significant cash, even if it's less than other areas currently seen as swing states such as Arizona, Georgia and Pennsylvania.
That doesn't mean they should act like it's 2000 all over again. Gov. Ron DeSantis won the state by 20 points. We've said before that Florida is not likely a permanent R+20 state. At the same time, parties don't usually win by 20 points in swing states either.
But if the thinking now is that Florida may be somewhere around an R+7 or R+8 state, maybe a few more results like the ones seen in Duval could show it's closer to an R+4 or R+5 state? And at that point, anything can happen. Even if Biden doesn't win, maybe some significant investment will help some down ballot congressional or state legislative candidates come out on top.
One place Democrats will be looking: the impending Special Election in House District 35 after Rep. Fred Hawkins announced his decision to resign. It's an area Biden won by 7 points in 2020, but which Hawkins carried by 10 points in 2022. If HD 35 starts looking more like it did in 2020, maybe that's a sign the rest of the state is shifting away from its ruby red hue seen last cycle.
Now, it's on to our weekly game of winners and losers.
Winners
Honorable mention: Ryan Chamberlin. Before we get to the Duval races, Chamberlin gets a shout out for closing the deal in the House District 24 Special Election.
Chamberlin all but locked up the seat with a win in the GOP Primary. On Tuesday, he made it official, defeating write-in candidate Robert "Foxy" Fox with nearly 80% of the vote.
"There's work to be done," Chamberlin told Florida Politics, "and I'm excited to help with that."
Chamberlin succeeds former Rep. Joe Harding in the Marion County seat. Harding, you'll recall, was forced to resign in disgrace after being accused of securing fraudulent COVID-19 loans. He has since pleaded guilty to those charges.
So, as Chamberlin takes over the seat, he has a low bar to bring more dignity to that seat in the years ahead.
Almost (but not quite) the biggest winner: Florida Democrats. Nikki Fried passed her first major test as Chair of the Florida Democratic Party (FDP), as Democrat Donna Deegan won Tuesday's race to become the next Jacksonville Mayor.
Not only that, but Democrat Joyce Morgan also won the Duval County Property Appraiser's contest, giving Democrats two marquee municipal wins.
"Tonight's election victories are the result of amazing Democratic candidates and the hard work and dedication of the staffers and the volunteers who canvassed, phone-banked, and ensured that no voter was left behind," Fried said following the results.
The FDP has been a routine punching bag in the state as Republicans have strengthened their grip on the state bit by bit over the past several election cycles. So to pull off a win in a major mayoral contest like in Jacksonville, and tack onto it a win in a countywide contest in Duval, has to be a relief.
In discussing Fried's late decision to enter the race for FDP Chair, we mentioned that the expectations were so low, perhaps Fried decided there was only upside in taking the gig. Getting a win in her first major contest after winning the Chair position certainly lets Democrats formulate a winning narrative, even if more wins are needed to truly show the tides have shifted.
Nevertheless, Democrats are certainly feeling a lot better than they would have in a narrow defeat. They'll now be tasked with building on this going forward in an attempt to make Florida competitive again.
The biggest winner: Deegan. Of course, you don't win without good candidates. And Deegan deserves the bulk of the credit for notching the win Tuesday night.
The 4-point win also made history, as Deegan becomes the first woman Mayor in Jacksonville's history.
"We made history tonight. It's a brand new day," Deegan said. "I wanted to win this race for the people of Jacksonville. I wanted love to win."
The longtime TV anchor becomes just the second Democratic Mayor of Jacksonville in the last 30 years, following Alvin Brown's tenure from 2011-2015. While that's not too long ago, Democrats didn't even bother fielding a mayoral candidate in 2019, the last time the race was on the ballot.
To turn around so quickly and win the contest shows Deegan's political chops. Not only that, she defeated a far better funded candidate in Republican Daniel Davis.
Deegan's win brings an end to Republicans' reign in the city, and she'll likely be brought on by the party to help out in other tough races when appropriate. In other words, Deegan will be getting a lot of attention the next few years, and not just because she's leading the state's largest city.
Losers
Dishonorable mention: Christian Ziegler. Tuesday's elections were also the first big test for the new head of the Florida Republican Party, and Ziegler flopped.
And look, all this could turn around in future elections. Maybe Tuesday was a one-off, and Republicans will quickly rebound. But these big race results showed Republicans were, without a doubt, on the losing end this week. A few City Council wins aren't going to paper that over.
Ziegler, who has leaned into a brash, confrontational persona on social media, especially stepped in it with remarks the morning of the Jacksonville mayoral election.
Ziegler responded to a post about an article titled, "Is Donna Deegan the next great hope of Florida Democrats?" His take?
"After today, she will be just another failed Democrat candidate … putting her on a path to be the next Chairman of the (FDP)."
Responding to a post on that thread, Ziegler added this gem: "We defeat their candidates, then they revive them to serve as State Chairman."
Not exactly!
If you want to dish it out, you need to learn to take it. Ziegler not only failed in his role as political prognosticator, but he was the party leader in charge of bringing these wins home. He failed there too.
This isn't a permanent knock on his tenure. One local election night isn't the be-all and end-all. But it's certainly not the start he was hoping for.
Almost (but not quite) the biggest loser: Jason Fischer. The former House member kept his race for Duval County Property Appraiser closer than the Jacksonville mayoral contest, losing to his Democratic opponent, Morgan, by about 1.4 points.
But a loss is a loss. And Fischer could not get over the hump despite support from Gov. DeSantis and an expected regional edge for Republicans.
Fischer can't argue the loss was due to lack of resources either. His campaign count alone brought in nearly $10,000 more than Morgan's, as Fischer held a $96,563 to $87,490 edge. But Fischer also relied on political committees to expand his war chest, pulling in nearly $160,000 in April alone through the Florida Trust PC and the Conservative Leadership Committee.
Fischer's flop follows Republicans winning the contest with 66% of the vote in 2019. And it comes following an embarrassing ping-ponging Fischer undertook last cycle before finally landing in this race.
First, he tried running for Senate. But GOP leadership endorsed now-Sen. Clay Yarborough in that contest, causing Fischer to announce a bid for Property Appraiser. But then, he decided to throw his hat into the ring for the open seat in Florida's 4th Congressional District. But he too ended up bailing on that contest, trudging back into the race for Property Appraiser.
That allowed Fischer to seek a return to Duval County government after serving as a Duval County School Board member from 2012-2016. Instead, he'll be returning to his couch.
The biggest loser: Daniel Davis. As sad as Fischer's performance was, at least Fischer briefly floated with recount range as the results came in Tuesday night.
Davis, meanwhile, started behind and never really got close to Deegan, losing by more than 4 points. That loss is also a referendum on Tim Baker, who has worked as a Jacksonville political consultant for years and helped run Davis' campaign.
Davis, who also touted an endorsement from DeSantis, had been prepping for this run for years as he awaited Mayor Lenny Curry to term out. His tenure as JAX Chamber CEO could have positioned Davis to run a moderate, business-oriented campaign aiming to maintain the GOP status quo.
Instead, Davis allied with several hard-right figures such as Board of Education member Esther Byrd, School Board member April Carney and blogger Brendon Leslie, who attended the Jan. 6 riot.
Whether that was a strategic choice by Davis, or internal polling pushed him in that direction as part of a Hail Mary approach, lining up with a slate of controversial figures did not do any favors for Davis.
He also used flat out embarrassing scare tactics common among some Republicans, such as framing Deegan (and by implication, all Democrats) as threats who will let criminals run amok and turn the city's streets into a hellhole. Davis cited San Francisco's level of crime as a possible predictor for Jacksonville should Deegan win. The problem? Jacksonville's murder rate is triple San Francisco's.
Whichever side of the aisle you are on, when you can't get basic numbers right and you decide to align yourself with the Looney Tune caucus of your particular party, you deserve to lose.