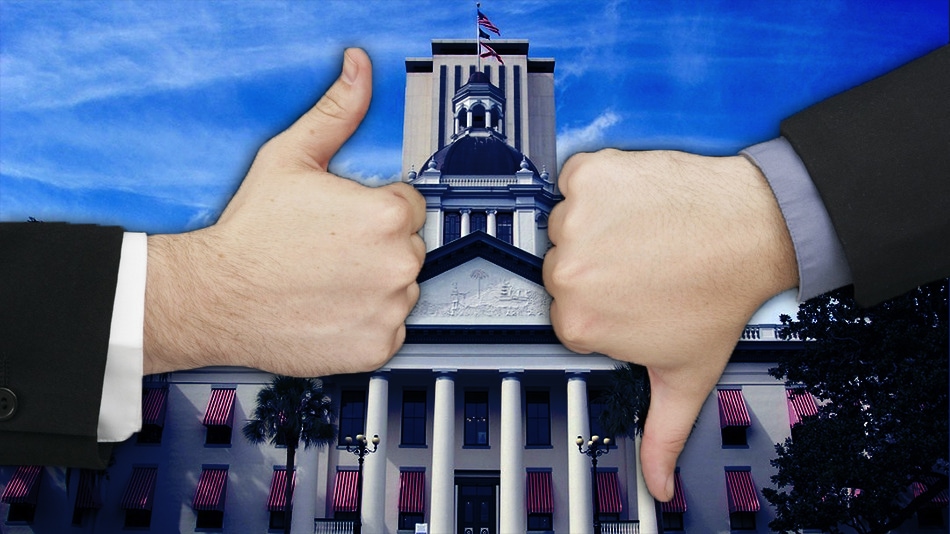 There was plenty of politics this week, but let's also remember those who gave the ultimate sacrifice.
It's official.
Ron DeSantis has ended his months (years?) of dancing with a run for President by announcing his candidacy. Along with Donald Trump, there is a strong possibility the 2024 Republican nominee for President will hail from Florida.
That's a historic note, as no Florida Man has ever served as President.
But this week's milestone also means DeSantis is getting off the sidelines and actually pushing back against Trump following months and months of mostly unanswered attacks, some of them vicious.
DeSantis is mostly attacking Trump as insufficiently conservative. He's gone after the former President over increasing the nation's debt, backing an immigration bill DeSantis described as "amnesty" and supporting a law that helped release nonviolent offenders earlier. DeSantis even promised to push to repeal that latter item.
And as Trump has tried to argue DeSantis wasn't actually all that great at handling the COVID-19 pandemic, DeSantis has immediately sought to counter those claims and tried tying Trump closer to Anthony Fauci, a longtime fixture of the federal government who continued serving as Director of the National Institute of Allergy and Infectious Diseases under Trump.
We're still about eight months away from the GOP Iowa caucuses and things are already getting nasty between the top two Republican contenders for President.
But outside of the fireworks show, this could also serve as a serious debate over the future of the Republican Party. Do they stick with Trump and all the chaos and fluid policy positions that come with him? Or do they go with DeSantis, who appears to be carving out a more conservative platform?
One thing is for sure: We will be all over this race in the months ahead. Stay tuned.
Now, it's on to our weekly game of winners and losers.
Winners
Honorable mention: Florida consumers. Gov. DeSantis signed a major tax cut package this week, and Florida's consumers are already benefiting.
DeSantis didn't get everything that he wanted in the package, but lawmakers included most of his asks.
One major bipartisan win is a new, permanent sales tax exemption for baby and adult diapers, as well as other baby and toddler items such as cribs, strollers, monitors, breast pumps and much more. Senate Democratic Leader Lauren Book was instrumental in pushing for those exemptions for years. The Legislature included a one-year sales tax break on diapers last year, but that's now permanent as of July 1.
The package also includes a permanent exemption for oral hygiene products, a one-year exemption for appliances with an ENERGY STAR label as well as gas stoves, and several sales tax holidays.
One of those holidays, covering disaster preparedness items, began this weekend. Things like batteries, radios and generators will be exempt, as will pet food and other pet items, as well as cleaning supplies. And there are two cracks at taking advantage, with the current holiday running through June 9 and another running from Aug.26-Sept.8.
The package also includes the favorite back-to-school tax holidays, which now will also run next January. And last year's "Freedom Summer" tax breaks are back as well.
Florida's economy has performed better than average coming out of the COVID-19 pandemic, and the state is using some of that revenue inflow to offer these sales tax breaks to Floridians. With many still feeling their family budgets are tight, that's welcome news.
Almost (but not quite) the biggest winner: María Elvira Salazar. After decades and decades of Washington refusing to give in on a comprehensive immigration reform compromise, U.S. Rep. Salazar is introducing a bipartisan bill to help update America's broken immigration system.
Salazar gets credit here for taking a shot. Whether it can actually break through in an even more broken political system remains to be seen.
Salazar is reintroducing a version of her "Dignity Act" bill, which she first brought forward last year while Republicans were still in the minority in the U.S. House. With the GOP controlling the chamber, and with Democratic U.S. Rep. Veronica Escobar of Texas co-sponsoring the bill, Salazar is hoping for more traction this time around.
The crux of the proposal allows undocumented immigrants to pay $5,000 to join a program allowing them to work in the U.S. for seven years. After that time is up, migrants could pay another $5,000 to pursue citizenship.
That funding — along with a small deduction from migrant workers' paychecks — would help pay for border security as well as training Americans to learn new jobs. That latter provision is helpful even outside the immigration debate, as new technologies could rapidly change the country's workforce in the decades ahead.
If recent history is indication, big efforts offering a path to citizenship like this end up running into some roadblock and failing. That may very well happen again here. But at least Salazar is trying, offering legislation that gives something to both sides, while also making each side a bit uncomfortable.
Democrats and Republicans are going to have to compromise here to do anything significant. That starts with a serious proposal, while Salazar is attempting.
The biggest winner: Our soldiers. This week has obviously been a momentous one in the Florida political scene. But we should not let the weekend pass without honoring those who sacrificed so that we can even debate this stuff in the first place.
The practice began after the Civil War, when Americans sought to remember those who had died during the war. In 1971, the holiday became known federally as Memorial Day, and following two world wars, it morphed into a time to honor all soldiers who had lost their lives in service.
Imagine your life is imminently threatened and a good Samaritan stepped in to save you. You would be eternally grateful to that person, no? You might express that gratitude in different ways, but you would live your life knowing things could have been different if not for that heroic act.
As those acts of heroism get removed by degrees, it can be harder for some to truly feel connected to that sacrifice. And when it happens on another continent? Maybe decades ago? It's easy to lose track of all the acts of heroism.
But make no mistake, America would not still be the land it is today without those sacrifices, and it takes men and women willing to put their bodies on the line in order to protect us. That we don't have a strong national connection with that may be one reason recruitment is down.
This isn't to say we shouldn't enjoy our barbecues or sales tax holidays. But we should all take at least a moment, in a world now filled with all manner of distractions that help disconnect from the difficulties of life, to truly grapple with the sacrifices these men and women have made and be thankful.
If you want to give back as well, find somewhere to volunteer or donate to military causes. But taking time to express gratitude to those who gave the ultimate sacrifice is the least we can do during this holiday weekend.
Losers
Dishonorable mention: City of Miami. City leaders will have to redraw the City Commission district lines after U.S. District Judge K. Michael Moore found the existing map used "racial quotas."
"When the record is replete with evidence that legislators instructed a mapmaker to draw districts to comport with a 'purposefully established racial target,' as is the case here, the Court may properly conclude that race predominated," Moore wrote in his decision.
That's a violation of the Voting Rights Act, and sends the city scrambling ahead of this November's election.
The Commission last year was made up of three Hispanic members, one Black member and a White, non-Hispanic member. In drawing the new districts, the Commission sought to maintain that racial breakdown.
Commissioners defended their product, arguing it did not actually gerrymander the city based on the racial composition of voters themselves. But that's not flying, according to the courts, thanks to comments such as this one from Commissioner Alex Díaz de la Portilla.
He said that the aim of the new map was "to have an African American district, for the lack of a better term, a White district, which is the coastal district, and three Hispanic districts."
That made the call easy in the courts.
The problem for the city? District 1, 2 and 4 are all up for re-election in November. That means the city is running out of time to draft new maps. Díaz de la Portilla floated an idea earlier this month to return to all at large districts, but that could face legal hurdles. The plaintiffs have also offered potential alternative maps of their own.
The ruling is a message that the city should not have drafted these districts as they did, and they especially should not have openly admitted crafting a plan that clashes with federal law.
Almost (but not quite) the biggest loser: DeSantis. At this point, DeSantis has been thoroughly dunked on for his Wednesday launch event. And we're going to go ahead and just continue that here.
Look, it's hard for a campaign launch event to be a huge success or failure. You get up, you talk to some people and you make a bunch of cookie cutter remarks. It's hard to make groundbreaking news at these events (that's one reason why Trump's comments during his 2016 launch were so remarkable). And after it's done, you start your tour of media hits and raising money (more on this in a second).
So yeah, it's hard to do something that would make your campaign launch event some blowout success. But boy, did DeSantis show it's possible to make it an embarrassing failure.
Plenty of people have already remarked on his choice to announce on a platform already known for glitches (and then, surprise, it glitched). Why even put yourself in that scenario, where people clamoring to hear you speak can't do so for 20 minutes until your tech overlord buddy figures out a workaround. It was amateurish, yes, but also just entirely avoidable if DeSantis would have just operated normally and held a small rally somewhere.
And then the remarks themselves were just boring re-hashes where he preached to his choir about a bunch of topics he's hit ad infinitum already. If you're going to do something as dry as hold an audio-only launch event, at least say something flashy. But that was nowhere to be found.
Now, DeSantis' team would counter with his eye-popping $8.2 million raised in the first 24 hours, blowing away hauls by other major recent candidates. But much of that cash was pre-bundled ahead of time to be unveiled at a fundraising in Miami. It wasn't due to this dud of a launch event, or really even in spite of it. Much of that cash was coming in no matter what.
What did happen was a New Hampshire state Representative swapping her endorsement from DeSantis to Trump, explicitly calling out the tech glitches in DeSantis' announcement. "We can't expect someone to run the country if they can't properly run their own campaign launch," said state Rep. Sandra Panek.
Plus, on the fundraising point, DeSantis is now under fire after an explosive NBC News report detailed members of his administration staff — not the campaign side — are pushing lobbyists to donate to his presidential campaign. And those requests are coming as the Governor is sitting and deciding which bills and funding projects to veto.
And in perhaps the most frustrating item for DeSantis himself, Florida Politics obtained audio from his pollster's pitch to donors during his Miami retreat. The famous leak-averse DeSantis is likely fuming that the audio of that meeting was leaked.
Look, we'll repeat what we keep saying here every time DeSantis' 2024 operation steps in it: It's early. It's not over. This race can change, and quickly. He can still win.
But boy, it would be great if his team could start showing it had the ability to make a savvy move. Because it needs to happen at some point.
The biggest loser: DeSantis' campaign staff. That brings us to an even bigger culprit in this whole failure to launch fiasco. How in Elon's name did his team let the Governor go through with this?
Who pushed this plan/enabled it is at fault for the embarrassment it wrought. And even if DeSantis was the lone person pushing, against the advice of his entire staff (not likely), his team needs to be able to stand up and speak against a bad idea when they see one.
But his notoriously online staff likely embraced this wholeheartedly. Which, given its outcome, makes you question whether they are ready for the big time.
One outlet asked before the event if it would make DeSantis look like "a genius or an idiot." Now we know!
Remember, this is not just a normal race for the presidency. Jeb Bush faced plenty of hurdles in his ultimately failed run. But he wasn't facing a former President in the Primary. DeSantis is. Trump also has a stranglehold on the base like no non-incumbent in recent memory. And even if DeSantis secures the nomination, he's up against an incumbent President. This isn't even an open race.
That exponentially adds to the degree of difficulty in a so-called "normal" run for President. By no means can a top-tier candidate have people around him consistently guiding him astray. They need to be on their "A" game at all times.
Speaking of which, does Christina Pushaw engaging and reengaging in a Twitter spat with a 16-year-old qualify as one's "A" game? Because it sure as hell doesn't look like it.
Plus, with audio of the Miami meeting leaking, now DeSantis also has to be worried about his team's control over information. Team DeSantis has been aggressive in framing narratives a certain way. That becomes more difficult if stuff like this is getting out.