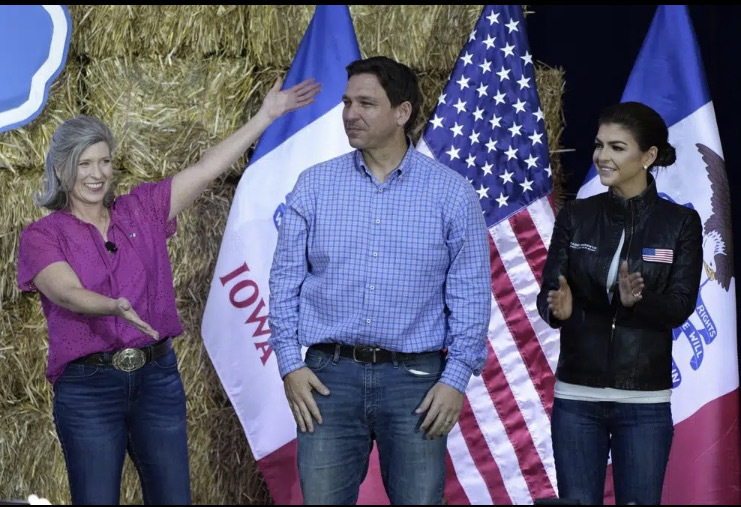 Is the Governor winning hearts and minds in the Hawkeye State?
Gov. Ron DeSantis' arguments that Iowa is the "Florida of the North" — and alternatively, that Florida is the "Iowa of the Southeast" — appear to be resonating in the Hawkeye State.
A new National Research Inc. poll commissioned by American Greatness shows the Governor trails Donald Trump, 39% to 24%. The 15-point spread is 3 points closer than the 44% to 26% lead Trump had in the May survey.
No other candidate is close. U.S. Sen. Tim Scott's 5% is good for third place, with other candidates even further back.
DeSantis is still having a hard time convincing voters who like Trump to back him. He's down 56% to 22% with those who regard Trump more favorably, and in a 35% to 35% dead heat with those who like DeSantis better. Among those who like both candidates equally, Trump leads 46% to 30%.
This is the second straight poll (and first public poll) to show DeSantis gaining on Trump in the wake of his trips to the state last week. Polling sponsored by the Never Back Down super PAC suggests DeSantis is just 10 points behind in a crowded field, and statistically tied with Trump in a hypothetical binary matchup.
DeSantis mentioned this poll at a state event, a "border security" roundtable in Arizona, asking a reporter "did you see the Iowa poll that just came out?"
Other polls aren't so strong for DeSantis.
An Emerson College survey from May shows Trump ahead of DeSantis, 62% to 20%.
In a McLaughlin and Associates poll conducted in late April, Trump led DeSantis in a full field of names, 54% to 20%. A hypothetical two-way battle between Trump and DeSantis also goes the former President's way, 57% to 35%, with 8% undecided.
In an April Victory Insights poll of 400 likely Iowa caucus participants, Trump led DeSantis 54% to 20% in a crowded field, and 59% to 41% when the field was reduced to just those two names.
In a survey conducted by Cygnal for Iowans for Tax Relief, the former President led DeSantis, 37% to 30%. An additional 19% of respondents were undecided, with other candidates struggling for support.
In still another post-indictment poll of the Iowa race, a J.L. Partners survey showed Trump up 41% to 26% in a crowded field.