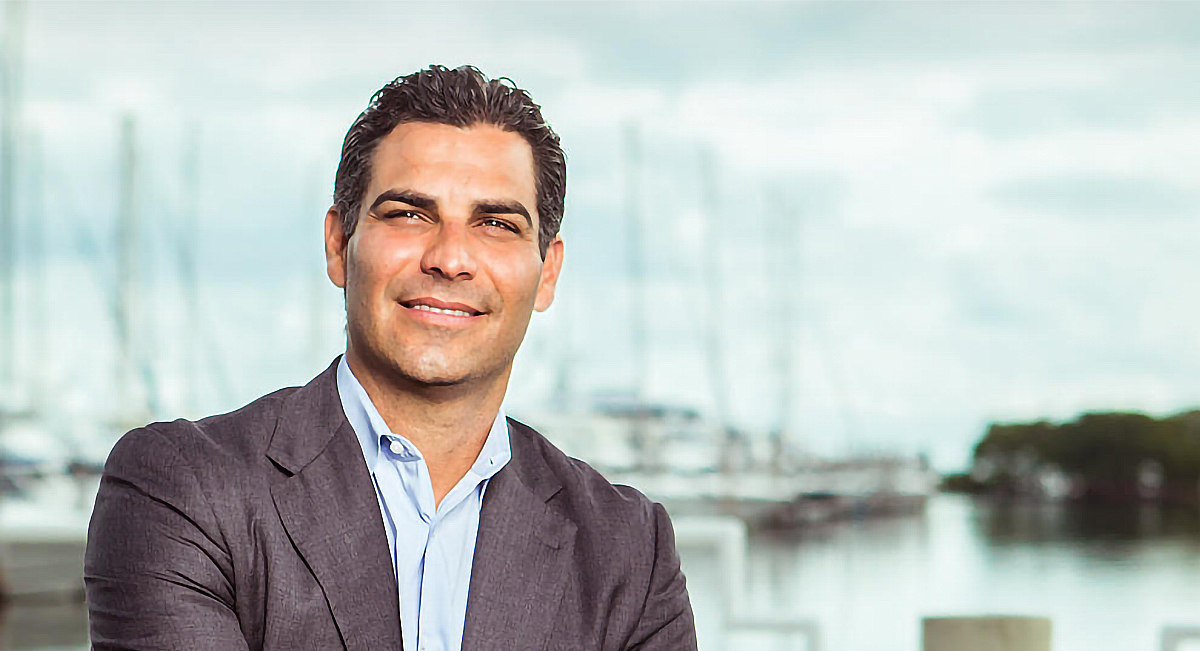 Suarez has been openly mulling a presidential bid since before his landslide re-election in 2021.
Miami Mayor Francis Suarez, whose possible run at the White House has grown increasingly likely in recent months, will head to the Reagan Library in California next week to share his vision for America.
The June 15 engagement is part of the Ronald Reagan Presidential Foundation and Institute's "A Time for Choosing Speaker Series," a conservative forum focused on addressing critical questions facing the Republican Party.
A source close to the Mayor says his speech will center on low taxes, public safety, crime reduction and Miami's low unemployment rate, which he'll credit to the city's focus on innovation, a welcoming business environment and job creation.
Four current candidates for the 2024 GOP nomination — former New Jersey Gov. Chris Christie, former South Carolina Gov. Nikki Haley, former Arkansas Gov. Asa Hutchinson and former Vice President Mike Pence — preceded Suarez as speakers.
Suarez's activity in the past few months indicates he'll soon make it five. Whether he'll announce his candidacy during the speech remains to be seen.
Suarez, who has been openly mulling a presidential bid since before his landslide re-election in November 2021, embarked on a 10-city tour with former Donald Trump adviser Ja'Ron Smith in February.
The tour was ostensibly to share information and best public safety and crime prevention practices. But some of the stops — including Iowa and New Hampshire, where crime is relatively low — didn't fit the stated mission of the trip, but are states Republican presidential candidates are expected to visit during next year's Primary race.
City records flagged by Miami Herald reporter Joey Flechas show Suarez last week gave five City Hall staffers, including a top adviser and spokesperson, unpaid leave through the end of August — a signal they may soon transition to his imminent presidential campaign.
His fundraising activity also hints at the loftiest of political aspirations. The Herald reported Wednesday that Suarez is steering political contributions into a PAC called America For Everyone — a nominal riff on his still-active state-level political committee, Miami For Everyone — that last year raised more than $6 million, including sizable contributions from big givers to the Mayor's past campaigns. The PAC recently filed paperwork to rename itself SOS America PAC.
Noteworthy donations to the PAC include $1 million apiece from equity firm executive Orlando Bravo and brokerage and fintech CEO Howard Lutnick. At least $750,000 in direct and indirect contributions came from Jorge Mas, the managing owner of Miami's Major League Soccer franchise, which last year won approval for a 99-year lease and redevelopment deal for the city's largest greenspace.
Other givers included $500,000 from cryptocurrency company Ripple Labs and $100,000 each from Miami real estate mogul Moishe Mana and former Coral Gables Commissioner Frank Quesada.
Suarez has also grown much more vocal in his criticism of the two GOP frontrunners, who happen to be fellow Floridians.
For years, he's had a subtly adversarial relationship with Gov. Ron DeSantis, who holds a distant second-place position in state and national polls. It began when Suarez voted for DeSantis' Democratic gubernatorial opponent in 2018, but it grew worse two years later, when the two butted heads over COVID-19 safety measures and the Governor stopped returning Suarez's calls.
Last month, Suarez became even more forthcoming in his criticism of DeSantis, calling the Governor's battle with Disney over the company's opposition to Florida's anti-LGBTQ laws "spite or maybe potentially a personal vendetta" that cost the state thousands of jobs and a billion-dollar investment.
He also took aim at Trump — whom he also didn't vote for — and indicated he'd have the edge in age and tenor that would resonate with a "different segment" of voters than both the former President and the Democratic incumbent, Joe Biden.
"It's important to be able to connect with a voting demographic that's growing and that's trending more," he said during a "Face the Nation" interview in which he sidestepped a question about whether he'd consider running as Trump's Vice President.
At 45, Suarez — the son of former Miami Mayor and Miami-Dade County Commissioner Xavier Suarez — would be among the youngest candidates seeking the Republican nomination. DeSantis is 44.
Under Suarez's stewardship and promotion, as well as that of organizations like Refresh Miami, the city has attracted scores of tech and finance companies and rebranded itself as a sunnier, more tax-friendly alternative to Silicon Valley.
By the close of 2022, more than two years after a short tweet by Suarez helped ignite a rush of corporate relocations from California and New York to South Florida, the Miami metro area ranked eighth in the country for venture capital with $5.5 billion across 423 deals, according to the Q4 2022 Pitchbook-NVCA Venture Monitor — an 11.6% yearly increase. That's particularly significant considering larger tech hubs are seeing 25% to 40% decreases.
Suarez calls the city's business boom "the Miami miracle," an outlier metropolis whose popularity among corporations is further bolstered by its record-low tax rate, 12% job growth since he took office and the lowest per-capita homicide rate Miami has seen since 1964.
Suarez, who served on the City Commission prior to his election as Mayor, was among the champions of a $400 million bond voters passed in 2017 to prepare and combat sea level rise and add to the city's affordable housing inventory. In August, the Federal Emergency Management Agency downgraded the city's flooding score, a move the Mayor credited to bond-funded efforts.
And while some South Florida pols like Deerfield Beach Commissioner Bernie Parnass have argued Suarez's comparatively low profile in the 2024 GOP contest is too high a hurdle, others believe it isn't necessarily a negative.
"Francis running for President is not a crazy conversation. I mean, the Republicans I know and Republicans throughout the country are starved for the adults in the room to grab the microphone back," former Miami Beach Democratic Rep. Mike Grieco told Florida Politics in 2021, noting both Bill Clinton and Barack Obama entered their respective Primary Elections as underdogs.
And Suarez is far from an unknown commodity. He is the immediate past President of the U.S. Conference of Mayors and made No. 20 on Fortune Magazine's 2021 "World's Greatest Leaders" list, among other laurels.
But he'd also face a lot of tough questions about some of his city's persisting troubles. Miami is among the most unaffordable cities to live in nationwide, though much of that appears to be more attributable to state policy.
A report out of Harvard University found that eight of the 10 areas with the highest year-over-year rent increases through the first quarter of 2022 were in Florida. Meanwhile, Miami led all areas in single-family home price growth, with a 39% uptick between March 2021 and March 2022.
MiamiCoin, a city-specific cryptocurrency Suarez promoted as potentially enabling residents to skip paying taxes, is an abject failure. The only exchange that hosted MiamiCoin activity, OKCoin, halted trading of the crypto in March after its value plummeted by more than 90% less than a year after its launch.
Suarez, a devout proponent of cryptocurrency who told Florida Politics the "next President (should be) a pro-crypto, pro-Bitcoin candidate," remains unwavering in his optimism about its potential.
There are also mounting concerns about a blurring of the line between his elected office and work in the private sector. The Miami Herald recently reported Suarez, in his capacity as a real estate lawyer, was paid at least $170,000 over two years by developer Rishi Kapoor while advocating for a previously rejected — but since OK'd — $70 million project Kapoor was seeking approval for in the city's Coconut Grove neighborhood.
State Attorney Katherine Fernandez Rundle's Office and the Miami-Dade Commission on Ethics and Public Trust are now investigating the matter.
In Suarez's favor is the fact his position as Mayor confers little actual power aside from being able to veto legislation and hire and fire the City Manager. That limitation also shielded him from some criticism over the City Commission's 2021 termination of former Police Chief Art Acevedo, whom Suarez hired but then abstained from defending, and Commissioner Joe Carollo's "weaponization" of city resources and personnel against a pair of local business owners that could cost the city upwards of $91 million in civil damages.
Suarez said the Herald is "obsessed" with his private dealings, which include work as counsel for the litigation firm Quinn Emanuel and senior operating partner for private equity firm DaGrosa Capital Partners.
His pay from those companies and other work comes in addition to the roughly $130,000 he receives annually in city salary pay and benefits.
___
Miami Mayor Suarez will speak at the Reagan Library as part of the Ronald Reagan Institute's "A Time for Choosing Speaker Series" at 9 p.m. ET on June 15. Click HERE for more information.