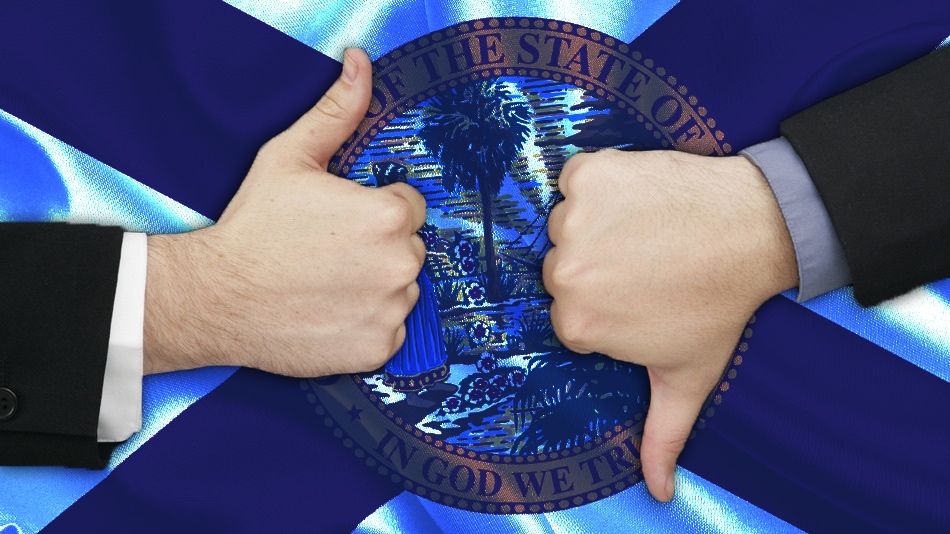 Senate President Kathleen Passidomo is taking a stand against a big GOP policy this Session. And did Gov. Ron DeSantis just alienate a major media ally?
When Scott Hopes resigned as Manatee County Administrator last month, the move struck most as abrupt, and Hopes failed to give much explanation for his departure. In the weeks since, several people have made allegations that there were plenty of problems behind the scenes under Hopes' leadership.
The week after he resigned, Manatee County Commissioners began raising questions about Hopes apparently spending money unchecked.
Perhaps that could be chalked up to an intergovernmental dispute. But just this week, two more troubling allegations came to light.
First, The Manatee County Sheriff's Office confirmed an investigation into whether Hopes improperly deleted public records on his way out of office. The Sheriff's Office was tight-lipped on the extent of the potential violations, however, and Hopes denied he did anything wrong.
"I'm not worried about it. Nothing was destroyed that was subject to public records," Hopes said, according to the Bradenton Herald. "They can get all the phone records and emails they want. There are no documents that weren't backed up."
But Hopes is being accused of wiping his government-issued devices, raising concerns about Public Records Act violations.
The following day, a new story emerged detailing allegations Hopes tried to keep quiet sexual harassment allegations made against a potential hire. Robert Reinshuttle, who worked under Hopes, lobbed the accusation.
The controversy stems from an aborted plan to hire Mitchell Teitelbaum as a deputy administrator. In the end, Teitelbaum withdrew from the role due to an allegation he improperly grabbed a female employee by the waist.
Reinshuttle said Hopes wanted those allegations buried so that Teitelbaum could stay in the deputy administrator position. Reinshuttle was later fired himself, and said Hopes retaliated against him.
It's unclear whether the drip-drip-drip of allegations against Hopes will continue going forward. But what's emerged already is likely to be a headache for Hopes going forward, and appears to shed some light into why Hopes felt the need to rush for the exit door so swiftly.
Now, it's on to our weekly game of winners and losers.
Winners
Honorable mention: Alex Lanfranconi. Lanfranconi tweeted an exchange last week between (now-former) Axios Tampa Bay reporter Ben Montgomery and Gov. Ron DeSantis' Office, where Montgomery dubbed a DeSantis press release "propaganda."
After Lanfranconi publicly shared Montgomery's remarks, which had been private up to that point, Montgomery was fired.
Now, it's up for debate whether snarking back at the Governor's Office in that way was the only reason for Montgomery's firing. Axios did not release a full statement explaining the move, stating only, "Out of respect for our employees, we do not discuss conditions of departure." And he admitted he had a back-and-forth with his superiors over his workload in December.
But the incident Lanfranconi shared was, at the very least, the straw that broke the camel's back, giving the Governor another scalp in his ongoing battle with the media.
There has been plenty of back-and-forth about whether Montgomery's email response should have ended in his firing. And we certainly don't celebrate another reporter's demise. Frankly, it's a shame the relationship between the media and the Governor's Office is so tainted that this acrimony exists at all, much less gets leaked into the public and costs someone their job.
But in this era of people valuing winning e-points online more than big-picture discussions about whether an ecosystem where this type of tension can exist is sustainable, DeSantis' team triggering this firing is a win for the Governor's team.
Almost (but not quite) biggest winner: Hurricane Ian victims. Lawmakers have tried assisting victims of the hurricane in the past, but some have questioned Republicans' efforts to make it harder for homeowners to sue insurance companies and get paid. This week, DeSantis gave at least some indication he's going to make sure victims of the storm are made whole.
The Washington Post published a story report that Ian policyholders are getting lowballed by insurance companies when making claims. Documents looking at a dozen claims showed those claims slashed by between 45% to 97%.
Speaking about that report Friday, DeSantis said the state would be investigating.
"The reports of people getting shortchanged or getting unlawfully dropped because someone was looking to make more money, the (Office of Insurance Regulation) is investigating that, the Chief Financial Officer is investigating that, and I think anyone should be held accountable who is not meeting their obligations that they owe," DeSantis said.
Talk is one thing. Actions are another. And as Florida deals with a legitimate property insurance crisis, lawmakers have erred on the side of appeasing insurance companies to help stabilize the market. That may or may not be the correct call policy-wise, but even if it is the right move, cracking down on lawsuits can make it harder for a homeowner to make things right if their insurance company isn't paying up.
But at the very least, DeSantis is publicly confirming that action will be taken to look into what happened here. That could indicate that wrongdoing will be punished and things will be made right. If not, at least DeSantis is on the record opening himself up to accountability if homeowners are left in the lurch.
The biggest winner: Kathleen Passidomo. In talking with Republicans in The Process ahead of DeSantis' re-election, the consensus seemed to be that the Legislature was willing to bend over backward to give Gov. DeSantis whatever he needed to build his brand ahead of an expected presidential run. That incentive only became stronger when DeSantis carried the state by a historic margin in November.
But Passidomo signaled this week she's willing to put the brakes on a move to lower the age to buy a long gun to 18.
A bill signed after the Parkland shooting raised the minimum purchasing age to 21. Notably, DeSantis has said he would've vetoed that legislation, seen at the time as a bipartisan breakthrough amid the routine gridlock when it comes to gun regulation legislation. DeSantis is also pushing for relaxing the state's gun laws, making Passidomo's statement on this issue notable.
As the House is moving legislation lowering the age back down to 18, Passidomo gave a direct "no" when asked whether she supports a similar move by the Senate.
"We don't have it in the Senate," she said Wednesday. "Nobody filed it in the Senate, so there's no bill to support."
Perhaps coincidentally, DeSantis' Thursday schedule showed an afternoon meeting with Passidomo. It's unclear what was discussed at that meeting, or if Passidomo's position came up.
And frankly, this isn't about taking an "anti-gun rights" position. Much of the discussion around guns in the media has a clear anti-gun tinge, and people can disagree in good faith about what the minimum buying age should be.
Rather, Passidomo deserves credit here just for voicing an independent thought and using her power as Senate President to advocate for her position, irrespective of what the Governor's Office wants here.
That's how things used to be, by the way. DeSantis' power play over the congressional redistricting process may have been the most stark example of this hold over the Legislature. But it's clear in many other ways that he holds more influence than any Florida Governor in modern history.
The Founders, meanwhile, envisioned each branch of government serving as a check on one another. We live in a different world, one where partisans tend to take easy wins and go with the flow, only taking out their powder for battles with the other side. Credit to Passidomo for standing her ground and showing that she too has plenty of say on what gets through the Legislature this year and next.
Losers
Dishonorable mention: Axios. And now the flip side of the Montgomery drama: Axios did not come out looking good here.
We'll repeat the caveat that perhaps more was going on behind the scenes than just the email jab Montgomery sent to DeSantis' Office. But without a clarification from Axios (which, to be fair, it's understandable why they wouldn't want to comment on personnel changes), the narrative is that one of their reporters mouthed off to DeSantis' Office and got canned.
There are, of course, always lines that cannot be crossed as a reporter. And plenty can debate whether a catty private email crosses that line. But the bottom line is that this whole episode made it seem like DeSantis' team revealed the email publicly, then Axios got bullied into acting.
That's not a position any outlet wants to be in. And moreover, these sorts of narratives about which outlets are and are not "fake news" gets caked in pretty easily these days. It's not even clear that firing Montgomery is going to convince conservatives that Axios is fair and balanced anyway, regardless of how good a job the outlet does outside of this instance.
Perhaps more will come out to give more context to this move. But as of right now, Axios took an "L" here.
Almost (but not quite) biggest loser: Stopping WOKE. Oh woe for the war against woke! The 11th Circuit Court of Appeals in Atlanta upheld a lower court decision blocking the "Stop WOKE Act" from taking effect.
You can probably tell by the name that this is a huge priority for the Governor and Tallahassee Republicans. The law, passed last year, was a piece of juicy red meat for the base, meant to make sure schools or companies don't subject people to teachings or training that make them feel guilty because of race, gender or national origin.
Before the lower court, U.S. District Judge Mark Walker, often a thorn in the Governor's side, called the law "positively dystopian." But the appeals court agreed to keep the injunction in place while the legal challenge against the law awaits a decision on its merits.
That could come down in favor of the Governor (though typically an injunction does not signal good news on that front). And frankly, even if lower courts formally strike down the law, a more friendly Florida Supreme Court could decide to keep it in place.
So not all is lost for the crusade state led by Republicans — the party of "freedom" — to tighten what schools and companies can and can't say. But it's going to be a long wait at the very least after losing yet another court battle this week.
The biggest loser: DeSantis. The Governor finally clarified his position on U.S. funding to help Ukraine defend itself against Russia after dancing around the issue for months.
The tl;dr version is that DeSantis is cozying up to the Tucker Carlson wing of the GOP, arguing America should focus its spending elsewhere.
"While the U.S. has many vital national interests — securing our borders, addressing the crisis of readiness within our military, achieving energy security and independence, and checking the economic, cultural, and military power of the Chinese Communist Party — becoming further entangled in a territorial dispute between Ukraine and Russia is not one of them," DeSantis said in a statement given to Carlson's show this past week.
"The Biden administration's virtual 'blank check' funding of this conflict for 'as long as it takes,' without any defined objectives or accountability, distracts from our country's most pressing challenges."
There are several reasons one could frame this as a whiff from the Governor. Nikki Haley, who has already announced a run, and Chris Sununu, a potential 2024 contender, are already hitting DeSantis over his position. Even U.S. Sen. Marco Rubio, a fellow Florida Republican, publicly broke with DeSantis' framing this week not once, but twice.
On top of that, DeSantis' landing point on Ukraine represents a drastic flip-flop in his own foreign policy philosophy since he joined Congress, as documented by our own Jacob Ogles, making it appear DeSantis is simply floating with the political winds.
But frankly, if DeSantis is just trying to position himself well politically in 2024, it's not clear that he's landing in the wrong spot. There is a quasi-isolationist energy among many Republicans at the moment. That's driven largely by Trump, who roasted DeSantis for copying his positions.
But should DeSantis run, he can obviously expect criticism from his rivals. That matters less if the base is with him.
Time will tell whether that's the case, as plenty of Republicans remain convinced a strong foreign policy is vital to deter not only Russia, but also China, from further aggressive action. But it's not yet clear he's made an error here in terms of reading the GOP voters' mood come 2024.
So why the loss? Because of Rupert Murdoch, that's why.
DeSantis has been riding high on Murdoch properties recently, even overtaking Trump in mentions on Fox News as it seemed the media mogul was beginning to align himself with DeSantis ahead of the 2024 cycle.
But DeSantis' newly workshopped Ukraine position earned him a sharp rebuke from Murdoch properties.
The New York Post editorial board flogged DeSantis after the Governor released his statement.
"Ron DeSantis has shown plenty of leadership as Florida's governor, but he's sure dodging the challenge when it comes to the war in Ukraine," the editorial board wrote.
"And 'territorial dispute' is a pretty lame way to describe an unprovoked invasion that's included savage attacks on civilians and a host of other war crimes. If Putin succeeds in Ukraine, it'll show other regimes (China, Iran, etc.) that aggression works. And Russia itself will look to move on other nations, including NATO allies America's obliged to defend."
The editorial board of the Wall Street Journal, another Murdoch outlet, also got in on the action.
"he may regret describing the war in Ukraine as a mere 'territorial dispute,'" the editorial board wrote.
"This is flirting with GOP isolationism that has emerged from time to time in history and has usually been an electoral cul-de-sac. The party's isolationism in the 1930s consigned it to decades in the wilderness, and that naivete was on national display when Japan attacked Pearl Harbor. The electoral stigma wasn't removed until Dwight Eisenhower, the victor of D-Day, rescued the GOP from Republican Robert Taft's unwillingness to support the North Atlantic Treaty Organization."
That is to say, DeSantis could be risking large support from the Murdoch media empire — which his team has almost surely courted behind the scenes for months as his Fox News appearances have surged — just to roll the dice that he's aligned himself with the more passionate wing of the GOP on this issue.
For all his success in Florida, which is very real, DeSantis has still not gone through the wringer yet at a national level. The Ukraine issue is a difficult one, and he may have set himself up for some difficult questions no matter which side of the issue he landed on. But if his decision costs him free media on Fox News, still a giant among conservatives, DeSantis may have made a major miscalculation before even joining the race.