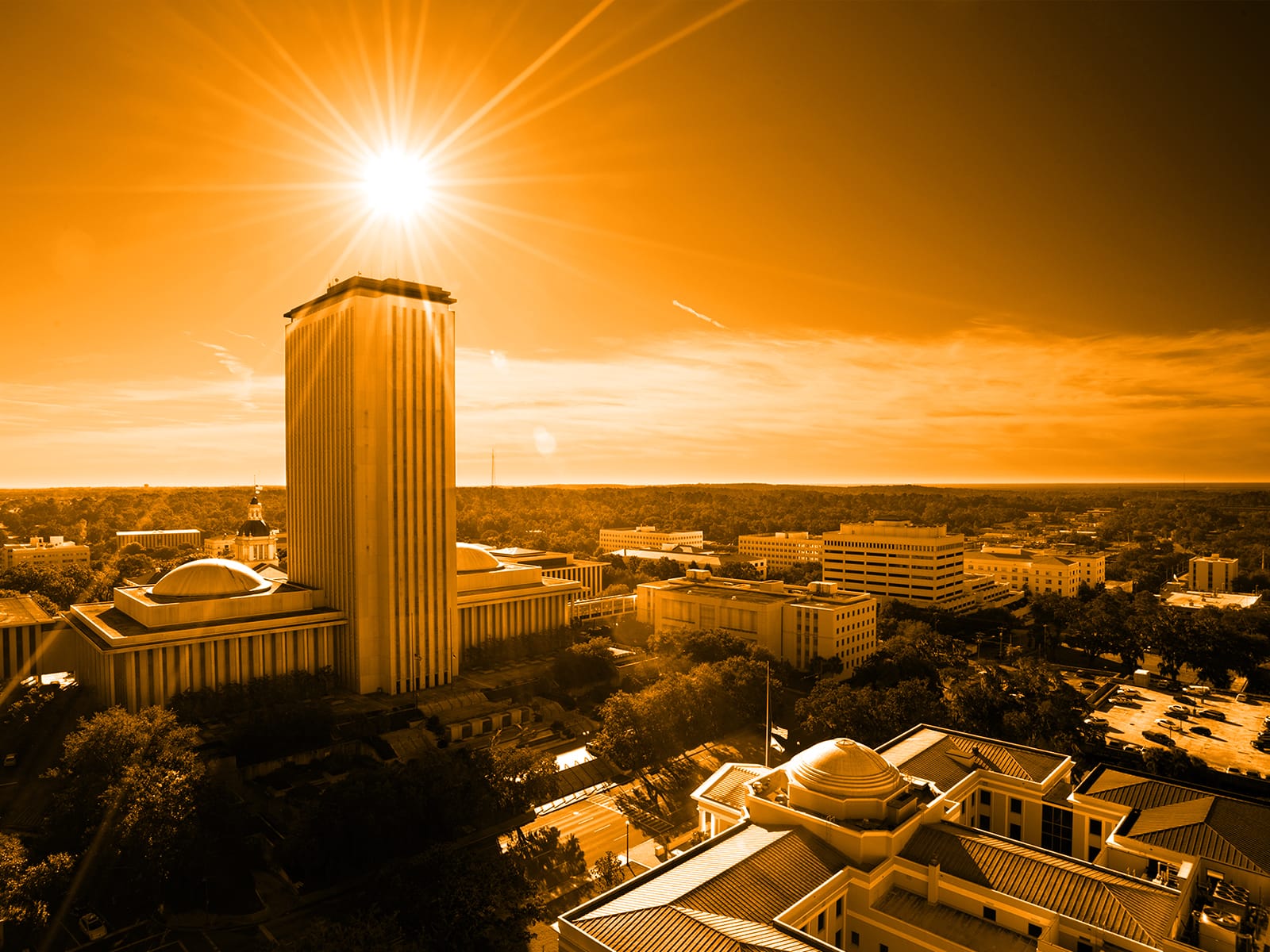 It's not morning without your first look at stories driving today's agenda in Florida politics.
Good Tuesday morning.
New polling shows Democrat Donna Deegan is leading Republican Daniel Davis a little over a month out from Election Day.
Frederick Polls surveyed 1,162 voters who said they were likely to cast a ballot in the May 16 runoff and found Deegan with 54% support to Davis' 46%. Deegan's lead falls outside the poll's margin of error.
"This plus-8 margin is striking because it comes from a poll sample skewed to a plus-6 Republican Party registration advantage — 48% Republican, 42% Democrat. Actual registration for all Duval County/Jacksonville's voters is plus-4 Democrat," the polling memo reads.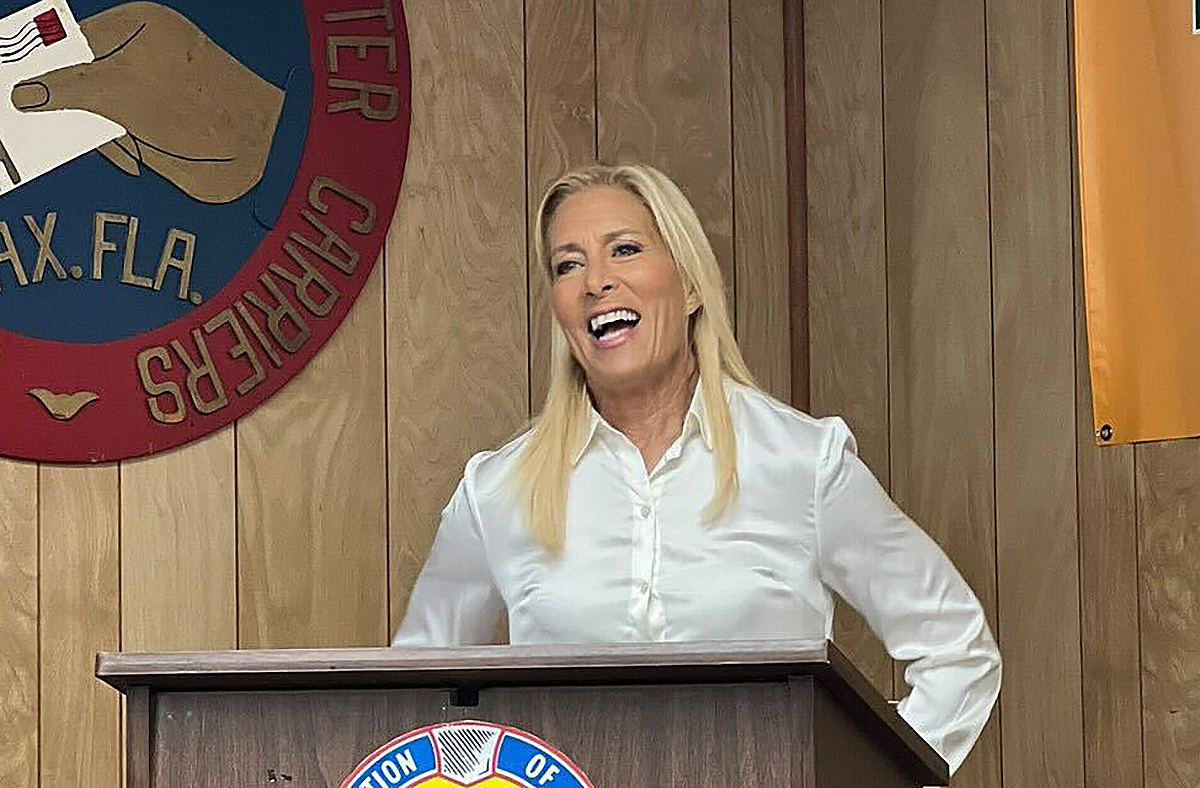 The poll shows Deegan's support includes 92% of voters who cast a ballot for fellow Democrat Audrey Gibson last month. Additionally, about one in five voters who supported Republicans Al Ferraro, LeAnna Cumber or Frank Keasler in the Primary are now backing Deegan.
Further good news for the Democrat: Voters like the former newscaster and philanthropist, and they don't much care for Davis, a former state Representative and the current CEO of the Jax Chamber.
More than half of voters (54%) said they have a favorable opinion of Deegan while just 38% said the same of Davis. Many of the Republican's detractors were Republicans — he was underwater among those who supported Cumber or Ferraro last month.
"This new poll confirms everything we are hearing in the neighborhoods. Voters across the political spectrum know and trust Donna," said Pat McCollough, Deegan's campaign manager. "They believe she is the experienced leader who will unite Jacksonville and deliver meaningful and lasting change to the city."
Frederick Polls conducted the survey April 3-4 using an online text-invite system. The same includes 1,162 voters who said they were likely to vote in the May 16 election. It has a margin of error of plus or minus 2.9%.
___
The Amputee Coalition has hired Whitney Doyle as its new Director of Government Relations.
Doyle has long worked in The Process, including as the Special Projects Coordinator and Assistant to the Executive Vice President at the Florida Chamber Foundation, which earned her a spot on INFLUENCE magazine's 2016 list of "Rising Stars" in Florida politics.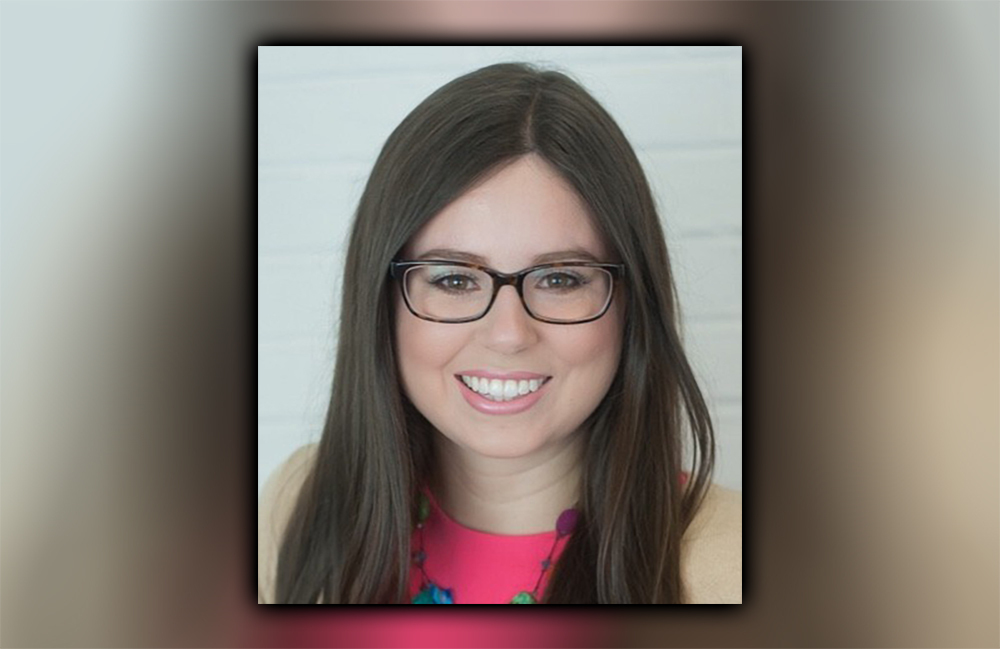 The University of Central Florida and St. Petersburg College graduate has also worked as the Director of the Florida Youth Leadership Forum at the Florida Association of Centers for Independent Living. For the past three years, she was the Executive Director of the Florida Alliance for Assistive Services and Technology.
She now is heading to the Amputee Coalition, a national nonprofit based in D.C. that supports, educates, and advocates for people who have limb loss or limb difference.
The Coalition currently focuses its advocacy work in the health care space to ensure all people have access to equitable health care, especially pre- and post-amputation. This can include legislation for medical coverage of prosthetic devices as well as bringing awareness to this segment of the disability community.
"It's an exciting role and I'm eager to get started. I'm looking forward to getting some legislation in Florida going next year," Doyle told Florida Politics.
According to the Coalition, almost 2 million Americans have experienced amputations or were born with a limb difference. Another 28 million people in the United States are at risk of amputation.
___
The law firm Grimes Galvano is bringing on attorneys Mickey Palmer and Stephen Josephik.
Palmer, who joins the firm as of-counsel, served as county attorney for Manatee County for nine years and was in private practice for the 12 years prior. He previously served as Manatee's assistant county attorney and as an assistant state attorney practicing in Florida's 6th and 12th Judicial Circuits.
At Grimes Galvano, the Samford University law graduate will focus on local government law, real estate development agreements, eminent domain, and construction law and litigation.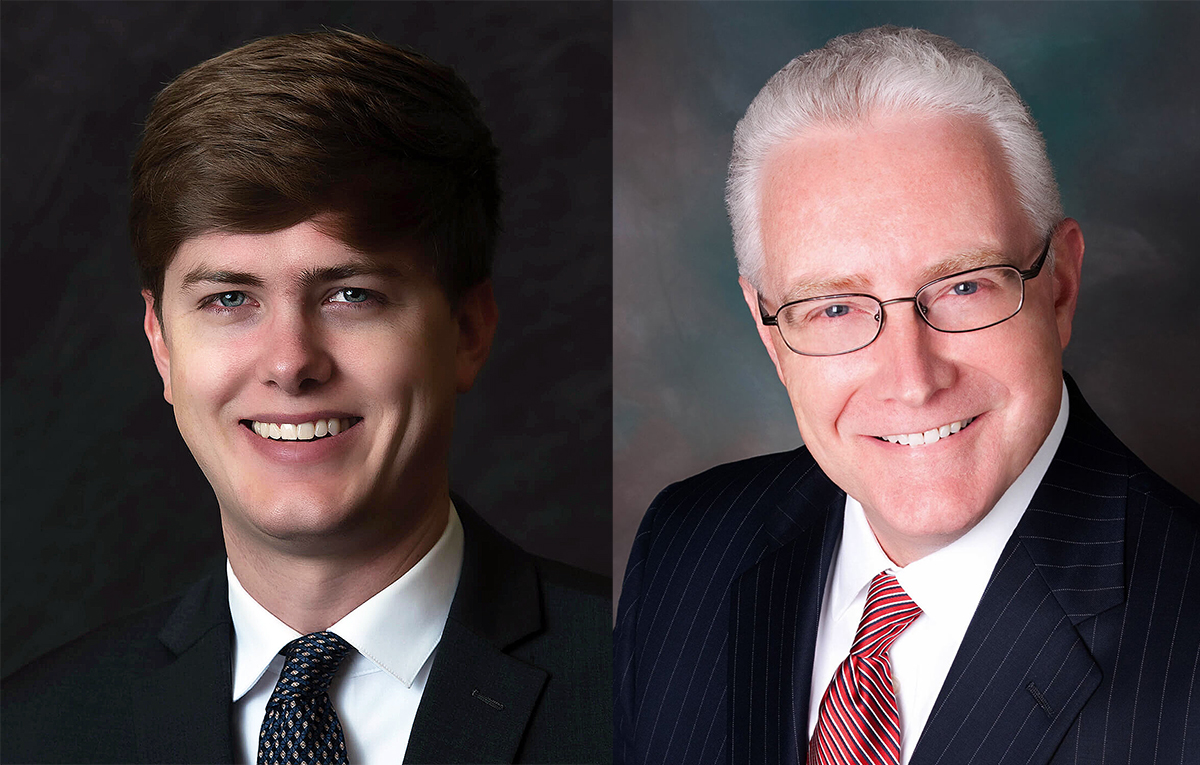 Josephik, who will join the firm as an associate attorney, most recently practiced in family law, handling divorce and child custody disputes. The University of Florida law school graduate began his career as an assistant state attorney in Florida's 6th Judicial Circuit, where he conducted criminal trials in a variety of cases including domestic battery and driving under the influence.
"Our firm has been serving Manatee County and clients across the state of Florida for more than 100 years, and I'm proud of our continued growth," said Caleb Grimes, partner at Grimes Galvano.
"Mickey has been a well-respected attorney in our area for decades and has served our community well during that time. The experience and expertise he gained throughout that service will undoubtedly benefit our clients. We're also excited to welcome Stephen to the team. He is a skilled professional who will be able to provide our clients with strong and sound legal guidance."
— SITUATIONAL AWARENESS —
Tweet, tweet:
Had an EGGcellent time the @WhiteHouse #EasterEggRoll with friends! pic.twitter.com/gLm2NBqBbc

— Slapshot (@Caps_Slapshot) April 10, 2023
—@Fineout: "I played real dumb … that's not hard for me to do," @JimmyPatronis before a House panel discussing an encounter with someone offering windshield repair
—@LMower3: On a debate on a transgender bathroom bill in the Florida Legislature, Rep. @websterbarnaby called transgender speakers "demons and imps." "The lord rebuke you Satan and all of your demons and all of your imps," he said. "That's right, I called you demons and imps."
Tweet, tweet:
Andrew Gillum, former Tallahassee Mayor and 2018 Democratic nominee for Florida Governor, arrives at the Federal Courthouse for a pretrial hearing.

His defense attorney David Markus and wife, R. Jai Gillum are pictured walking in with him.

More to come @TDOnline pic.twitter.com/I3VJhtDPt1

— Alicia Devine, Photojournalist (@alicia_c_devine) April 10, 2023
—@Jseubanks: Leadership lesson of the day: Meetings. Rich or poor, young or old, we all have 10,080 minutes this week. Use them wisely. If you're attending 6 to 8 meetings a day, you aren't doing much else. Ask yourself, what is being advanced by my attendance? Then act accordingly.
Taylor Swift 'Eras' Tour in Tampa — 2; NBA playoffs begin — 4; final performance of 'Phantom of the Opera' on Broadway — 5; American Association of Political Consultants Pollies '23 conference begins — 7; Gov. Ron DeSantis speaks at Utah Republican Party convention — 11; DeSantis speaks at the Jerusalem Post and Museum of Tolerance Jerusalem 'Celebrate the Faces of Israel' event — 16; 'White House Plumbers' premieres — 20; 2023 Session Sine Die — 24; 'Guardians of the Galaxy Vol. 3' premieres — 24; Florida Chamber 2023 Leadership Conference on Safety, Health & Sustainability — 28; Florida TaxWatch's Spring Meeting — 37; 'Fast X' premieres — 37; Martin Scorsese's 'Killers of the Flower Moon' premieres at Cannes — 39; Florida Chamber 2023 Florida Prosperity & Economic Opportunity Solution Summit — 46; NBA Finals begin — 51; 'Spider-Man: Across the Spider-Verse' premieres — 51; 'The Flash' premieres — 65; 'Secret Invasion' premieres on Disney+ — 71; Florida Chamber 2023 Florida Learners to Earners Workforce Solution Summit — 77; 'Indiana Jones and the Dial of Destiny' premieres — 79; 'Mission Impossible: Dead Reckoning — Part One' premieres — 94; Florida Chamber 37th Annual Environmental Permitting Summer School — 100; Christopher Nolan's 'Oppenheimer' premieres — 102; 'Captain Marvel 2′ premieres — 109; Beyoncé's 'Renaissance' tour in Tampa — 126; 2023 Florida Chamber Annual Meeting & Future of Florida Forum — 195; 'Dune: Part Two' premieres — 209; Ridley Scott's 'Napoleon' premieres — 225; South Carolina Democratic Primary — 291; New Hampshire and Nevada Democratic Primaries — 303; Georgia Democratic Primary — 309; Michigan Democratic Primary — 322; 'Spider-Man: Across the Spider-Verse' Part 2 premieres — 354; 'Kingdom of the Planet of the Apes' premieres — 409; Opening Ceremony of the 2024 Olympic Games — 472; 'Thunderbolts' premieres — 472; Georgia Tech to face Florida State in 2024 opener in Dublin — 501; 'Blade' reboot premieres — 514; 'Deadpool 3' premieres — 579; 'Fantastic Four' reboot premieres — 725; 'Avengers: The Kang Dynasty' premieres — 752; 'Avengers: Secret Wars' premieres — 941.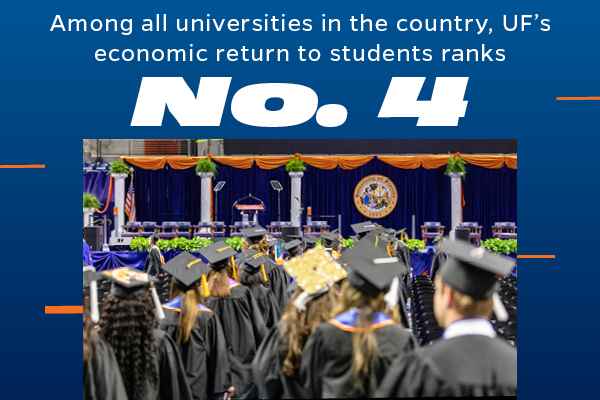 — TOP STORY —
"Two friends were denied care after Florida banned abortion. One almost died." via Caroline Kitchener of The Washington Post — When abortion was legal across the country, doctors in all states would typically offer to induce or perform a surgical procedure to end the pregnancy when faced with a pre-viability PPROM case — which is the standard of care, according to the American College of Obstetricians and Gynecologists (ACOG), and an option that many women choose. Especially before the 20-week mark, a fetus is extremely unlikely to survive without any amniotic fluid.
But in the 18 states where abortion is now banned before fetal viability, many hospitals have been turning away pre-viability PPROM patients as doctors and administrators fear the legal risk that could come with terminating even a pregnancy that could jeopardize the mother's well-being, according to 12 physicians practicing in anti-abortion states.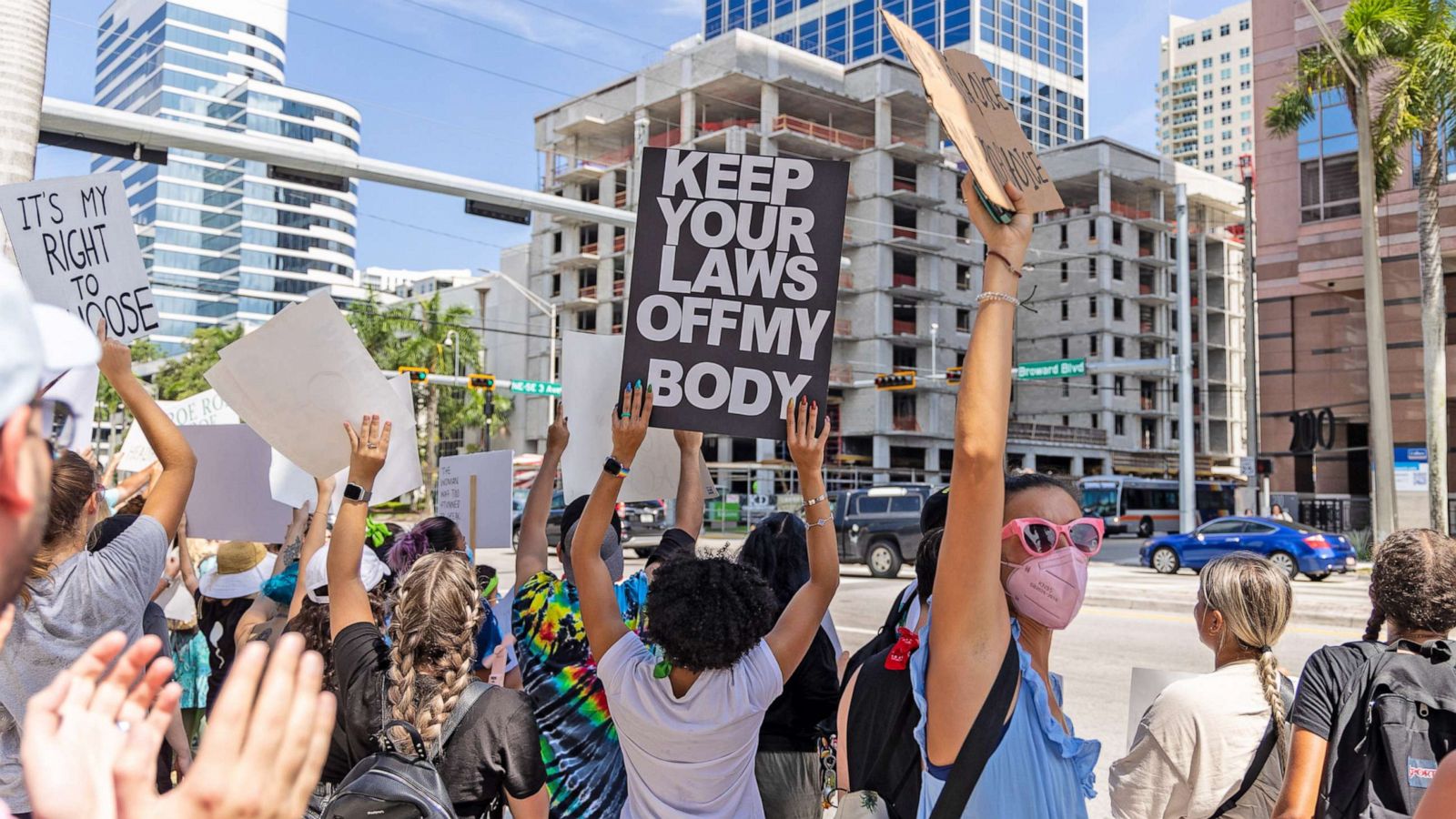 The medical exceptions to protect the life of the mother that are included in abortion bans are often described in vague language that does not appear to cover pre-viability PPROM, doctors said. That's because the risks of the condition are often less clear-cut than other medical emergencies, such as an ectopic pregnancy, in which a fertilized egg grows outside of the uterus, dooming the fetus and posing an immediate danger to the mother's life.
A 2022 study on the impact of Texas's six-week abortion ban found that 57% of pre-viability PPROM patients in Texas who were not given the option to end their pregnancies experienced "a serious maternal morbidity," such as infection or hemorrhage, compared with 33% of PPROM patients who chose to terminate in states without abortion bans. According to 2018 ACOG guidance, "isolated maternal deaths due to infection" have been reported in early PPROM cases.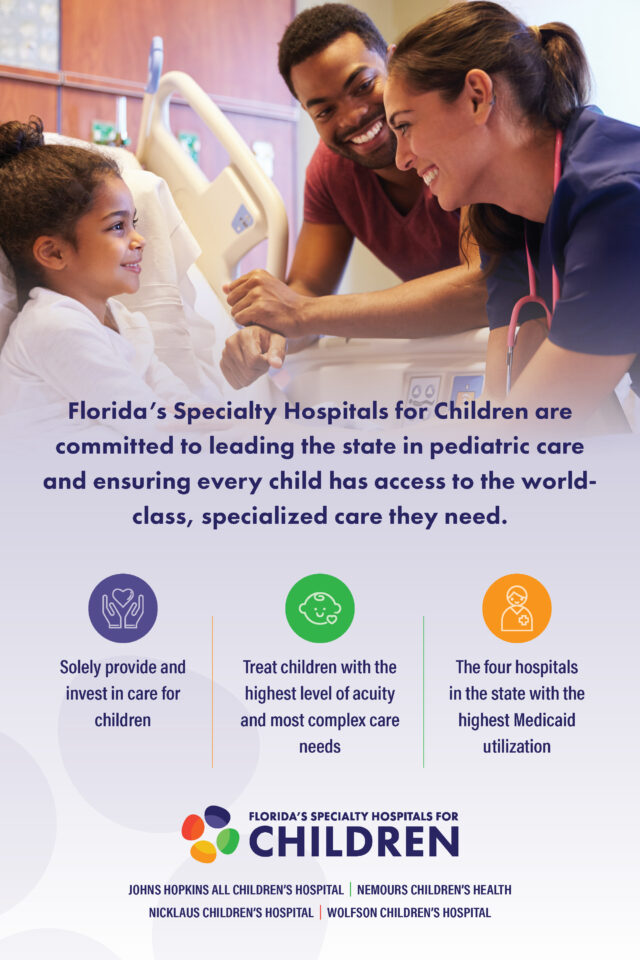 — DESANTISY LAND —
"Ron DeSantis eyes Japan visit in April" via The Mainichi — DeSantis, who is a potential 2024 Republican presidential candidate, is considering a visit to Japan in late April, a diplomatic source said. During the planned visit, DeSantis would hold talks with Japanese Foreign Minister Yoshimasa Hayashi, the source said, adding the Governor would also seek a meeting with Prime Minister Fumio Kishida. It would be DeSantis' first trip to Japan since taking office in 2019 and he is planning to lead a delegation of business leaders from the southern U.S. state, the source said. In addition to Japan, the former Congressman is making arrangements for a trip to South Korea and may also stop in Israel en route, according to the source.
"New poll finds Donald Trump leading DeSantis in Florida" via Jacob Ogles of Florida Politics — DeSantis handily won re-election last cycle. But a new poll shows he may lose his home state in a GOP Primary for President against Trump. A poll found Trump beating DeSantis both within a wide field and in a head-to-head matchup. Among likely GOP Primary voters, Trump comes out on top in a crowded field with almost 43% of the vote, while DeSantis lands at just under 35%. Author and business owner Vivek Ramaswamy pulls in at a distant third with about 4%, while Former United Nations Ambassador Nikki Haley has the support of just over 3%.
—"Trump campaign raises specter of DeSantis resign-to-run 'flip-flop'" via A.G. Gancarski of Florida Politics
"Fewer pronouns, more guns: DeSantis' plan to turn the U.S. into Florida" via David Smith of The Guardian — DeSantis argues that he has made glorious summer in the Sunshine state. If and when he announces a run for U.S. President in 2024, he will claim that he can repeat the formula in state after state across the U.S. Florida, his theory goes, is an incubator of conservative ideas that work. DeSantis writes that when he was elected in 2018, there were nearly 300,000 more registered Democrats than Republicans in Florida; by October 2022, there were more than 300,000 more registered Republicans than Democrats. "What Florida has done is establish a blueprint for governance that has produced tangible results while serving as a rebuke to the entrenched elites who have driven our nation into the ground," DeSantis writes in The Courage to Be Free.
"DeSantis is luring the Supreme Court to overturn landmark precedent again" via Maria Deliberato and Melanie Kalmanson of Slate — Despite long-standing Supreme Court precedent directing that the proposal is unconstitutional, Florida legislators this month are seeking to broaden the death penalty to non-homicide crimes. The proposal has DeSantis' full support. On Tuesday, the Florida Senate Rules Committee is expected to vote on the bill, which is the bill's last Committee stop before the floor. Specifically, the bill seeks to broaden the death penalty to sexual battery crimes against children. The bill plainly contradicts the court's 2008 decision in Kennedy v. Louisiana, which held that punishing a defendant with death when the crime does not intentionally cause the victim's death violates the Eighth Amendment to the U.S. Constitution.
"DeSantis campaign reports another $3.7M raised in March" via Jacob Ogles of Florida Politics — DeSantis raised nearly $3.7 million in March, money that presumably will support a campaign for President. Friends of Ron DeSantis, a political committee that supported the Republican through two successful bids for Governor, now sits on nearly $86 million in cash on hand. That's after reporting an additional $3,679,137 in new contributions over the month of March. About $3.5 million of that came from four sources. James Whitley, the founder of Georgia-based Landmark Properties, donated $1.5 million to the committee March 9. That was by far the largest donation to the campaign during the month.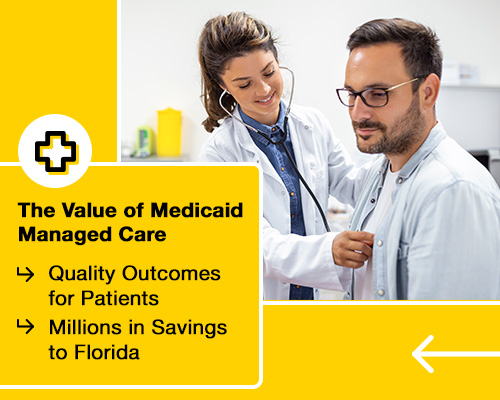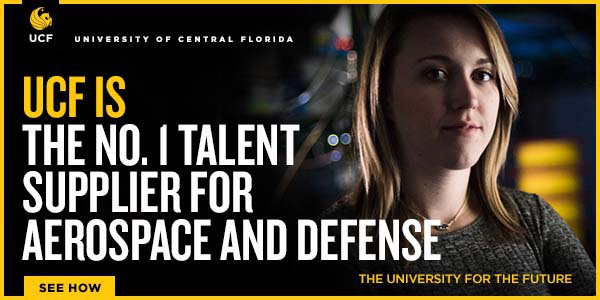 — LEGISLATIVE —
"Webster Barnaby calls transgender speakers 'demons and imps,' apologizes" via Lawrence Mower and Romy Ellenbogen of the Tampa Bay Times — A Republican member of the Florida House of Representatives called transgender Floridians "demons and imps" and compared them to "mutants from another planet" during a Committee hearing Monday. During a debate over a bill that would prevent people from using bathrooms "designated for the opposite sex," Rep. Barnaby lashed out against the several transgender Floridians who spoke out against the bill. "The Lord rebuke you, Satan, and all of your demons and all of your imps who come parade before us," Barnaby said. "That's right, I called you demons and imps who come and parade before us and pretend that you are part of this world."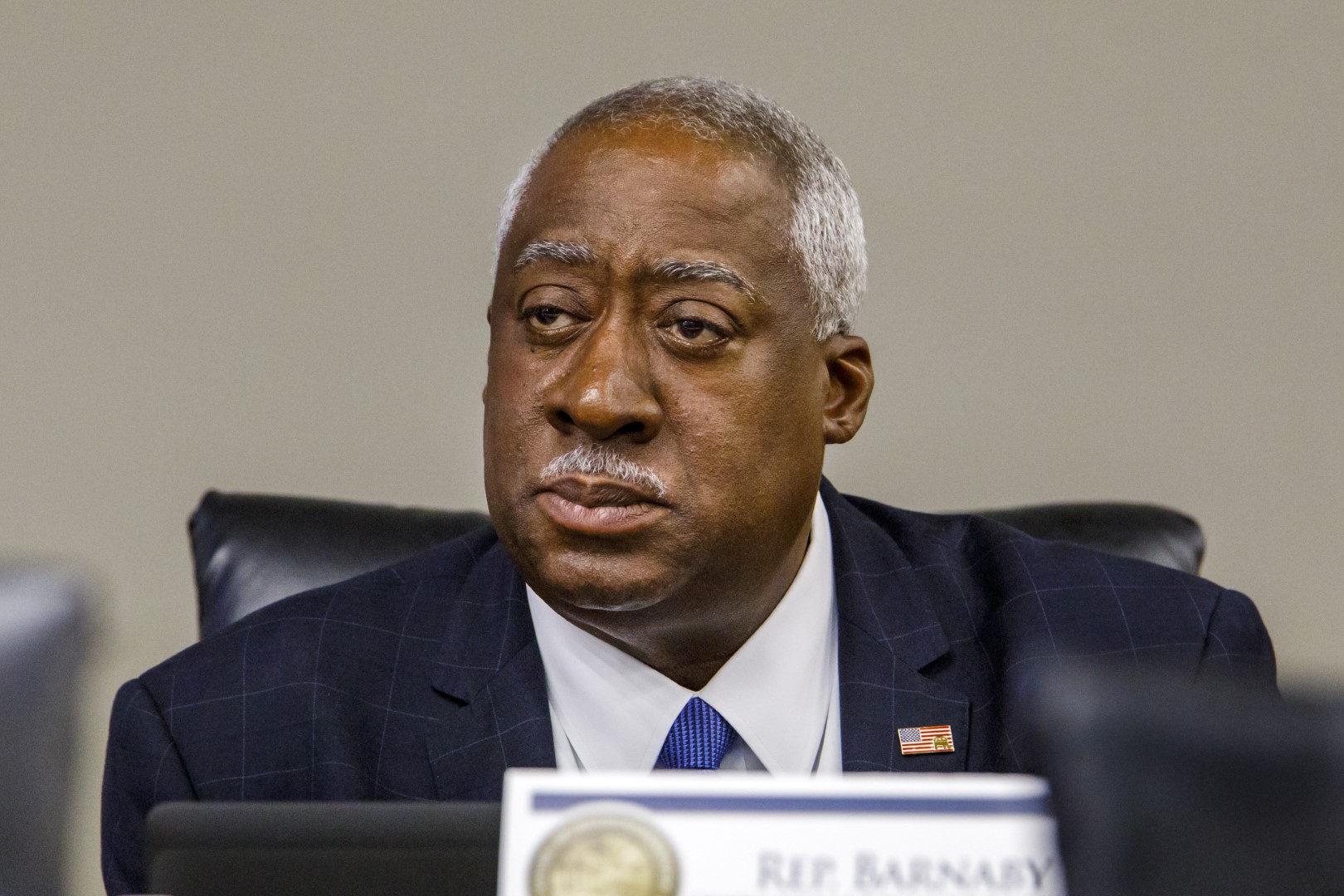 "Bill allowing insurers, docs to deny payment, provision of health care keeps moving" via Christine Jordan Sexton of Florida Politics — The Legislature continues to deliver on DeSantis' agenda with a House panel agreeing to move a bill that allows insurance companies and providers to deny paying for or providing care to patients who have a "conscience-based objection" to it. Despite concerns that the bill (HB 1403) could allow physicians to discriminate against female, gay, transgender and minority patients, members of the House Health and Human Services Committee voted 11-5 Monday afternoon to approve the bill. The bill defines "conscience-based objection" as an objection based on a sincerely held religious, moral or ethical belief. The bill does not require physicians to refer patients who are denied care to a different provider.
"Bill scratching auto glass repair lawsuits rolls to House floor with added rule to curb 'steering'" via Jesse Scheckner of Florida Politics — Championed by industry groups and CFO Jimmy Patronis, a bill curbing auto glass repair lawsuits sped through its last Committee stop in the House and now awaits a full chamber vote. The measure (HB 541) advanced with bipartisan support and amended language addressing concerns small auto shops raised about alleged self-dealing by auto glass giant Safelite, which in many cases answers claim calls on behalf of insurers. The House Commerce Committee overwhelmingly backed the bill, with only Reps. Kristen Arrington and Jennifer Harris voting "no."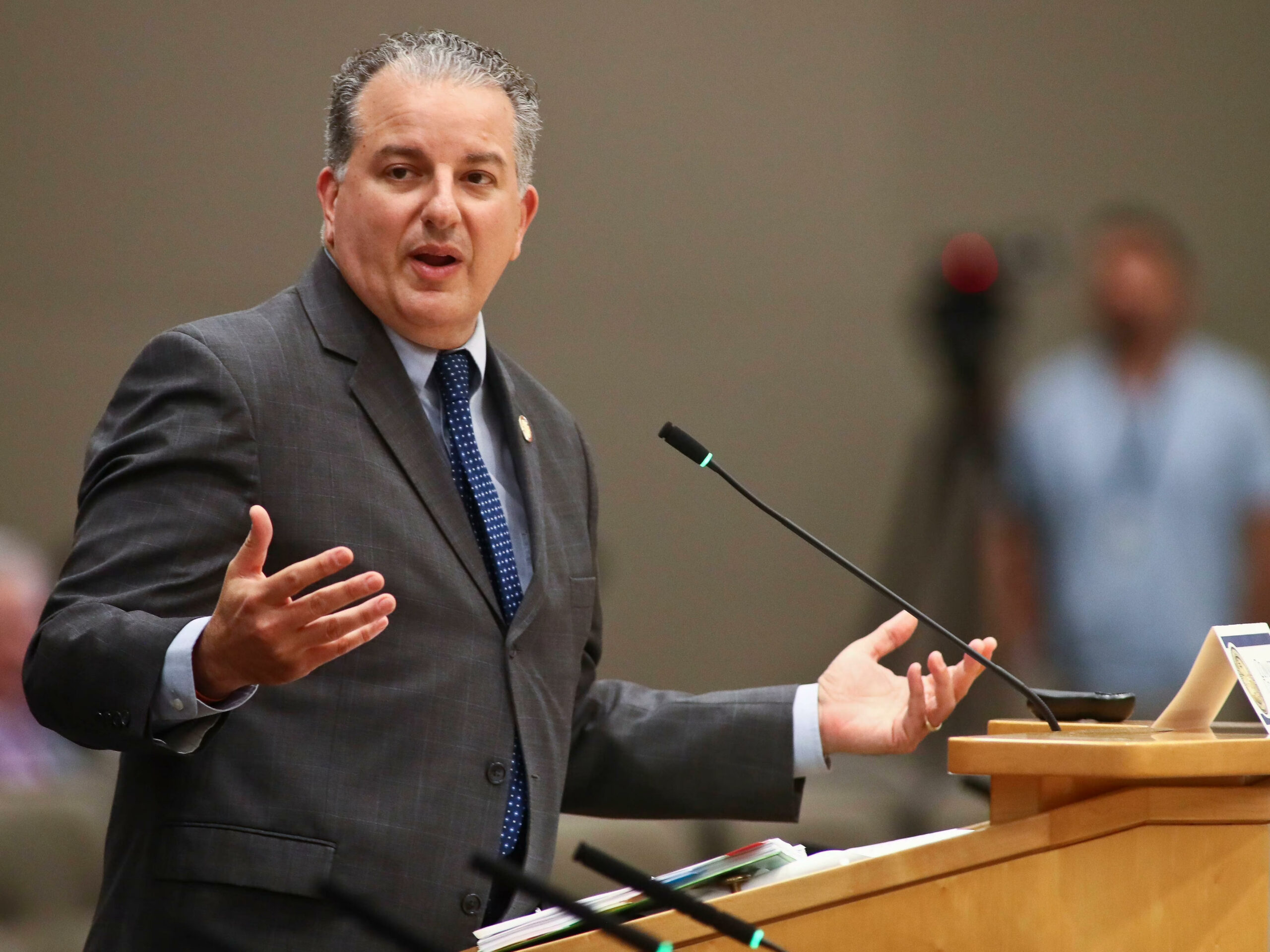 "House advances bill restricting use of restrooms according to reproductive function" via Anne Geggis of Florida Politics — A measure mandating that people use bathroom facilities according to reproductive function moved a step closer to becoming a reality as the "bathroom bill" is now heading toward the full House floor. Rep. Rachel Saunders Plakon introduced the bill (HB 1521) that was passed largely along party lines in the House Commerce Committee meeting. She says she put her legislation forward to enforce common decency standards in public spaces, to protect women and children from assault. Many came before the Committee, however, with fears that it would result in transgender harassment.
"House drone delivery bill flies through final Committee stop" via Jesse Scheckner of Florida Politics — A bill clearing the way for easier construction of drone ports throughout Florida is on its way to the House floor after zooming through its final Committee stop. The House Infrastructure Strategies Committee voted unanimously for the measure (HB 1071) by Reps. Wyman Duggan and Spencer Roach. The panel similarly supported an amendment Duggan proffered to line the bill's language up with that of its Senate companion (SB 1068), which also now awaits consideration by the full chamber.
"Sea-level rise study legislation heading to House floor" via Wes Wolfe of Florida Politics — Legislation that expands sea-level rise studies and grants passed its last Committee this week in the House. "This is the most exciting bill on this agenda, because it is the last bill on this agenda," Rep. Christine Hunschofsky said as the House Infrastructure Strategies Committee took up her bill. The bill (HB 111) directs the Resilient Florida Grant Program to provide money for local governments to conduct feasibility studies and cover permitting costs for nature-based solutions to the impact of flooding and sea-level rise. It also expands funding to cover water management districts' efforts supporting local government adaptation planning.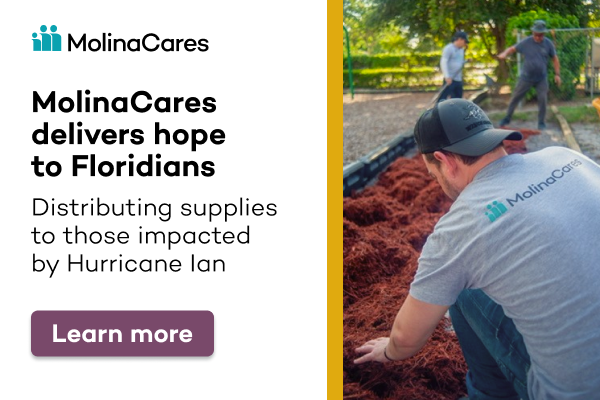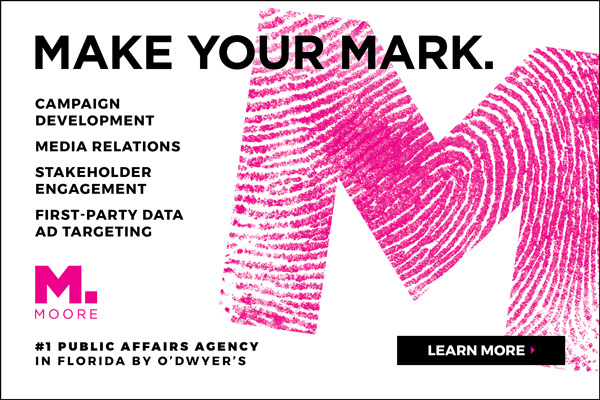 — MORE LEGISLATIVE —
"House moves on less strict insurer 'accountability' bill" via Gray Rohrer of Florida Politics — A House panel approved a bill imposing new requirements on property insurers and new reporting requirements for regulators, but the measure doesn't contain some of the stricter measures surrounding proper claims handling and oversight included in a similar bill moving in the Senate. "The House bill has left out any real teeth that can be used to hold insurers accountable," said Stephen Cain, president-elect of the Florida Justice Association, a trade group for trial lawyers. The House Commerce Committee passed the bill (PCB COM 23-04) unanimously. But Rep. Rita Harris expressed a preference for the more stringent Senate version (SB 7052), which passed through the Senate Banking and Insurance Committee last week.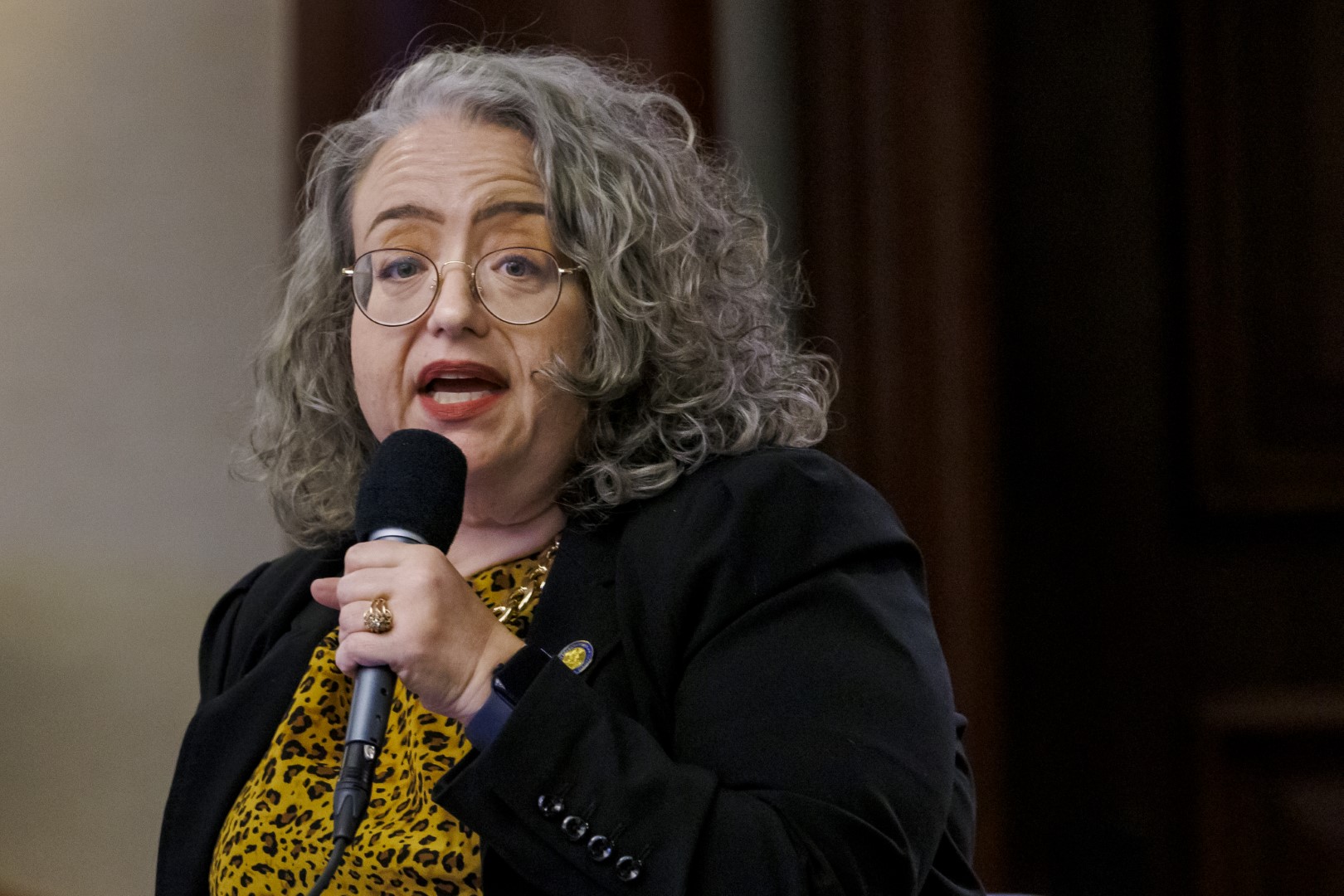 "Democrat Leader Lauren Book warns 'women will die' over six-week abortion ban" via Amber Jo Cooper of Florida's Voice — Book said "women will die" if and when the proposed six-week abortion ban passes and is signed into law. The Florida Senate recently passed a six-week abortion ban, providing exceptions for rape, incest and human trafficking. The proposal, sponsored by Sen. Erin Grall is titled the "Heartbeat Protection Act" and still needs approval from the House. "Despite denials from across the aisle, the truth is clear: Florida mothers who suffer miscarriages are ALREADY being forced to the brink of death before receiving needed abortion care. This year's ban will only make it worse. Women will die," Book said.
"UF and UNF in running for Jacksonville campus work. What's the latest in Legislature?" via David Bauerlein of The Florida Times-Union — A possible University of Florida graduate campus in Jacksonville picked up support for $50 million from the state House, but it's a different story in the Senate where the campus got $5 million in the budget version approved by that chamber. The University of North Florida is also in the running for a chunk of state money for its Coggin College of Business building as lawmakers hammer out next year's spending. But like the UF campus in Jacksonville, the House and Senate budget versions diverge on how much state money should go toward UNF campus improvements.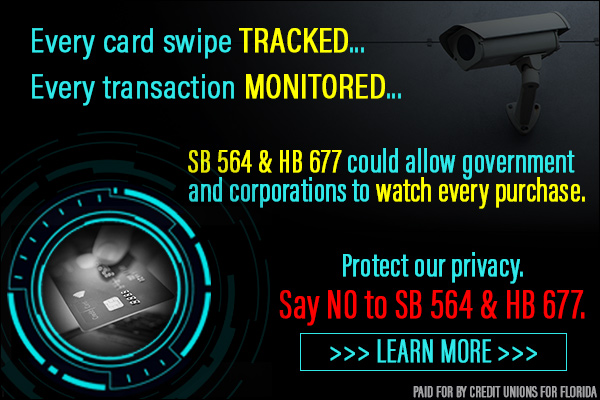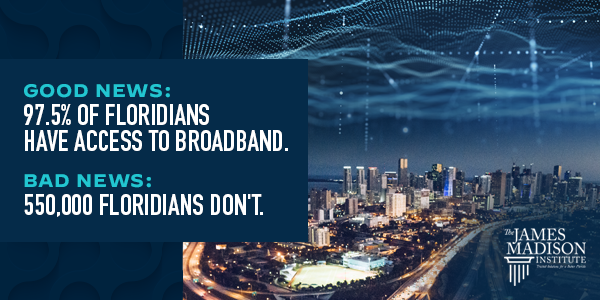 — MORE FROM CAPITOL —
ACLU says bathroom bill would 'perpetuate discrimination and exclusion' — The ACLU of Florida criticized a bill (HB 1521) advancing through the House that would mandate people use bathroom facilities according to their reproductive function. "These kinds of bills make it impossible for transgender people to go about their daily lives like other people — and it opens the door to abuse, mistreatment and more. Let's be clear: This is state-sanctioned discrimination," said Kirk Bailey, the political director of ACLU of Florida. "The Florida Legislature's obsession with targeting trans people is bizarre, unnecessary, unconstitutional and extremely dangerous."
CPR/AED training coming to Capitol — Rep. Fred Hawkins and his team will be hosting CPR/AED training for all legislators, aides and other staff members who would like to attend. Each training session will take 30 minutes, and sessions will run through 3 p.m. There will be professional instructors, videos, and mannequins to practice on. 308 House Office Building. Registration is required.
"Dennis Baxley endorses Keith Truenow as his preferred successor in Senate" via Jacob Ogles of Florida Politics — Baxley has a candidate he would like to succeed him in the Senate. The Ocala Republican is endorsing Rep. Truenow, one of four Republicans filed in Senate District 13. "I've had the privilege and pleasure of serving the people of Florida with Keith Truenow these last four years, and I could not be prouder to endorse him for the District 13 seat I am about to term out of," Baxley said. "Keith is a true conservative and has been on the front lines of Florida's fight with the blue state woke liberals. Whether it was helping pass permitless carry, removing layers of duplicative government or backing the Governor — Florida is more free because of Keith Truenow."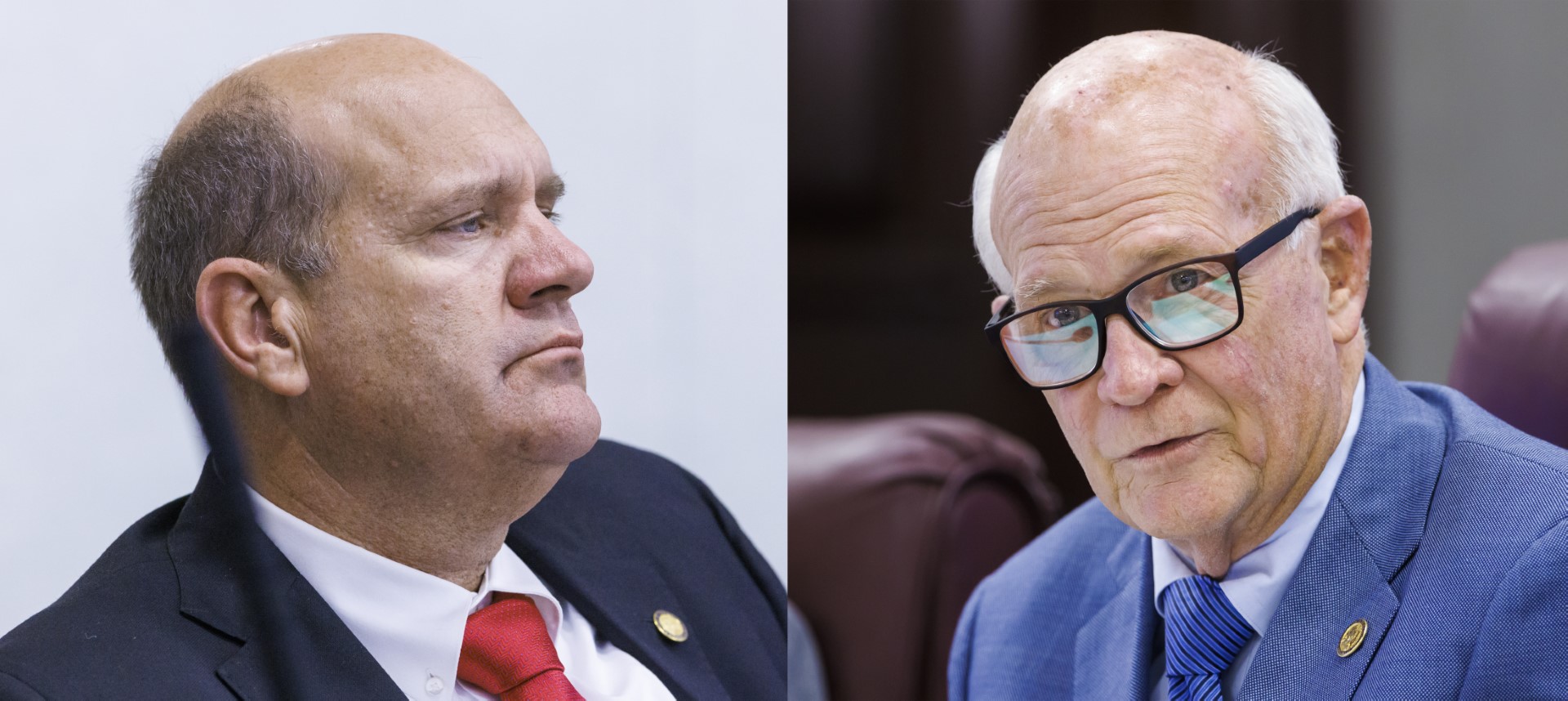 "HD 22 candidate Robert Woody tops $50K in March" via Drew Wilson of Florida Politics — Republican Woody announced Monday that he reeled in more than $50,000 through his campaign and political committee in what is shaping up to be a competitive Republican Primary for North Central Florida's House District 22. In a news release, Woody's campaign also touted endorsements from Sen. Keith Perry, former House Speaker Larry Cretul, and former Alachua County School Board Member Mildred Russell, who was appointed to that post by DeSantis. Woody is competing against fellow Republican Raemi Eagle-Glenn to succeed term-limited Rep. Chuck Clemons in HD 22, which covers all of Gilchrist and Levy as well as a slice of Alachua County.
Nick Primrose shows more than $100K raised in first finance report — Primrose raised more than $100,000 between his campaign and political committee last month, according to a campaign news release. A former attorney to DeSantis, Primrose resigned his seat on the Florida Elections Commission in late February before announcing he would run to succeed term-limited Rep. Cyndi Stevenson in House District 18. In one month, his campaign account has amassed $102,084. The political committee Friends of Nick Primrose PC raised an additional $17,100 for an overall haul of $119,184. St. Augustine Republican Kim Kendall is also running for the open seat. She raised about $150,000 in March. HD 18 covers a portion of St. Johns County and is reliably Republican.
"WGU student David Gamez files to challenge Jennifer Canady in HD 50" via Jacob Ogles of Florida Politics — Gamez, a Lakeland college student, will challenge Rep. Canady in House District 50. The Democrat signaled last week his frustrations at political events unfolding in state legislatures both in Florida and Tennessee. Republican leadership in the Volunteer State just expelled two Black members of the Tennessee House for joining demonstrations in favor of an assault weapons ban. "Just based on what is happening in Tennessee and in my home state of Florida, I think I may have an announcement to make in a few days," he said.
"After taking a break, Simone Marstiller is returning to the Gunster law firm" via Jim Rosica of City & State FL — Marstiller, who most recently was secretary of the Agency for Health Care Administration, told City & State Thursday that she's returning to the Gunster law and lobbying firm as a consultant, effective Monday. Marstiller, who was with Gunster before initially joining DeSantis' administration as head of the Department of Juvenile Justice, will join the firm's government affairs, health care and appellate practice groups, splitting her time between the Tampa and Tallahassee offices. "I'm really looking forward to it," said Marstiller, a member of the City & State Florida Women Power 100 list. "It's fun. When I went to Gunster the first time, it was a comfortable transition for me because I knew so many people there I had worked with before. That is doubly true now."
— LEG. SKED —
— The House Justice Appropriations Subcommittee will consider a bill (HB 779) that would protect pregnant women who have been arrested: 8 a.m., Room 17, House Office Building.
— The Senate Rules Committee will consider more than three dozen bills, including measures that would have voters decide whether the Florida Constitution should be changed to make School Board races partisan (SJR 94), a bill (SB 636) creating a new procedure for parents of adult children with disabilities to stay involved in their child's education, and a bill (SB 846) that would ban Florida's state colleges and universities from accepting gifts from seven "countries of concern": 8:30 a.m., Room 412, Knott Building.
— The House Infrastructure & Tourism Appropriations Subcommittee will take up legislation (HB 709) that would require the Florida Department of Highway Safety and Motor Vehicles to contract with a nonprofit focused primarily on motorcycle safety and education: 11:30 a.m., Room 314, House Office Building.
— The House Education & Employment Committee will consider legislation (HB 389) mandating that menstrual products be provided free at public schools, including charter schools: 2 p.m., Room 17, House Office Building.
— The House Judiciary Committee will take up legislation (HB 1409) that would end permanent alimony without negatively affecting existing alimony agreements: 2 p.m., Room 404, House Office Building.
— The House State Affairs Committee will consider two dozen bills, including a measure (HB 199) closing a loophole in ethics laws governing special districts: 2 p.m., Room 212, Knott Building.
— The Senate Special Order Calendar Group meets: 6:15 p.m., Room 401, Senate Office Building.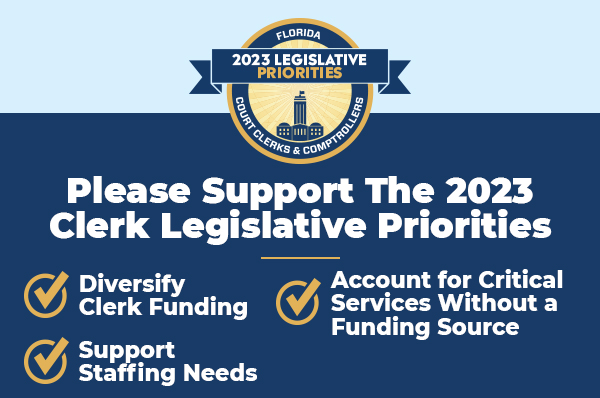 They headline this as if it's a bad thing — "DeSantis pushes toughest immigration crackdown in the nation" via Miriam Jordan of The New York Times — Led by DeSantis, the Legislature is considering a sweeping package of immigration measures that would represent the toughest crackdown on undocumented immigration by any state in more than a decade. Expected to pass within weeks because Republicans have supermajorities in both chambers, the bills are part of what DeSantis describes as a response to President Joe Biden's "open borders agenda." The new measures represent the most far-reaching state immigration legislation since 2010, when Arizona, a border state that was the nation's busiest corridor for human smuggling at the time, passed a law that required the police to ask people they stopped for proof of immigration status if they had a reason to suspect they might be in the country illegally.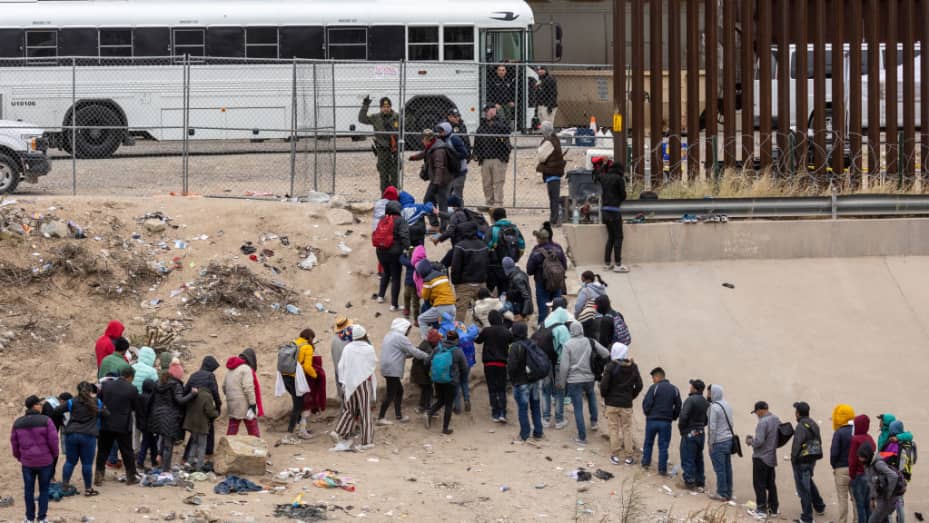 "DeSantis appoints four new judges in Jacksonville, Sarasota" via A.G. Gancarski of Florida Politics — DeSantis is picking three Jacksonville area jurists along with one from Sarasota to fill gaps in the judiciary this week. Jacksonville's Jordan Pratt will replace retired Judge Kerry Evander on the 5th District Court of Appeal. Since 2021, Pratt has been senior counsel for the First Liberty Institute, an organization focused on religious freedom for conservatives. Before that, the Double Gator (and undergraduate valedictorian) clerked for federal judges and served as counsel for federal and state governmental divisions. Pratt was Deputy General Counsel for the U.S. Small Business Administration, Senior Counsel for the U.S. Department of Justice, and Deputy Solicitor General for the Florida Office of the Solicitor General.
"Florida gas prices climb 12 cents, return to 2023 highs" via Jesse Scheckner of Florida Politics — Florida gas prices continued rising last week by 12 more cents, hitting a statewide average Sunday of $3.58 per gallon. That's equal to the highest price so far in 2023 that was set in late January. AAA Spokesman Mark Jenkins said the price jump was expected after OPEC announced surprise plans last week to cut oil production by about 1 million barrels daily beginning in May.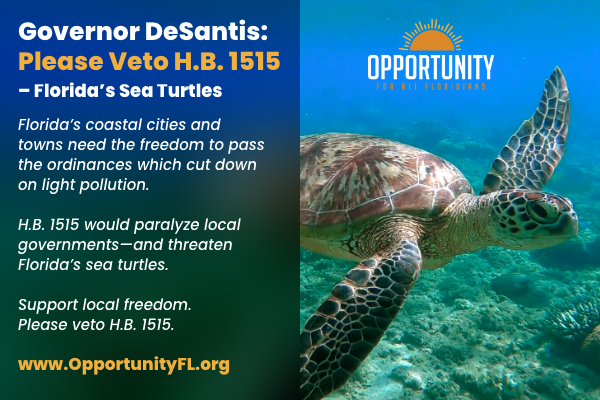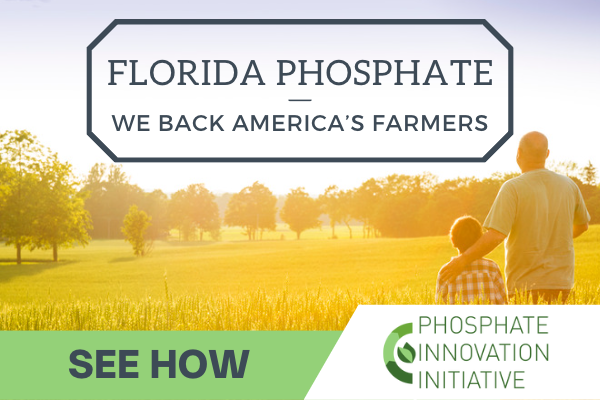 — D.C. MATTERS —
"Joe Biden signs resolution ending coronavirus national emergency" via Azi Paybarah of The Washington Post — Biden signed a resolution Monday formally ending the coronavirus national emergency Trump enacted in March 2020. Despite Biden telling Congress in January that he would end the health emergency in May, House Republicans passed the measure ending the national emergency under the Congressional Review Act, which allows Congress to overturn rules by federal agencies via a simple majority vote. House Democrats voted overwhelmingly against it.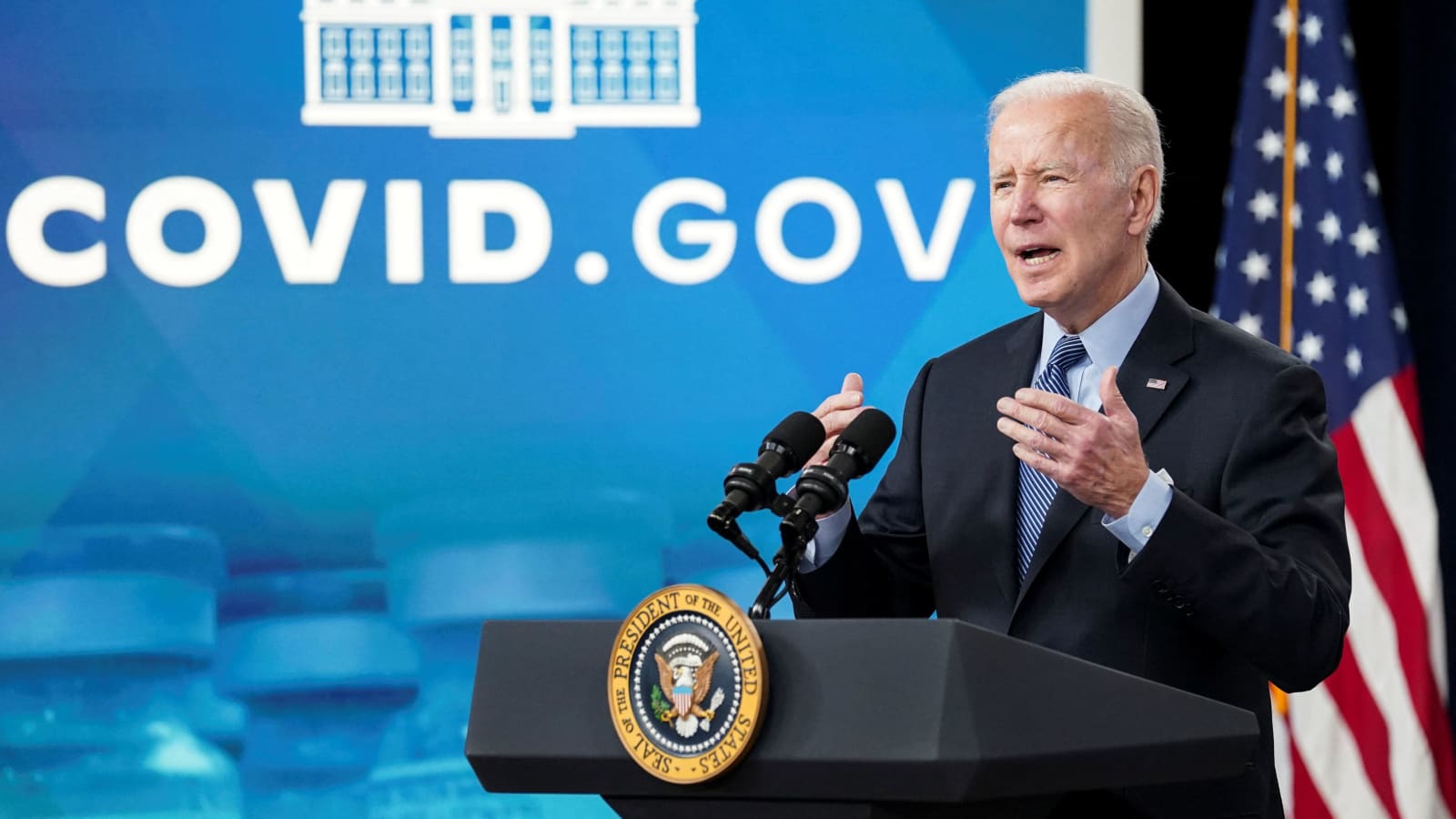 "DEA proposal sparks concerns about access to telehealth" via Jessie Hellmann of Roll Call — Members of Congress and advocates worry a proposed rule from the Biden administration will make it harder for people to access a medication commonly used to treat opioid use disorder. The Drug Enforcement Administration is proposing limiting telehealth prescriptions for buprenorphine to an initial 30-day supply until the patient can be seen in person by a physician. The proposal follows a three-year period during the public health emergency where the DEA allowed providers to prescribe buprenorphine through telehealth without requiring an in-person visit, part of an effort to maintain access to care during the pandemic.
"Justice Department appeals Texas abortion pill ruling" via Perry Stein, Ann E. Marimow and Caroline Kitchener of The Washington Post — The Justice Department on Monday appealed a Texas judge's decision that would block access to a key abortion drug across the country, arguing that the challengers had no right to file the lawsuit since they were not personally harmed by the abortion pill. The 49-page appeal, filed in the right-leaning U.S. Court of Appeals for the 5th Circuit, landed less than one business day after Judge Matthew J. Kacsmaryk suspended FDA approval of mifepristone, one of the two medications used in more than half of all abortions in the United States.
—"Drug company leaders condemn ruling invalidating FDA's approval of abortion pill" via Pam Belluck and Christina Jewett of The New York Times
"Highly sensitive classified documents were leaked, Pentagon says" via Jennifer Jacobs, Courtney McBride and Roxana Tiron of Bloomberg — "Highly sensitive, classified" information was made public in a leak of documents that provide details of U.S. spying on other countries, including an assessment of weaknesses in Ukraine's military, and pose "a very serious risk to national security," according to the Pentagon. The Department of Defense is "working around the clock to figure out the scope and scale of the distribution of the information" and its veracity, representative Chris Meagher said.
"Maxwell Frost garners Orlando Mayor's support for his bill to create federal gun violence office" via Ryan Gillespie of the Orlando Sentinel — In the hours before a news conference by U.S. Rep. Frost to promote a bill to centralize how the U.S. responds to gun violence, a spate of gunfire in Orlando and in Louisville highlighted the urgency of the issue. Six were killed — including three children — in two separate Orlando shootings Sunday, while at least four were killed at a Louisville Bank Monday morning. "Daily problems require daily solutions, and believe it or not, the federal government does not have one singular federal office that works to end gun violence on a daily basis," Frost said on the steps in front of City Hall.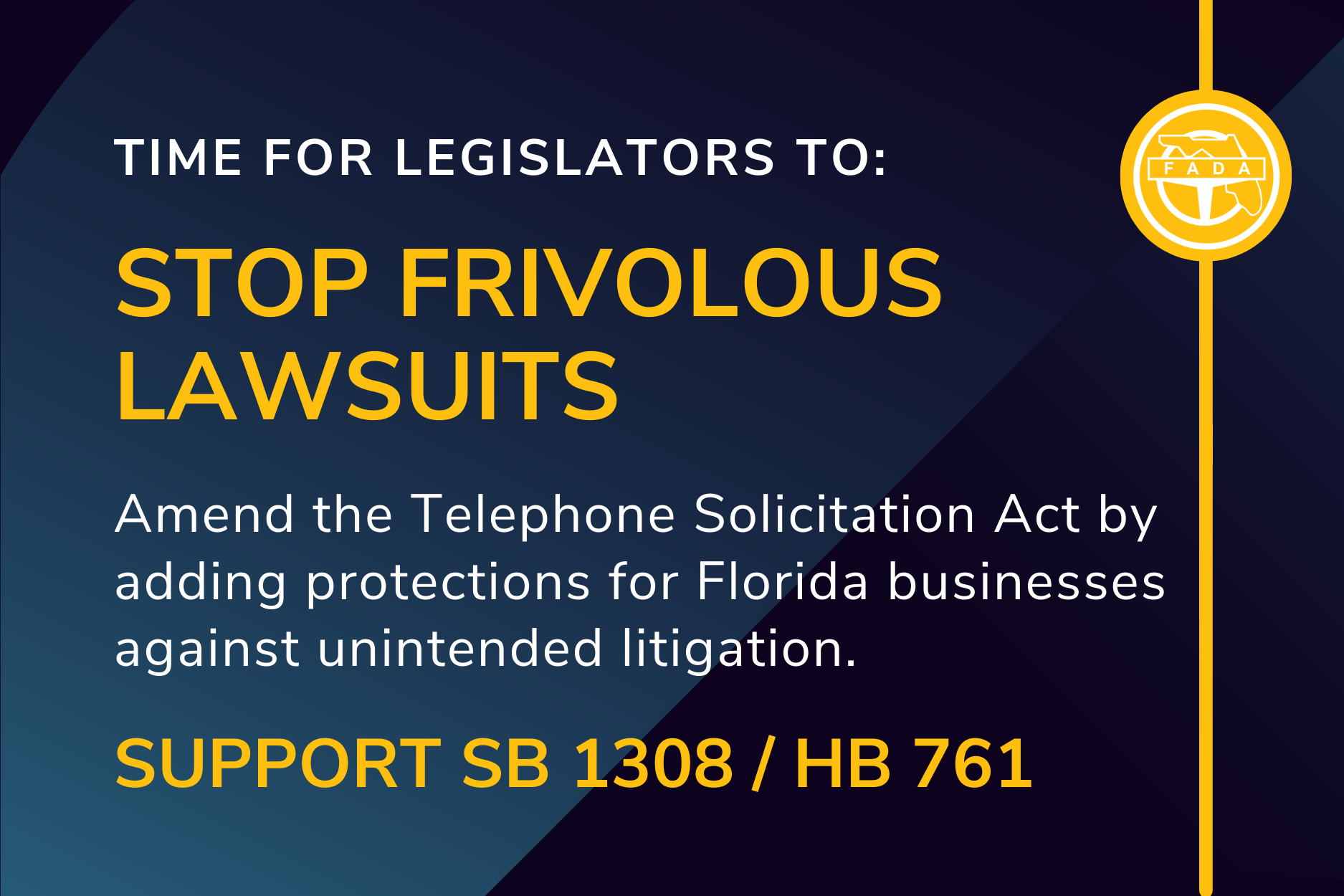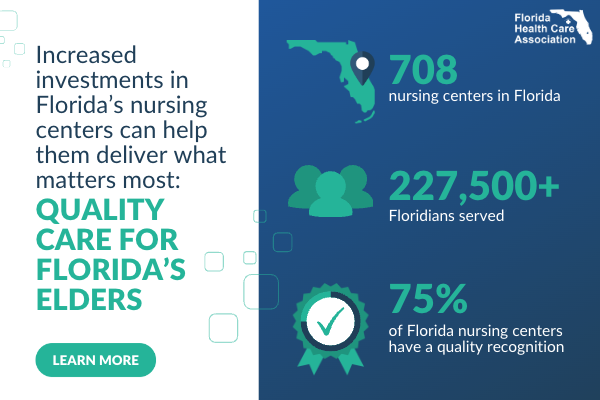 — EPILOGUE TRUMP —
"DA Alvin Bragg's one-time rival explains why he was '100% right' to leave a gaping hole in Trump's indictment" via Sonam Sheth, Laura Italiano, and Oma Seddiq of Business Insider — Shortly after the Manhattan District Attorney's Office unsealed its 34-count felony indictment against former Trump, questions started pouring in. Former prosecutors, some of them veterans of the Manhattan DA's office, wondered: why didn't DA Bragg include any information about a secondary crime in such a high-stakes case? "When you have an indictment, anything you put in the indictment, you must prove it," Diana Florence, who ran against Bragg for DA said. She added that so-called "speaking indictments" in cases like Trump's are very rare.
"Trump attempting to stop Mike Pence from testifying about Jan. 6 Capitol riot" via Bart Jansen of USA Today — Trump appealed a federal judge's order Monday for Pence to provide information to a grand jury investigating the former President's efforts to overturn the 2020 Election. Trump spokesperson Steven Cheung confirmed the filing to the D.C. Circuit Court of Appeals and criticized the Justice Department's handling of the special counsel investigations against Trump. "The DOJ is continuously stepping far outside the standard norms in attempting to destroy the long accepted, long-held, constitutionally based standards of attorney-client privilege and executive privilege," Cheung said.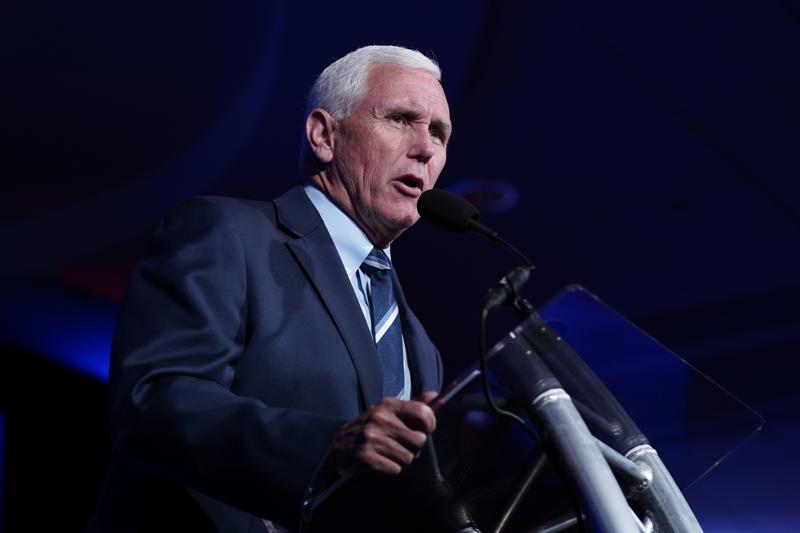 "Trump ignores deadline for personal financial disclosure to FEC" via Shane Goldmacher of The New York Times — Trump has a minor addition to his mounting pile of legal challenges after he failed to meet the deadline to disclose his personal financial holdings. But the threatened initial penalty, a meager $200, is the latest sign of how weak federal enforcement of campaign laws has become. The personal financial disclosure will eventually provide the first look at Trump's post-presidential businesses, including his holdings in Truth Social, the social media company he helped create.
"Trump expected to sit for deposition this week in civil lawsuit brought by New York attorney general" via Kara Scannell and Kristen Holmes of CNN — Trump is expected to be back in New York City to face another legal battle Thursday, this time in a civil lawsuit filed by New York Attorney General Letitia James. Trump is scheduled to sit for another deposition for the suit brought against him, his children and Trump Organization, alleging they participated in an expansive scheme lasting over a decade by providing false financial statements to lenders and others that Trump used to enrich himself. Trump sat for a deposition for the case in August 2022, when he refused to answer questions, citing his Fifth Amendment right against self-incrimination to more than 400 questions.
"Nearly half of Americans think Trump should suspend 2024 campaign after indictment" via Aubrie Spady of Fox News — As Trump ramps up his 2024 presidential campaign, new polling reveals that while more than half of Americans believe he intentionally did something illegal after his indictment, many believe it was politically motivated. Trump was arraigned Tuesday in New York City on charges stemming from alleged 2016 hush money payments to adult film actor Stormy Daniels, making him the first former President in American history to be criminally charged. A recent poll found that 48% of Americans think Trump should suspend his presidential campaign following the indictment, up five points from last week.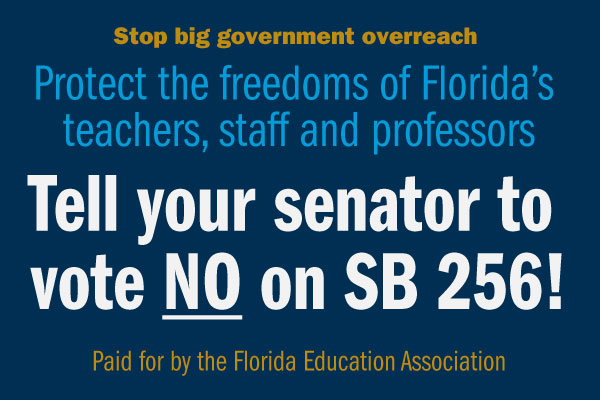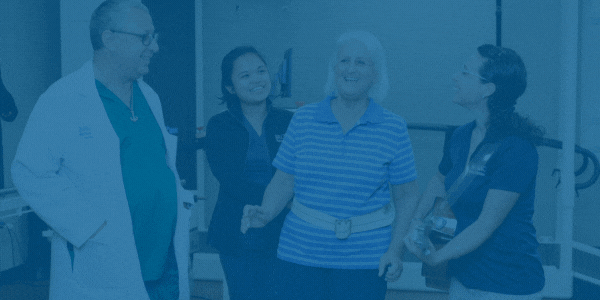 — 2024 —
"Florida GOP Cory Mills backs Trump for President, as more prepare to follow suit" via Eric Cortellessa of Time — Another member of Florida's Republican House delegation, Rep. Mills, is going all-in on Trump's quest to take back the White House. "I think that what's happening in New York is a very unifying event," Mills said. "We need to stop the infighting and come together and unify. And I think right now the person that we need to be unifying behind is President Trump." Mills will likely soon be accompanied by more of his colleagues. Other GOP Florida House lawmakers have told associates that they will endorse Trump in the coming days or weeks, including Reps. Kat Cammack, Brian Mast, Vern Buchanan, and Greg Steube.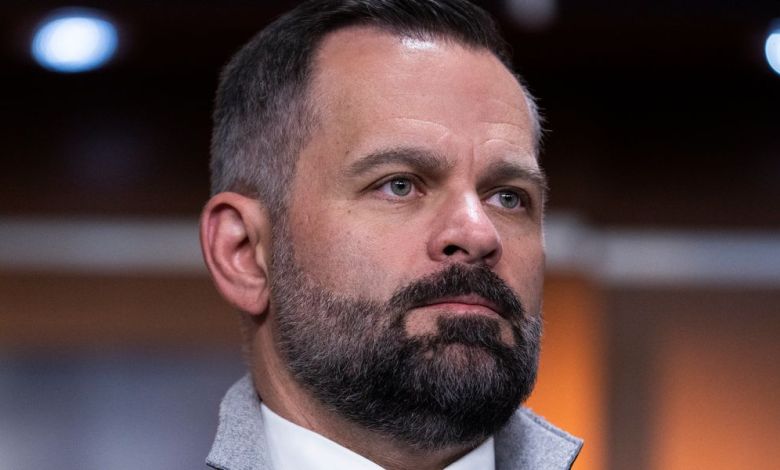 —"Trump leads DeSantis in another Iowa poll" via A.G. Gancarski of Florida Politics
—"Trump, DeSantis are Pennsylvania's picks in 2024" via A.G. Gancarski of Florida Politics
—"DeSantis heading to South Carolina" via The Associated Press
"GOP's stormy 2024 outlook" via Josh Kraushaar of Axios — This week marked a low point for Republicans as they prepare for the 2024 elections: Trump is once again the dominant force in the party, which is showing little indication of trying to appeal to swing voters. By aligning with Trump's grievances and promoting tougher abortion restrictions, it's increasingly difficult for the GOP to win outside of deep-red strongholds. Every potential Republican challenger to Trump has adopted the MAGA narrative that a politicized justice system is unfairly treating Trump, even when it's in their interest to criticize the GOP front-runner.
"Biden's 2024 campaign is starting to take shape, minus the announcement" via Mike Memoli, Peter Nicholas, Carol E. Lee and Monica Alba of NBC News — Top White House advisers are set to make final decisions on launching Biden's re-election campaign, even as the would-be candidate seems to show little urgency to formally declare his 2024 plans. Biden's deliberate approach to making public what he's repeatedly made clear in private is being driven by a number of factors: no major Democratic challenger is emerging; his now-indicted predecessor is consuming the political spotlight; and a major clash with congressional Republicans over spending is looming.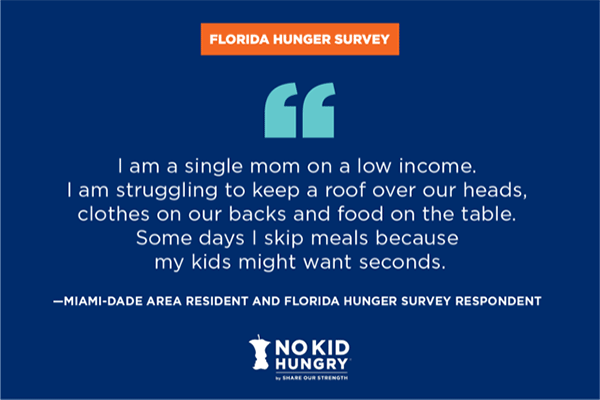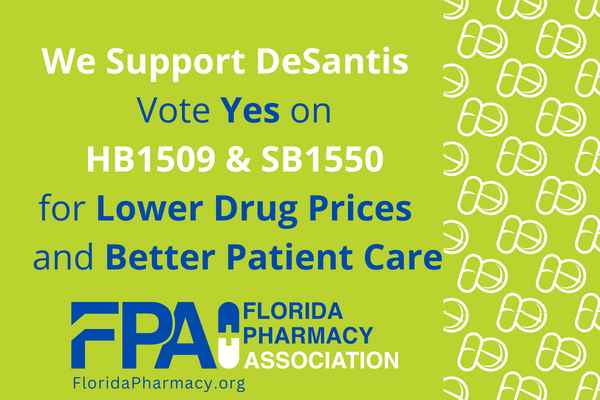 — LOCAL: S. FL —
"Critics say voucher law will hurt public schools — yet 3 School Board members at signing" via Sommer Brugal of the Miami Herald — When DeSantis took the stage at a Catholic all-boys private school in Miami to sign one of the largest private school voucher programs in the country, the Miami-Dade School Board Chair and two Board members were in attendance. Attending events alongside elected officials is nothing new for School Board members, but their support of a voucher expansion program that public school advocates say could shift district money to private schools is at odds with the Board's own legislative priorities for the year. In November, the Board voted unanimously to "oppose any further expansion of the Family Empowerment Scholarship (FES) or similar voucher programs." The Board also supported capping the annual voucher increase.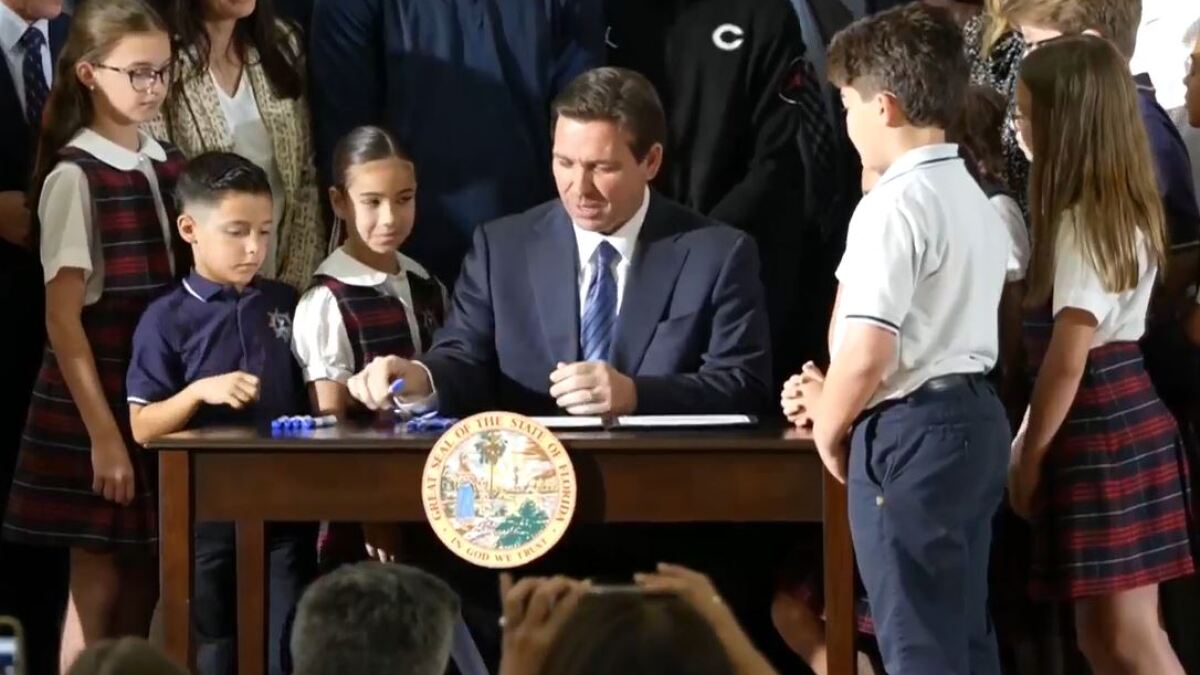 "A marketing blitz and 'bold solutions': How Broward schools will aim to attract students and compete against vouchers" via Scott Travis of the South Florida Sun-Sentinel — There are many options for Broward County students to get an education, but the school district maintains "there's no place like Broward County Public Schools." That's the name of a new marketing campaign the district plans to launch in the coming week to compete with the increasing number of school choice options, including charter and private school vouchers. The effort will go beyond a PR campaign, district officials say, and will include making major changes, including closing or combining low-enrolled schools to create a smaller number of better-performing schools. "We are visioning redesigning, realigning, repurposing and consolidating schools," Interim Superintendent Earlean Smiley told the School Board.
"UFC made triumphant return to Miami, but sudden turn to partisan politics hit sour note" via Greg Cote of the Miami Herald — There was so much good about Ultimate Fighting Championship's grand return to Miami Saturday night for the first time in 20 years — so much good it was an added shame the night left a sour taste. It ended up an embarrassment to the sport and to the host city that the UFC 287 mixed martial arts event at the Miami Heat's downtown arena volunteered its octagon and microphone to become a stage and platform for politics. Even for a sport that trades in barbarism, this was ugly. Miami-born fighter Jorge Masvidal, 38, lost to Gilbert Burns and afterward announced he was retiring after 20 years in mixed martial arts. So far, so good.
"Corruption claims. A $226K probe. Holocaust principal scandal rages on after five years" via Andrew Marra of the Palm Beach Post — There was a time, surely, when it must have seemed the battles over a high school principal's explosive Holocaust remark would subside after his removal from the school, way back in July 2019. Or, if not then, perhaps after his firing three months later. Or after he was briefly reinstated, then fired a second time the following year. Or at the end of his administrative hearings and appeals. For Palm Beach County public school leaders, though, there has been no such luck. Five years after Spanish River High Principal William Latson's now-infamous refusal to acknowledge the Holocaust as a historical fact, unresolved disputes over the scandal and its aftermath are again bursting into public view.
"St. Lucie County School Board considers appeal to remove 16 books from district libraries" via Colleen Wixon of Treasure Coast Newspapers — The School Board Tuesday is to consider whether to keep 16 books on library shelves or remove them after a challenge by at least one parent. This after at least eight books — "The Kite Runner," "Drama," "Thirteen Reasons Why," "The Hate U Give," "More Happy Than Not," "Extremely Loud & Incredibly Close," "Beloved" and "The Truth About Alice" — were removed last month from Martin County school libraries, and an illustrated version of "The Diary of Anne Frank" was removed last month from Vero Beach High School. St. Lucie Superintendent Jon Prince and a review committee of parents, educators and district officials have recommended keeping all 16 in school libraries but restricting them to upper-grade levels.
"'Go scorch earth': Angry over school rezoning, Coral Springs considers cutting Parkland from fire-rescue service" via Lisa J. Huriash of the South Florida Sun-Sentinel — Coral Springs leaders — who are furious over a pending school boundary vote involving Marjory Stoneman Douglas High in Parkland — say they are ready to send a message to their neighbors to the north. Coral Springs City Commissioners are mulling the idea of severing ties with Parkland, including a plan to "revisit" its contract to no longer provide fire and paramedic services to Parkland. It also may consider refusing to allow Stoneman Douglas students to park their cars at a nearby city park. And it may push back with trying to get a court injunction to stop the high school rezoning process.
"Demoted deputy chief files to take his boss' job as Indian River County Sheriff" via Anne Geggis of Florida Politics — A three-way Republican Primary is shaping up as the current Indian River County Sheriff comes up for re-election. Milo Thornton, a captain in the Sheriff's Office, is challenging his boss, Sheriff Eric Flowers, for the Republican nomination for Sheriff. Flowers, who ran as a Republican in the last election, has not filed his papers for re-election yet, but has announced his intention to do so. Also, Keith Touchberry, current Police Chief in the city of Fellsmere, has also filed to run on the Republican ticket. The three will be competing to face Deborah Cooney, who has no party affiliation and was the second-place finisher in the 2020 election against Flowers.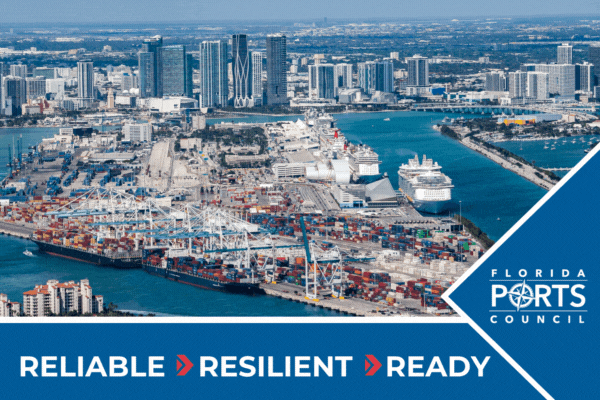 — LOCAL: C. FL —
First on #FlaPol — "Former lawmaker Chris Dorworth sues Joel Greenberg for alleging ties to sex trafficking scandal" via Jacob Ogles of Florida Politics — Dorworth says he's one of many Florida leaders whose reputation remains tarnished for associating with Greenberg. Now he's suing the disgraced Seminole County Tax Collector, as well as his family for those damages. The lawsuit lists Greenberg as a defendant, as well as Greenberg's parents Andrew and Sue Greenberg, his ex-wife, Abby Greenberg, a porn star identified in the lawsuit only as "A.B.," and several businesses connected to the Greenberg family. In a lawsuit filed in Circuit Court, Dorworth in his suit labels Greenberg "one of the most corrupt politicians in Florida history." Dorworth also denied any connection to a porn star who Greenberg ultimately admitted to paying for sex when she was still underage.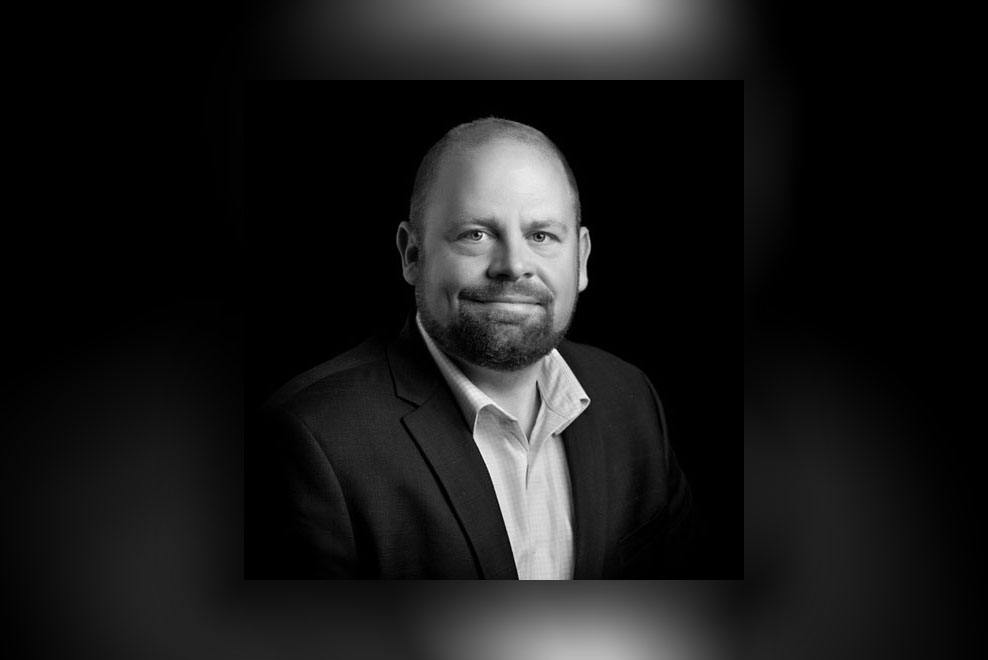 "What's happening with Brevard Public Schools' book review policy — and who will be voting?" via Finch Walker of Florida Today — In the midst of national debate over book banning and conversations regarding who should be allowed to read what, very little has changed on Brevard Public Schools' library shelves. Though public comment at nearly every Board meeting includes discussion both in favor of reviewing books for pornographic material and against censorship, the book review committee has been on hold since about the time the new Board took office in November 2022. Since the book debate began, only one book has been removed from the school district's shelves entirely. Two other books now sit behind media specialists' desks, but are available to students upon request. That could change soon.
"5 finalists hope to fill Peter Filiberto's unexpired term on Palm Bay City Council" via Rick Neale of Florida Today — The Palm Bay City Council will choose a new Seat 5 Council member from a field of five finalists to fill the vacancy created by Filiberto's post-arrest resignation. The finalists: former Mayor William Capote, Michael Jaffe, Kay Maragh, Phil Moore and Aaron Parr. The City Council will conduct a special meeting at 6 p.m. Thursday to appoint Filiberto's replacement to the five-member body. The appointee will fulfill his unexpired term through the November 2024 General Election. Filiberto resigned on the heels of his Feb. 11 arrest after a motorcycle traffic stop in the Palm Bay Colony neighborhood. A judge sentenced him to two years of supervised probation after he pleaded no contest to possession of cocaine and DUI.
"Universal settles lawsuits over Jimmy Fallon and King Kong rides" via Gabrielle Russon of Florida Politics — Universal has recently settled two lawsuits over its pair of Orlando theme parks, according to court documents. One settlement ends a legal battle with a ride manufacturer over a contract dispute regarding the Fallon attraction at Universal Studios. The other ends the injury claim of a woman who says she lost part of her finger riding the King Kong ride at Universal's Islands of Adventure. Universal and the attorneys representing the plaintiffs have not responded to a request for comment since Friday. The terms of the settlements are not given in court documents.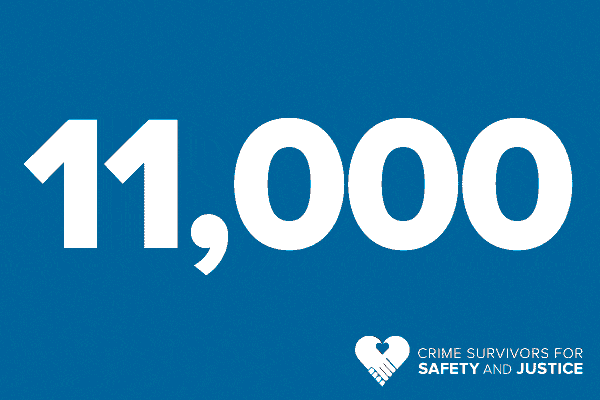 "Jane Castor invites Taylor Swift to be Mayor for a day" via Florida Politics — Castor is prepared to give up her job for a day, at least figuratively speaking. She's inviting Swift, who will be performing in Tampa April 13-15, to be honorary Mayor for a day. "Mayor Swift has a nice ring to it," Castor said in a video posted on social media welcoming the "Shake It Off" singer to Tampa. "We can't wait to welcome you and your fans to Tampa, Taylor's version." Swift's sold-out three-day tour at Tampa's Raymond James Stadium is expected to net the Tampa Sports Authority $730,000. The outlet reported her previous shows in Tampa, in 2015 and 2018, brought in $2.2 million in revenue.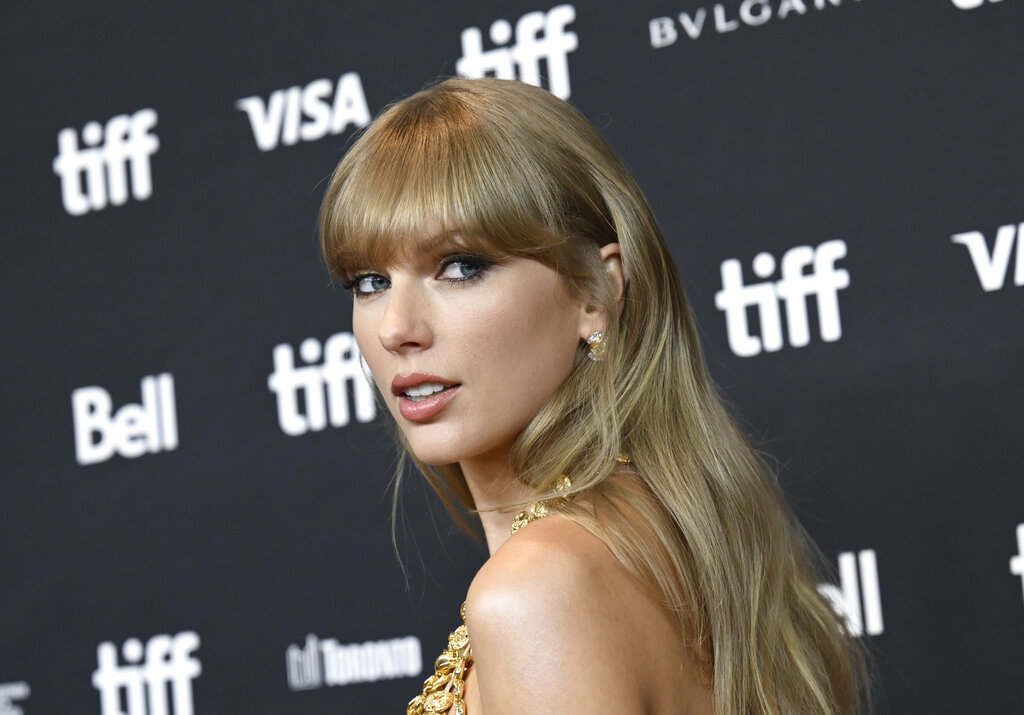 "After FBI raid, Uhuru leader denies Russian role in St. Pete elections" via Colleen Wright of the Tampa Bay Times — Omali Yeshitela traveled back to his hometown to speak out for the first time since the FBI raided homes and operations run by the Uhuru Movement based in St. Petersburg and St. Louis last year. Federal law enforcement officials are investigating what they have said are connections between the Uhurus and a Russian government official, whom they believe directed political groups such as the Uhurus in a campaign to sow division, spread pro-Russian propaganda and interfere in U.S. elections. Yeshitela adamantly denied accepting any money from that official, Aleksandr Viktorovich Ionov.
"Tampa's Edition named among best new hotels in the world" via Sharon Kennedy Wynne of the Tampa Bay Times — Travel + Leisure announced its 18th annual "It List" of the best new and renovated hotels, and Tampa's new Edition made this year's list along with luxury resorts across the globe. Tampa's first five-star hotel is the jewel of Water Street Tampa, the $3.5 billion downtown development from Lightning owner Jeff Vinik and Bill Gates' Cascade Investment. The opulent hotel had a grand opening party in October that brought out celebrities like Lenny Kravitz, who gave a private, VIP-only concert at Amalie Arena. For Travel + Leisure, the Edition keeps company on the list with a mountain oasis in Morocco, an over-the-top beach resort in Bali, and city-chic properties in Berlin, Doha and New York, among others.
"Tampa Bay lands among worst-paying metro areas for women" via Devonta Davis of the Tampa Bay Business Journal — A new study ranking the U.S. cities with the highest wages for women ranked Tampa Bay as the 12th worst of all American metros surveyed. Women in the Tampa Bay metro area earn an adjusted median wage of $46,447 annually, compared to the national median of $49,263. The best-paying large U.S. metro is the San Jose area, with an actual median annual wage for full-time women at $83,414.
"Tampa Bay Times CEO 'likes' porn tweet" via Peter Schorsch of Florida Politics — Tampa Bay Times President and CEO Conan Gallaty appears to have "liked" a tweet from a hookup promoter, as first noted by DeSantis' Deputy Press Secretary, Jeremy Redfern. The "like" on Gallaty's Twitter page has since been deleted. The screen shot shows a tweet from user @xKayla91 showing a photograph of a scantily clad busty brunette with a provocative hip tattoo with the caption "be honest … Would you mind it if I was your lunch today?" The Twitter user's profile links to an adult website for hookups. Her profile includes numerous photos, all of which prominently feature her bust.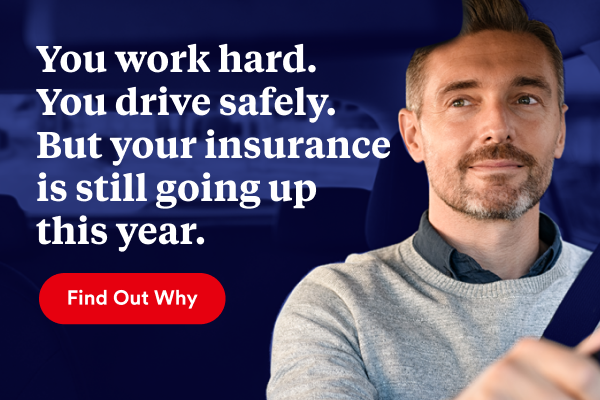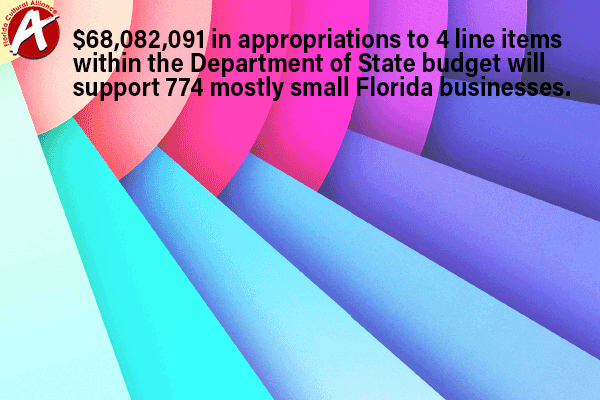 — LOCAL: N. FL —
"The story behind Nikki Fried's T-shirt and TPD's concerns about protesters' online chatter" via James Cal of the Tallahassee Democrat — The nine members of Occupy Tally, a coalition of abortion rights groups arrested with Fried and Book came to Tallahassee to challenge authority and knowingly to risk being taken into custody if they violated a curfew, that is clear in conversations and a review of OccupyTally 23 social media. Whether Fried and Book showed up with the same intentions is less clear. And if their critics' charge, that the two staged a political street theater production with the arrests, is true, then the City of Tallahassee played a co-starring role with OccupyTally serving as extras.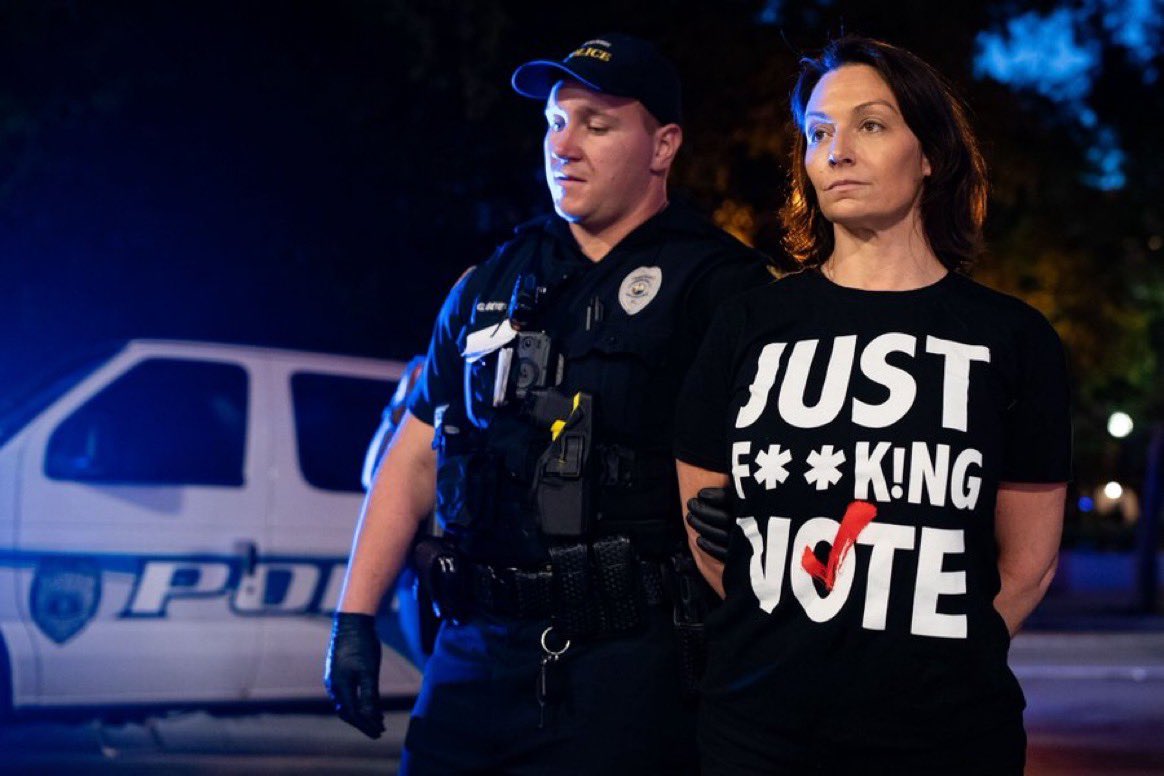 "After arrests at Tallahassee City Hall last week, Leon County gives OccupyTally a permit" via Margie Menzel of WFSU — The Leon County Courthouse will host a group of protesters who were arrested at Tallahassee City Hall last week. The group had been advocating for abortion access after a proposed six-week ban passed in the Senate. The group is called OccupyTally, and there is controversy about their arrests at City Hall. But now the county will allow them to reestablish their base across the street from the state capital. Leon County spokesperson Matt Cavell confirmed that OccupyTally will be able to use the courthouse from Monday morning through Friday afternoon. The group's spokesperson, Beth Weinstein, says they're also working to get the city charges dropped.
"Clay County School officials looking for public input on restroom policy" via Tristan Hardy of First Coast News — The Clay County School District could change its policy for students using the restroom. Students might be required to use the restroom according to their assigned sex at birth, not the gender they identify with. Before officials move forward with any changes, school officials will hear from the public. The policy would also apply to locker rooms and dressing rooms. Clay County schools said the amendments are designed to be in line with multiple regulations. Maddie Hilt, a transgender woman from Clay County, believes policy would single out kids who are already at risk.
"Every trip begins and ends with walking. So why do we make walking so hard?" via the Pensacola News Journal — This spring, the city of Pensacola is expected to unveil the first draft of its Active Transportation Plan, a document intended to serve as the city's blueprint for making foot and bicycle travel safer, more accessible, and more comfortable. On April 17, Dan Burden, arguably the nation's leading walkability expert, will be at CivicCon in Pensacola to show citizens how to put the plan through its paces. Burden has been helping the world "get back on its feet" for more than 40 years. He has launched six nonprofits focused on active transportation, served 16 years as Florida's first state bicycle and pedestrian coordinator and 16 additional years advancing walkability through his organization Walkable Communities.
"Pensacola puts out call for artist to design new welcome sign at Gen. Chappie James Bridge" via Jim Little of the Pensacola News Journal — Pensacola is asking artists to submit designs for a three-dimensional welcome sign at the foot of the soon-to-be-finished Gen. Daniel "Chappie" James Jr. Bridge across Pensacola Bay. The city is looking for a sign structure design to greet visitors to Pensacola and approximately 100,000 people a day who use the bridge to cross the bay into the city. The sign will be located where the old "Five Flags" display was located before it had to be removed to allow for the construction of the bridge. Pensacola Mayor D.C. Reeves said discussion between the city and the Florida Department of Transportation has gone on into what should be at the location.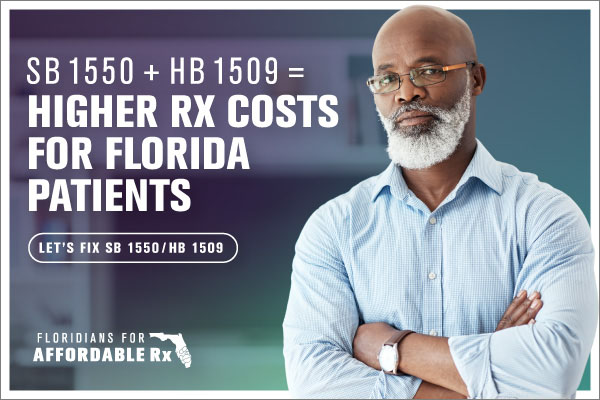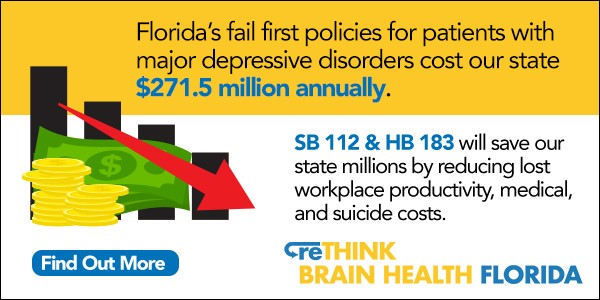 — LOCAL: SW. FL —
"New College program director: 'If I were more patriotic, I would burn' the school down" via Zac Anderson of the Sarasota Herald-Tribune — The director of New College's applied data science program called DeSantis a fascist in a scathing letter that slams the Governor's conservative overhaul of the school and declares: "If I were more patriotic, I would burn the college's buildings to the ground." Aaron Hillegass wrote the incendiary comments in a letter to New College Interim President Richard Corcoran that he also posted on Twitter. Hillegass said he will be leaving the school in August when his employment contract expires. Hillegass said he was hired to run the data science program, which teaches machine learning, data visualization, databases and statistics, shortly before DeSantis initiated his transformation of the school on Jan. 6 with the appointment of six new board members.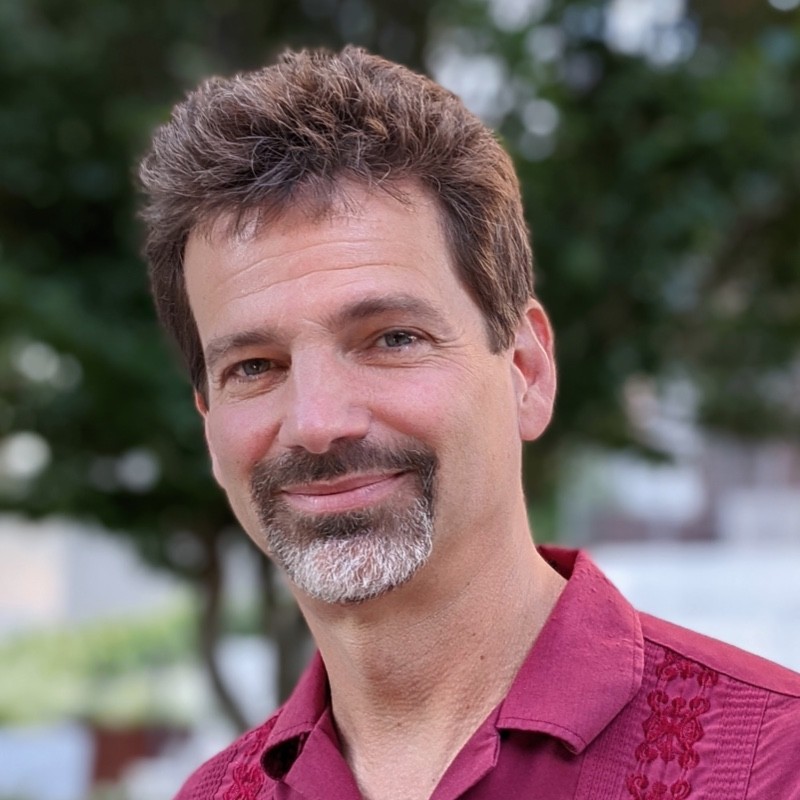 "Fort Myers Beach officials say $11.9M state loan puts town on track to financial stability" via Kate Cimini of the Fort Myers News-Press — Fort Myers Beach will receive an $11.9 million "emergency bridge loan" for operational expenses from the state. The interest-free loan will help cover the town's operating costs including payroll as it looks to recover from Hurricane Ian, according to town officials. The storm impacted the collection of the town's tax revenues, while at the same time, governmental operations went into overdrive. The town, faced with a yearslong recovery, feared it would run out of money, prompting several visits to Tallahassee by local and state leaders. But now, with enough money to keep the town afloat as repairs to infrastructure and buildings take place and tourism slowly comes back online, officials are optimistic about the Beach's financial future.
"Which lands will Manatee County buy to save from development? Here are 4 options" via Ryan Callihan of the Bradenton Herald — With more sprawling subdivisions spreading east and development showing no sign of slowing down, Manatee County is prepared to spend $50 million on land conservation. The local population has grown rapidly in the past 20 years, but the amount of dedicated green space hasn't. In 2020, local voters weighed in to solve that problem by approving a referendum directing county officials to create new parks and preserves. Among the properties under consideration is a massive Parrish farmland that could feature sustainable agriculture, hiking and fishing opportunities. Most of the land around that property has already been earmarked for future development.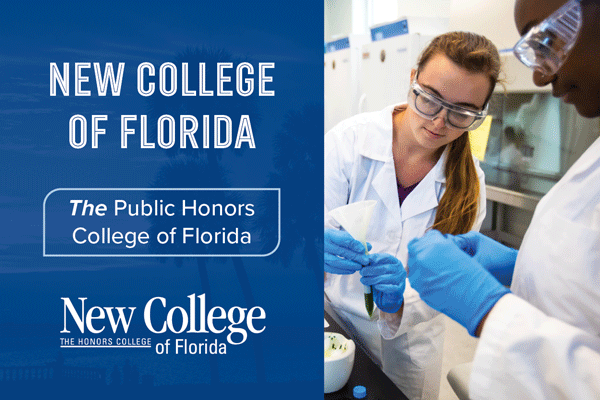 — TOP OPINION —
"What happens if DeSantis takes a pass on 2024?" via Ed Kilgore of New York magazine — If you regard a formal DeSantis announcement as just an opportunity for a week of media hype in pursuit of a campaign he is already waging, its absence does offer him an escape hatch if he decides not to run at all. After all, he's definitely losing not only polling numbers but also conservative-media attention to Trump right now. His signature bullying of the "woke" Walt Disney Co. is looking a lot less successful. And he's facing a tough slog through the Primaries knowing that Trump's legal battles will continue to dominate news cycles and excite Primary voters who are already favorably inclined toward the 45th President.
There are basically two post-RDS scenarios:
A free-for-all to fill the DeSantis-size vacuum. A free-for-all is possible mostly because (a) Republican elected officials, donors, and lobbyists who have been urging DeSantis to run are deeply fearful that Trump can't win a 2024 General Election and/or they can't stand the idea of another turbulent and even revolutionary Trump administration; and (b) the presidential-nominating process creates opportunities for dark horses who beat expectations in the early going, making long shot candidacies worth a try.
The next thing that happens is Trump pops higher in both national and early-state polls. Trump is the second choice of about half the voters who support DeSantis. Which means that you'd expect Trump to almost immediately add >10 points to his poll numbers, putting him close to the 60% mark nationally …
The Republican establishment, which has been pushing DeSantis relentlessly for two years, would freak the eff out.
— OPINIONS —
"The one thing Trump has that DeSantis never will" via Sam Adler-Bell for The New York Times — DeSantis of Florida is in a trap of his own devising. It depends on convincing a GOP elite grown weary of Trump's erratic bombast (not to mention electoral losses and legal jeopardy) that he, DeSantis, represents a more responsible alternative. DeSantis' populism is heavy on cultural grievances and light on economic ones. DeSantis has adopted a populist idiom, but he has no more sympathy now than he did 12 years ago for the "'leveling' spirit" — the ethos of disdain for expertise that Trump embodied when he burst onto the national political stage in 2015.
"Florida budget needs a school choice guarantee" via William Mattox for Florida Politics — There's reason to strongly favor the House's guaranteed-scholarship plan because it brings to the K-12 education marketplace something that has been sorely missing — certainty. With certainty, all Florida families will know what to expect. No longer will parents have to worry that scholarship money might run out — or that their income will put them on the wrong side of the cut line. With certainty, education entrepreneurs also will know what to expect. No longer will they have to hedge their bets or market their programs with ifs and buts and caveats and maybes. With certainty, education entrepreneurs will find it easier to open new enterprises. An expanded marketplace offering greater certainty will benefit low-income families. They will enjoy more choices and have greater opportunities to find the learning option that best "fits" their child.
"Florida's Civic Education Initiative eradicates political bias" via Becky Liner in the Tallahassee Democrat — At a March roundtable discussion hosted by Gov. DeSantis, Florida Commissioner of Education Manny Diaz made it clear that directing the state's classroom social studies agendas away from an ideological focus and toward the pursuit of truth is the chief priority of Florida's Department of Education. This is great news. For too long, too many Florida students have been subjected to textbooks and curricula steeped in political bias. Too many textbook writers have taken up the task of explaining the world to students based on their own personal beliefs. But their responsibility should be to help students discover historical truth — triumphs, failures, and all.
"Reducing prescription costs for patients" via Velma Stevens for Florida Politics — Eight in 10 adults say the cost of prescription drugs is unreasonable. And thankfully, Florida's state and federal policymakers are working to address this issue. In addition to copay accumulator programs, there are other policies legislators can adopt to address the hurdles patients face with medicines and treatments. For example, policymakers can pass rebate reform to ensure that significant rebates and discounts that health insurers and pharmacy benefit managers receive from drug manufacturers are passed on to patients when they buy their prescriptions at the point of sale. Sen. Tom Wright is championing copay accumulator legislation and DeSantis is championing an effort to lower drug prices by addressing PBMs.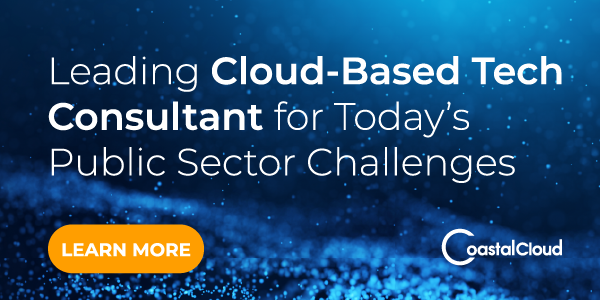 — INSTAGRAM OF THE DAY —
— ALOE —
"Disney: New locales, characters coming to Star Tour rides" via Dewayne Bevil of the Orlando Sentinel — Walt Disney World will add scenes and characters to the Star Tours attraction at Disney's Hollywood Studios next year. That and other "Star Wars"-related news items were revealed at this weekend's Star Wars Celebration gathering in London. "I can't reveal just where we're going yet — or those we may meet along the way," Scott Trowbridge, Walt Disney Imagineering portfolio creative executive, wrote in a post about the Star Tours changes on the official Disney Parks Blog. The 2024 additions also will be made in the Star Tours rides at Disneyland in California and Disneyland Paris. The attraction debuted at Disneyland in 1987, then at Hollywood Studios (then called Disney-MGM Studios) in 1989.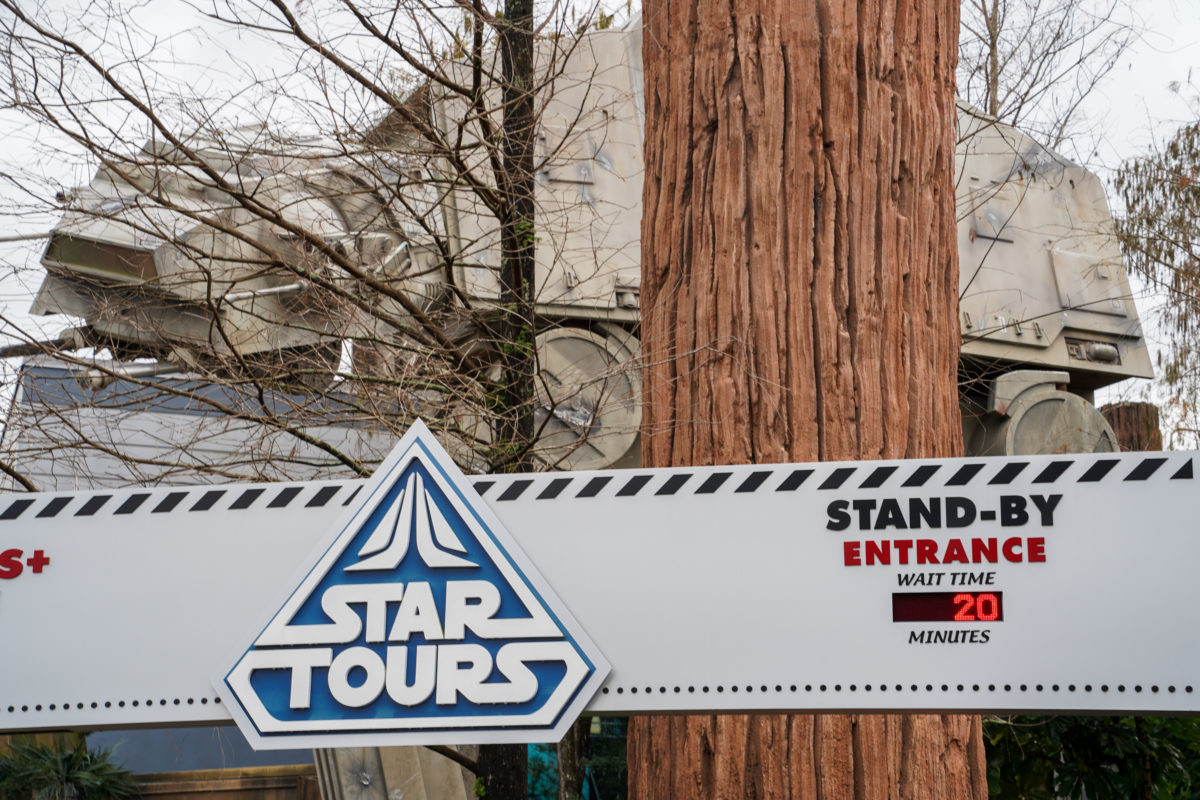 — HAPPY BIRTHDAY —
Happy birthday to one of the best people in The Process, Chris Carmody of GrayRobinson. Also celebrating today are Betsy Collins, Dr. Lance DeHaven-Smith, Tom McNicholas, and Chris Steinocher.
___
Sunburn is authored and assembled by Peter Schorsch, Phil Ammann, Daniel Dean, Ryan Nicol, Jacob Ogles, and Drew Wilson.