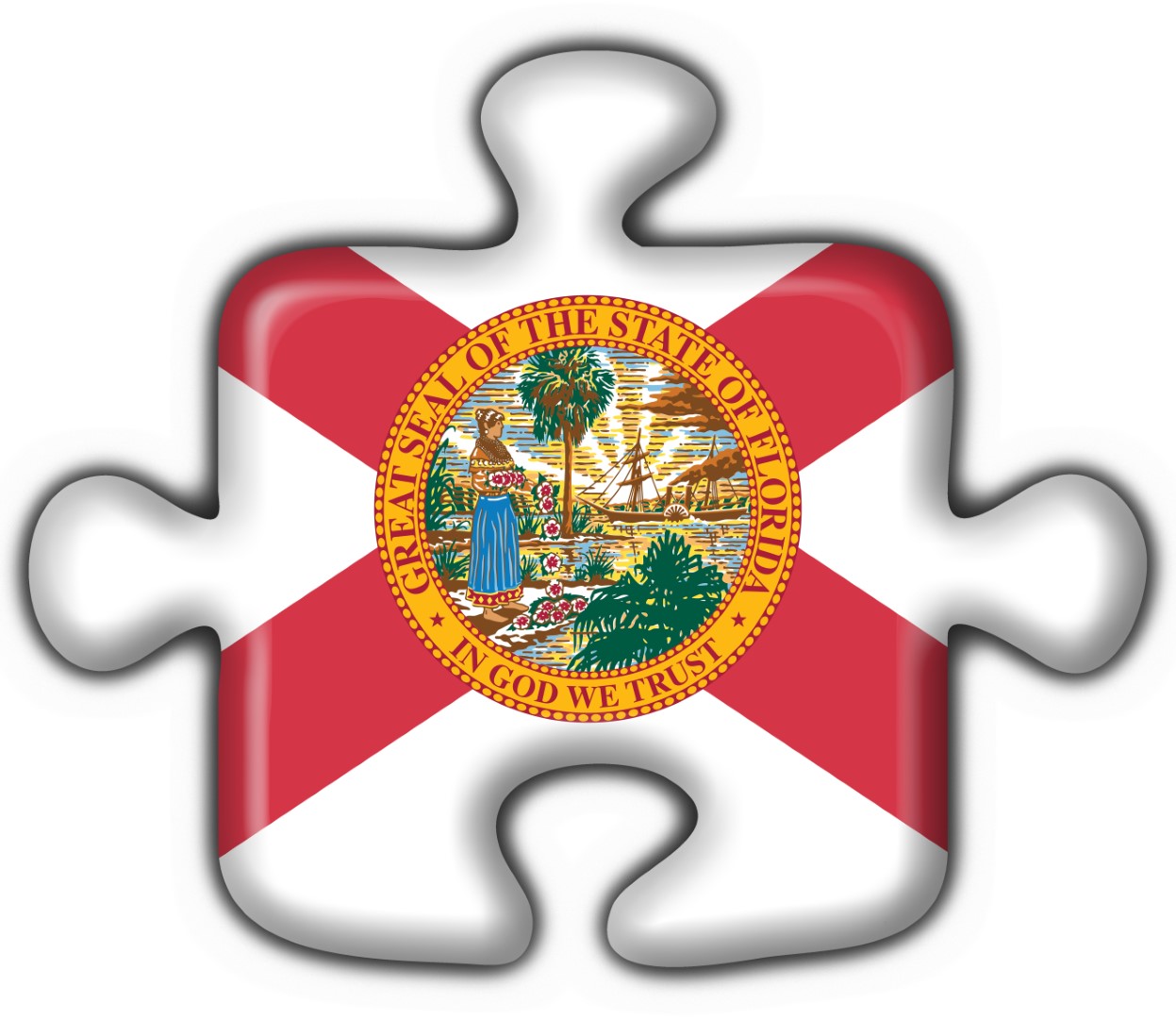 The battle lines are drawn, with one district housing three incumbent lawmakers seeking re-election.
A map advanced by the House Redistricting Committee should establish the boundaries of political battles over the next decade. More immediately, it could force a number of fights between incumbent members of the House seeking re-election this year.
An investigation by Florida Politics finds the current cartography (H 8013) could pit at least 19 sitting representatives against one another — presuming all remain in their current home. That means more than 20% of House members who have filed to seek another term will see colleagues, often within their own party, become nemeses. Here are the proposed House districts where the battle lines are drawn:
Proposed HD 22
Rep. Chuck Clemons, a Newberry Republican, lists his home address with the Division of Elections in Newberry. That means he shares a jurisdiction now with Rep. Joe Harding, a Williston Republican. That pits the incumbents against one another, likely ahead of a genuine General Election challenge. For Clemons' part, he's still in wait-and-see mode with the maps. "I had held off on making any plans until the maps are finalized and the Supreme Court validates them," he said.
A partisan performance analysis by MCI Maps finds that voters in proposed HD 22 did favor Donald Trump in the 2020 presidential election. But the Republican won with 49.76% of the vote, compared to 48.8% for Democrat Joe Biden. That's as Trump won the state by three percentage points. Meanwhile, voters in the draft district favored Democrat Andrew Gillum, with 49.4% of the vote, over Republican Ron DeSantis at 49.37% in the razor-thin 2018 Governor's race.
Of note, Tayari Amie Appiah, a Republican, who filed against Clemons right now, would end up in proposed House District 21 under the new map. But Democrat Barbara Byram, whom Harding beat in 2020 under the existing lines with 64.5% of the vote, has filed to run again and lives in the new HD 22. A more purple district likely means more contenders will also surface in the coming months.
Update: Harding has now moved to Ocala and will run in House District 24.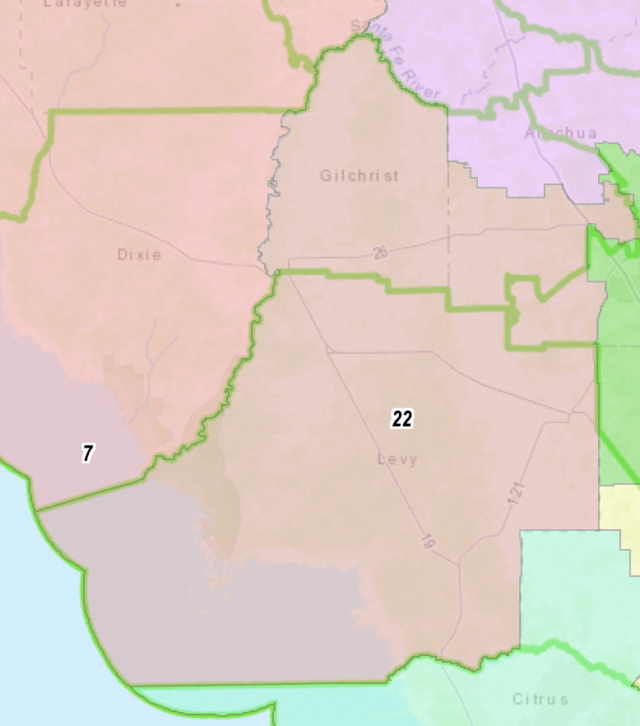 Proposed HD 26
Updated
Lake County today boasts three House districts, but under the new map would have just two. Reps. Brett Hage and Keith Truenow initially appeared to end up in HD 26 under the proposed cartography. But while Hage's official House page previously listed him as a Lady Lake resident, it has now been updated to reflect he has a home in Oxford is expected to seek re-election in proposed House District 52. Based on that, Hage and Truenow should not have to worry about sharing districts with incumbents under the new map.
Proposed HD 29
The good news for Rep. Elizabeth Fetterhoff, a Deland Republican, is she's no longer running in one of the most competitive General Election districts in Florida. The bad news is she's now sharing proposed HD 29 with fellow Republican Webster Barnaby of Deltona. Fetterhoff currently serves the existing HD 26, where Trump beat Biden with 49.95% of the vote. Fetterhoff took 53.1% of the vote in a 2020 rematch with Democrat Patrick Henry, whom she unseated in 2018 with just a 61-vote margin of victory. So she's probably comfortable running in a jurisdiction where 52.99% of voters backed Trump in 2020.
But Barnaby, a freshman lawmaker who won in 2020 with 56.2% over Democrat Dolores Guzman, boasts his own constituency. It's more or less a 50-50 split, with the northern part of the district resembling Fetterhoff's old turf and the southern portion coming from Barnaby's district.
Barnaby said he's running in the district regardless. "I am anticipating a large victory in this campaign." he told Florida Politics.
It's unclear which Democrat would challenge whoever becomes the Republican nominee. Daytona Beach Democrat John Navarra, who filed against Fetterhoff pre-redistricting, lives in neighboring HD 28 under the proposed map.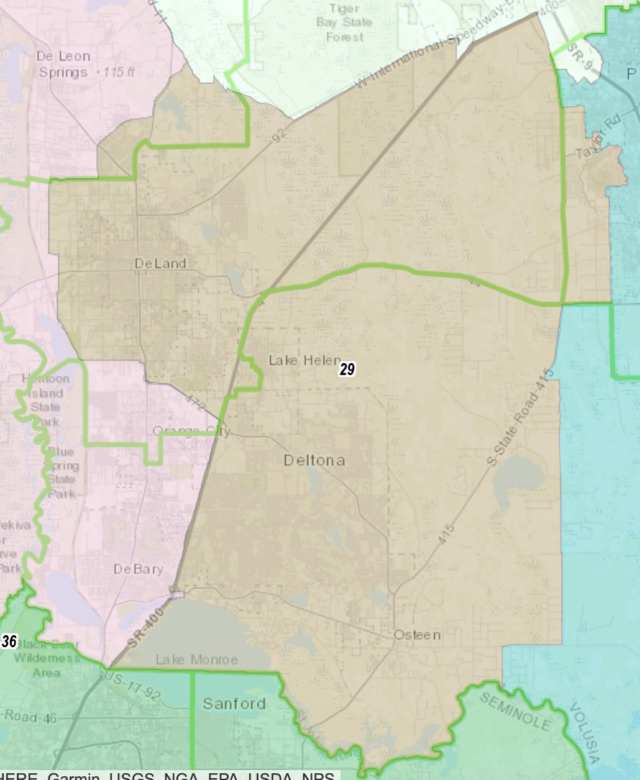 Proposed HD 42
An early sign of potential conflict in the House came as the first drafts consistently pitted Reps. Anna Eskamani, an Orlando Democrat, against Joy Goff-Marcil, a Maitland Democrat. Both reside in the new HD 42 on the map advancing through the House.
Since that early cartography came out, U.S. Rep. Stephanie Murphy, a Winter Park Democrat, announced her retirement. That has some local Democratic lawmakers wondering whether to step up for a swing at federal office rather than seeking another term in the statehouse.
Eskamani, a star in progressive politics, has been on every list of potential congressional competitors. But it remains unclear how congressional redistricting will play out. "I am still waiting for all options to become more clear, but right now am focused on the Florida House and just hosted our first re-election canvass for 2022 last Saturday," Eskamani told Florida Politics.
Both Eskamani and Goff-Marcil won their seats in 2018, and both flipped districts from red to blue. Goff-Marcil unseated Republican Rep. Bob Cortes and fended off a rematch in 2020. Eskamani, meanwhile, won an open seat and succeeded Republican Mike Miller.
Under the new map, the new HD 42 holds a much bluer hue. It went for Biden with 58.34% of the vote and Gillum with 57.5%. That means a Democratic Primary could be the race to watch. Republican David Dwyer, who has filed against Eskamani, also lives in the new HD 42. But Drake Wuertz, Goff-Marcil's current GOP opponent, ends up in the new HD 38.
Update: Goff-Marcil announced she will run for state Senate in Senate District 10. Eskamani is seeking re-election to the House.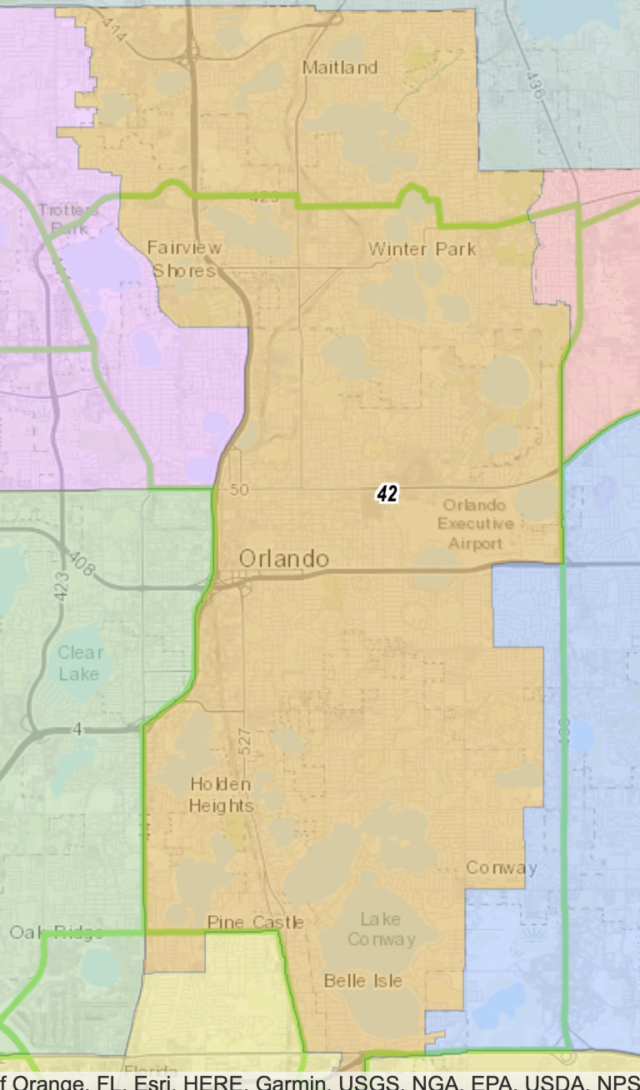 Proposed HD 66
A red-versus-blue matchup may be created by the maps in west Hillsborough, and the change involves a prominent Democratic voice in the Legislature. Rep. Fentrice Driskell, in line for Democratic Leader-Designate in 2024 (and Speaker of the House should the minority party retake the chamber), lands on proposed cartography with Rep. Traci Koster, a Tampa Republican.
The two lawmakers today represent neighboring districts separated by Dale Mabry Highway. But the new map aims to minimized county splits, which nixes the current configuration for Koster's Pinellas-Hillsborough spanning HD 64. Under the latest draft, the easternmost part of her jurisdiction lands with the westernmost areas in Driskell's existing HD 63 while lobbing off most of her territory east of Interstate-275. The result is a district that Trump won with 52.01% and DeSantis took with 52.77%. By comparison, 55.35% of Driskell's current constituency favored Biden, while 51.88% of Koster's voted Trump.
Neither incumbent would discuss their plans yet. Koster said she didn't know she shared a district with an incumbent until told by Florida Politics. "The less I know, the better," she said. "I am waiting to see how everything plays out."
Meanwhile, Driskell, who sits on the House Redistricting Committee, refused to discuss what may yet occur. Her focus has largely been on minority access districts; notably neither her current or proposed district fall into that category. Democrats have argued population growth may dictate more than the 30 minority access seats drawn 10 years ago. "You can expect those same arguments to made on the floor," she said.
Update: Driskell has filed to run in HD 67.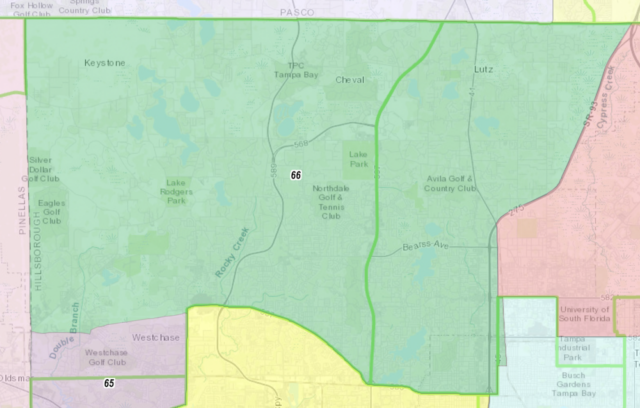 Proposed HD 69
Reps. Mike Beltran, a Lithia Republican, and Andrew Learned, a Brandon Democrat, both know the campaign trail well and fought for their seats in the Legislature. Now, they may end up battling one another to keep their jobs. The two House members reside in proposed HD 69, which covers much of south Hillsborough County and will remain as much of a battleground as it ever was. The jurisdiction did go to Trump and to DeSantis, but in both cases with around 50.3% voting for the GOP candidates.
Brandon ends up split on the draft map in the House. But the south side, where Learned lives, winds up in a district with a lot of Beltran's existing turf. The Democratic incumbent told Florida Politics he feels his current spot in HD 69 is favorable, but he would move if things changed.
Learned won his current HD 59 seat by defeating Republican Michael Owen in 2020 for the open seat. Beltran got to Tallahassee after coming out on top in a competitive HD 57 Primary in 2018. He later beat Democrat Debbie Katt with 55.3% that November, but won by a more modest 54.5% in 2020 over Democrat Scott Hottenstein.
For the record, Michael Minardi, a Republican already filed against Learned, lands now in HD 64 — two districts away.
Update: Beltran said he will run in neighboring HD 70.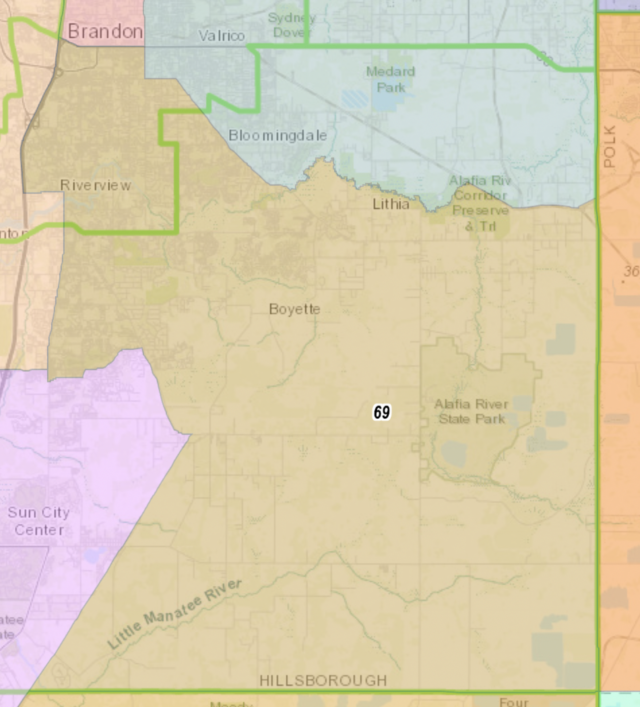 Proposed HD 74
Sarasota County becomes a Republican Primary battleground this year, with Reps. James Buchanan of Venice and Tommy Gregory of Sarasota both drawn into the new HD 74. Now an entirely inland district, it looks like Buchanan will keep much more ground than Gregory, who loses his Manatee County jurisdiction. But Buchanan always has run strong in the coastal communities like Venice that get split by the new map.
Gregory has said there's a 100% chance he's running and a 0% percent chance he's moving. "We chose this region because I love it," he said.
Buchanan has also said he holds no interest in finding a new home, though he notably previously ran in districts based in Sarasota and Bradenton. Of course, Buchanan also has a bit of a family legacy in Sarasota County. His father, U.S. Rep. Vern Buchanan, long served this area and depending on how congressional maps shape up, may even share a ballot with his son this year.
The GOP Primary will be the race to watch no matter who throws their hat in the ring. Trump won here with 58.12% of the vote in 2020 and the district, if anything, may have become redder since.
Update: Gregory has since announced he will run in HD 72, staying in the region but indeed needing a new home.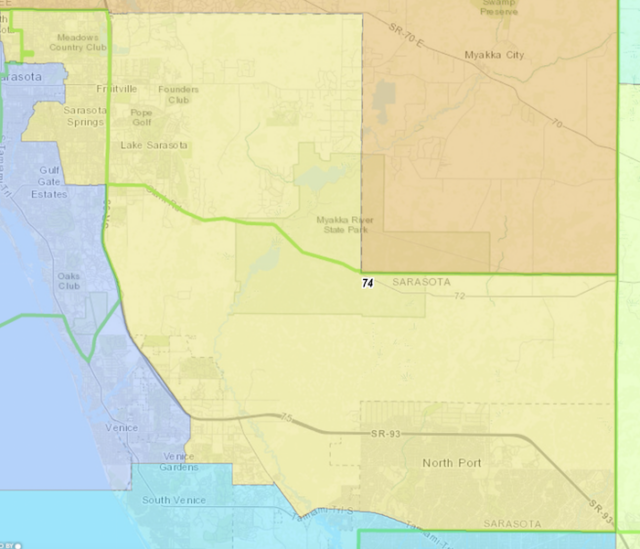 Proposed HD 90
Another two-incumbent General Election may take form in South Florida. There, Rep. Mike Caruso, a Delray Beach Republican, appears to be landing in HD 90 with Rep. Joe Casello, a Boynton Beach Democrat. That's the result of some significant changes to the lines in the Palm Beach County region as compared to last decade's map.
This could all be pretty bad news for Caruso. He won two cycles in a row in the existing HD 89 against Democrat Jim Bonfiglio, and in rough territory. His current constituency narrowly went for Biden with 49.7% of the vote, even as they re-elected Caruso with 56%. But Biden carried the newly drafted HD 90 with 60.41% of the vote in 2020. The region went for Gillum by an even larger margin two years before. Then again, many of the coastal areas in the new district have been represented by Caruso for the last four years, while Casello must campaign on the coastline for the first time.
But Casello feels comfortable with the district and will run there. While he's friendly with Caruso, that's not impacting his decision. "I'm getting ready for another race," he said. "There's a lot of changes but that South Florida district is pretty blue."
Democrat Lauren Allison Levy, a Boynton Beach Democrat, filed against Caruso and also lives in the new HD 90. So does Republican Keith Feit, a Republican challenging Casello. But Democrat Hasan Zahangir, a Democrat currently filed against Casello, does not.
Update: Caruso told Florida Politics he will move north to proposed HD 87.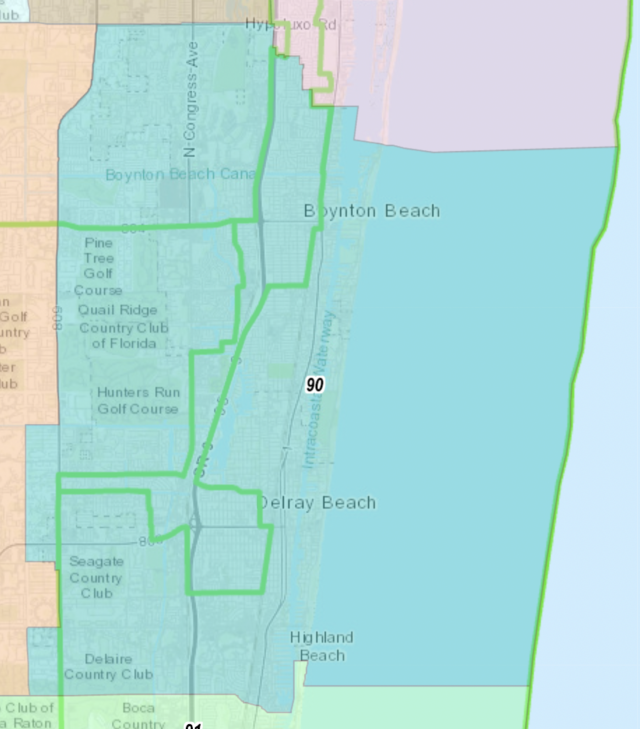 Proposed HD 104
The draft House District that could create the most consternation in the state may be HD 104, which as drafted contains three incumbent lawmakers. Miami Gardens Democratic Reps. Christopher Benjamin and Felicia Simone Robinson both land in the district, as does Republican Rep. Tom Fabricio of Miramar.
Fabricio won his seat in 2020 by flipping the existing HD 103 and booting Democratic Rep. Cindy Polo. He pulled that off in a district Democrat Hillary Clinton won in the 2016 presidential election but that Trump won with about 54% in 2020. Now, Fabricio is finding himself in a deep blue Biden country, where the Democrat won 72.34% of the vote. Gillum did even better than that in 2018, winning 79.5% of the vote in the Governor's race.
The new district serves as a minority access district, one with 41.18% of the voting-age population identified in the U.S. Census as Black. That won't give an edge to Benjamin or Robinson in a Primary. Large chunks of Robinson's existing district end up in proposed HD 104, perhaps granting a territorial edge in a Primary. Robinson told Florida Politics she intends to run again in the district. "That's where I live and that's where I will run," she said.
Update: Benjamin has announced he will run in neighboring HD 107 even if it requires a move. "That is the community that I serve," he said. Fabricio has announced he will run in adjacent HD 110.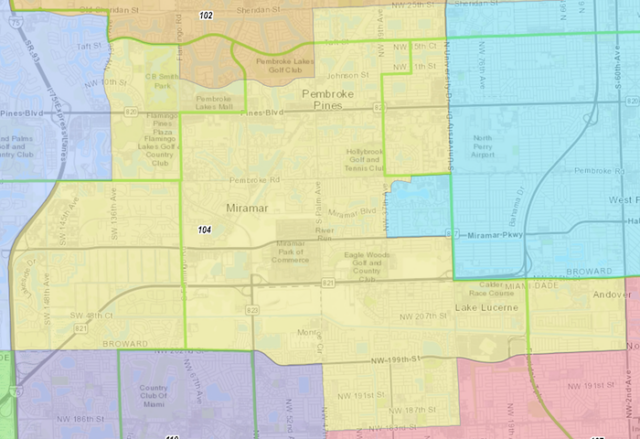 Proposed HD 116
Finally, Rep. Daniel Perez, a Miami Republican, will share HD 116 with Rep. David Borrero, a Sweetwater Republican. This could pit a lawmaker in line to be House Speaker against one of the big GOP winners in the 2020 election.
Borrero won his seat in 2020 and kept the swing district red. He won with 54% of the vote there just two years after his GOP predecessor, now-Sen. Ana Maria Rodriguez, won by a mere 417 votes. This made Borrero's win one of the most critical for the House GOP as it expanded its majority. Meanwhile, Perez earned the support of representatives in his freshman class to win a leadership race. That means as long as Republicans continue to hold a majority in the lower chamber, Perez will become Speaker in 2024. This, of course, assumes he continues to win his own seat as well.
But if his leadership role isn't enough to give an advantage in a hypothetical primary, the new HD 116 largely draws ground from Perez's current district. Sweetwater, Borrero's city of residence, moves from the southeast corner of the existing HD 105 to the northwest corner of the new HD 116. In other words, this is Perez country. On the other hand, much of his old district ends up in the new HD 111, where no sitting lawmakers reside.
Update: Borrero filed paperwork to re-designate as a candidate for HD 111.