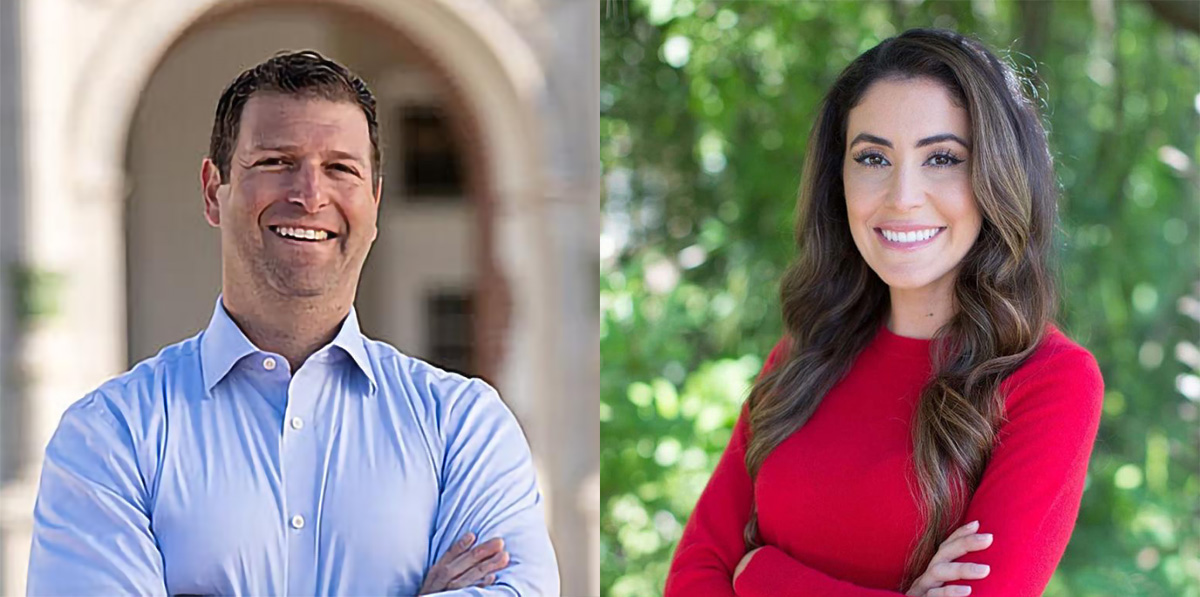 New boundaries shifted the district into the GOP's favor.
Republican Anna Paulina Luna has taken Florida's 13th Congressional District, defeating Democrat Eric Lynn and flipping the seat red.
With all precincts reporting, Luna pulled 53.37% of the vote to Lynn's 44.75%, according to unofficial election results from the Pinellas County Supervisor of Elections Office.
"This seat is going to be rightfully handed back into the hands of all of you," Luna said in her victory speech. "I'm not going up there for my own self interest. I'm not going there for D.C. I'm going up there for all of you."
In response to his loss, Lynn, conceding, hinted at plans to run again.
"While I am conceding in this race, I am proud that we proved the dynamics of this district wrong, gaining the support of Democrats, Independents, and Republicans alike," he said. "I hope that my opponent's rhetoric is different from her actions in Washington…While tonight's results were not what I wanted, when Ron DeSantis' illegal gerrymandered map gets thrown out by the courts, I will return and be your next representative in Congress
The win is a score for Republicans, who have been working tirelessly to regain control of Congress. Luna can now breathe a sigh of relief — CD 13, while once seen as an easy Republican flip, turned into a fierce battleground with Democrats pouring in resources to keep the district. 
While Lynn, regarded as a moderate, saw strong momentum in fundraising and cross-party support, Republicans had the upper hand in voter registration, and Luna earned backing from several key Republican leaders — including former President Donald Trump and Gov. DeSantis.
Before redistricting, the seat was considered one of the most competitive in the country. But redistricting turned the district red, annexing the Democratic stronghold St. Petersburg by placing it in a neighboring congressional district. New boundaries shift CD 13 west, covering the Pinellas County communities of Clearwater, Pinellas Park, Seminole and Palm Harbor.
Now, Republicans outnumber Democrats by nearly 31,000, with 208,668 GOP voters (37.4% of the electorate) and 178,023 Democrats (31.5%), according to the latest L2 voter data. Another 164,112 voters (29.2%) are registered without party affiliation.
The race also had no incumbent in the running, with U.S. Rep. Charlie Crist vacating his seat in order to run for Governor. Luna ran against Crist two years ago unsuccessfully, at a time when the district favored Democrats.
When the new map was first approved, two leading Democratic candidates — state Reps. Ben Diamond and Michele Rayner — decided to drop out. That left one Democrat, former Barack Obama administration official Lynn, without any Primary challengers.
Luna, on the other hand, faced a competitive Primary against prosecutor Kevin Hayslett and Republican strategist Amanda Makki. The Air Force veteran won the nomination, taking 44% of the vote to Hayslett's 34% and Makki's 17%, after the Republican Primary gradually turned into a contest of who could out-Trump their opponents.
Two weeks out from the election, polling found the two nominees locked in a dead heat. Lynn and Luna were separated by less than 1 percentage point, with Luna posting 45.9% support to Lynn's 45.3% support, according to the survey results from St. Pete Polls. Nearly 9% of those polled were still undecided.
So how did Lynn become a competitive candidate in a race that was supposed to be an easy grab for Republicans? Well, it helps to have money in the bank.
Lynn reported a cash-on-hand advantage in the most recent fundraising reports, with $592,321 in available spending money several weeks out from Election Day — a benefit of having no Primary opponent. Luna, on the other hand, reported $480,191 in available spending money as of Oct. 19, the final day of the most recent finance reports.
But Luna came out on top as the highest fundraiser, amassing a whopping $3.06 million this cycle, while Lynn has only collected $2.01 million. However, much of Luna's funding was spent defending her spot on top in the GOP Primary.
As for endorsements, Luna has established herself among notable names in Trump territory, which seems to have encouraged Republican voters. Notably, a June poll found that Trump remains popular with 85% of Republicans in the district. Just one in seven said they disapproved of him.
Some of Luna's endorsements have received criticism even from within her own party, with backing from controversial U.S. Reps. Lauren Boebert and Byron Donalds as well as Turning Point Action, founded by conservative activist Charlie Kirk.
Former House Speaker Newt Gingrich and Susan B. Anthony Pro-Life America also endorsed Luna.
Lynn earned endorsements from several GOP figures, including Beverly Young, the widow of former U.S. Rep. Bill Young who endorsed Makki in the Primary; Bob Schmidt, the Republican Mayor of Belleair Shores; Jim Olliver, the Vice Mayor of Seminole; and former Pinellas County Commissioner Susan Latvala.
He also earned endorsements from organizations like VoteVets. Crist endorsed Lynn as his successor.
Like many Democrats this cycle, Lynn homed in on abortion rights in his campaign messaging in response to the overturning of Roe v. Wade. Leading up to the election, Lynn's campaign worked hard to appeal to nonpartisan voters, as well as moderate Republicans, highlighting Luna's strong views on abortion limitations. His campaign has relied heavily on a quote attributed to Luna in which she states she's "a pro-life extremist."
But it looked like his strategy was unsuccessful, even though demographic data of the district shows women outnumber men by about 38,937 voters. The largest voting bloc in the district is actually Democratic women, consisting of 108,520 individuals. That bloc is followed by Republican men and women, made up of 105,969 and 105,781 voters, respectively. 
Republicans can now add this victory to their roster — the win may just help push them over the edge to regain the House.