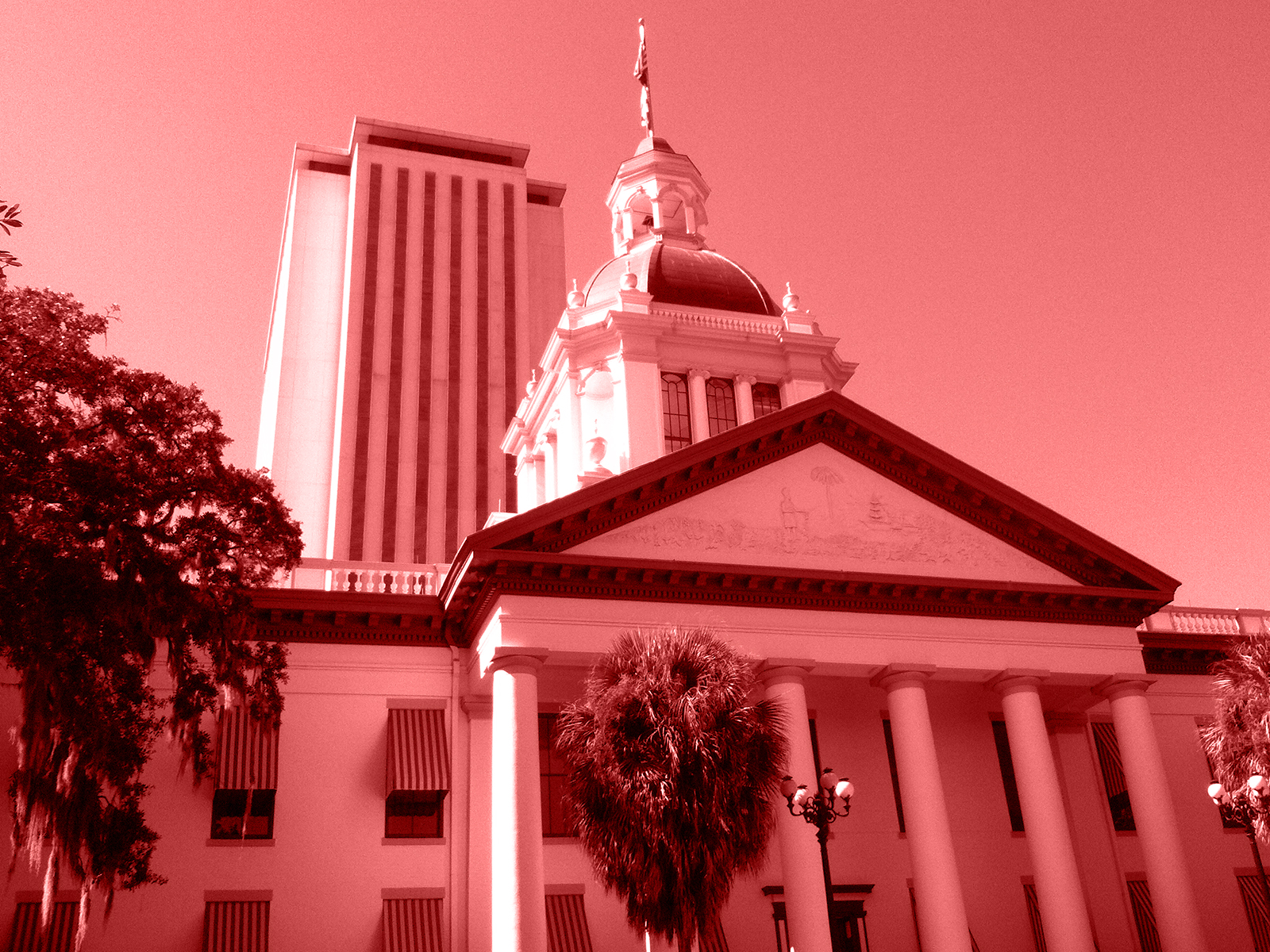 Your nightly review of Session news. It's 'Sixty Days' — right now.
Sixty Days — A prime-time look at the 2021 Legislative Session:
The Last 24
As Game of Thrones fans know: "What's dead may never die." That's as true for Lord Beric as it is for bills in the statehouse, as shown by the seaport preemption bill's rise from the dead. The contentious bill (SB 426) aimed at undoing Key West's cruise ship referendums sunk yesterday in the House, but sponsor Jim Boyd didn't give up. Instead, he tacked the preemption language onto a transportation package sponsored by Sen. Ed Hooper. Rep. Spencer Roach, who has championed the issue in the House, supports the move and said Boyd's amendment may solve issues that capsized the bill in the House. Hooper voted against the seaport bill labeled Boyd's amendment as "friendly." Here's your nightly rundown.
Get out. With less than three days left in Session, Senate Democrats ousted Sen. Gary Farmer as Minority Leader.
Emergency management. A bill (SB 2006) doubling down on Gov. Ron DeSantis' handling of the pandemic was supported mostly along party lines in the House.
Take that. The House approved a bill (SB 7072) to punish social media platforms over so-called conservative censorship, sending it back to the Senate.
Return trip. A homeowners insurance reform package (SB 76) is heading back to the Senate after winning approval on the House floor Wednesday with a 74-43 vote.
11th-hour change. With the clock ticking on the Legislative Session, the Senate amended a high-profile bill (HB 969) that is intended to give Floridians more control over their data.
Water storage. The House agreed to a Senate offer (SB 2516) that would put $50 million toward building water storage north of Lake Okeechobee.
Take the keys. DeSantis' signature is all that remains for a bill (SB 566) that clears Florida laws to make peer-to-peer car-sharing an accepted alternative to traditional rental cars.
Fast foster. The House unanimously approved measures  (SB 80/SB 96) to improve the state's child welfare system and help children find permanent homes more quickly.
Charter clash. The House passed a bill (SB 1028) that would allow state colleges and universities to sponsor charter schools, but the bill was amended and heads back to the Senate.
Lawton out. The Senate accepted the House's proposal (HB 5011) to terminate and liquidate the Lawton Chiles Endowment Fund.
One for the road. The Legislature is poised to give final approval to a bill (SB 148) that would allow restaurants to continue selling to-go cocktails after the pandemic.
DCA drama. The House and Senate came to an agreement to put the new 2nd District Court of Appeal courthouse in Pinellas County and name it after the late State Attorney Bernie McCabe.
Put it out, kid. The House has approved a measure (SB 1080) to raise the smoking age in Florida to 21, aligning it with federal law.
Code snitches. Punitive and anonymous code complaints may become a thing of the past if a bill (SB 60) passed by lawmakers gets the Governor's approval.
Pole position. With the House's vote Wednesday, a bill (SB 1944) to give Florida control of utility pole oversight is on its way to DeSantis' desk.
Unwritten rules. The Legislature has passed a bill (SB 1884) further restricting local governments' ability to pass gun control measures.
Officer down. The House unanimously passed a bill (SB 388) that would allow EMTs and paramedics to transport and treat injured police K9s.
Smile and dial? The House unanimously passed a Senate bill (SB 1120) that would put restrictions on overzealous telemarketers.
NICA changes. The House passed a Senate bill (SB 1786) to reform a program that compensates families whose infants suffer injuries during the birthing process.
We barely knew ya. Democratic Rep. Omari Hardy plans to resign his seat after one Session to run for the late U.S. Rep. Alcee Hastings' seat in Congress.
Coronavirus Numbers
Positive cases:
— 2,180,924 FL residents (+5,080 since Tuesday)
— 41,622 Non-FL residents (+98 since Tuesday)
Origin:
— 17,462 Travel related
— 869,057 Contact with a confirmed case
— 23,796 Both
— 1,270,609 Under investigation
Hospitalizations:
— 90,059 in FL
Deaths:
— 35,722 in FL
Vaccinations:
— 14,131,569 Doses administered
— 8,684,024 Total people vaccinated
— 2,698,487 First dose
— 537,992 Completed one-dose series (+3,112 since Tuesday)
— 5,447,545 Completed two-dose series (+97,708 since Tuesday)
Quote of the Day
"As a freshman, the one thing that I'm looking for is someone who is going to guide us in this process, and sometimes, it just didn't seem that way." — Sen. Shevrin Jones, on Gary Farmer's ouster.

Your Metz Husband Daughton-sponsored question of the day is: Fill in the Blank: Florida has the most                        of any state in America.
As always, click here to tweet your answer with cc: @MHDFirm. The first person with the correct answer will get a shoutout in 60 Days!
Last time, we asked: What UNESCO World Heritage Site is in Florida?
Answer: The Everglades National Park.
Congrats to Joe Baker, Jr. (@Section2Joe), the first person to tweet the correct answer!
In yesterday's 60 Days, we inadvertently listed the name of a previous winner; Tuesday's winner was Jeremy Smith (@thejackal1106). Thanks for playing, Jeremy, and congrats!</p<
Bill Day's Latest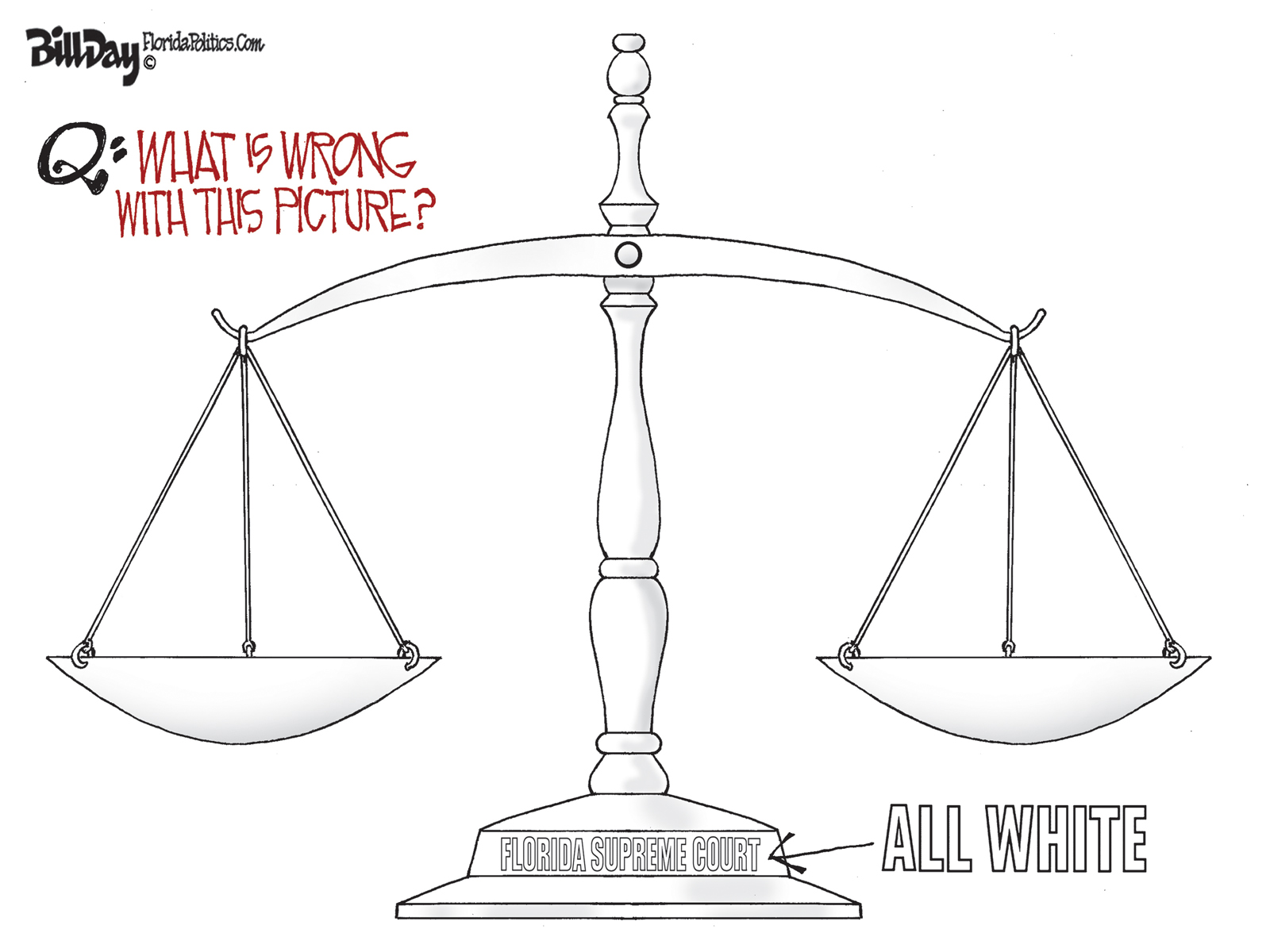 3 Questions
[Note: Florida Politics conducted this interview before the Key West preemption resurfaced in the Senate Wednesday afternoon.]
After the dramatic last-minute failure of legislation (SB 426) that would overturn three Key West referendums that limited large cruise ships from the tourist destination's ports, we circled back with Key West Captain Will Benson, who was behind the initial local effort to limit the cruise ships. 
Florida Politics: Are you happy the bill, as of today, seems to have failed in the House?
Benson: I think it's a big win for the environment, for the reef, for the fish, and for the community of the Florida Keys that spoke loudly on this issue. I also think it's a win for democracy, that it's still alive. You can still have a local election, and it counts for something.
Florida Politics: Are you worried the bill will come back up next year?
Benson: I guess we always need to be afraid of a Zombie, but I guess we'll take our win for the day and see what happens. I feel that at every point in this, we've been up against special interests, we've been up against much more monied interests with all the talent, but time and again, we've won. And I think it's because we're on the right side of history. So, if they bring it again — which I'm sure maybe somebody will at some level — I think history is on our side on this one.
Florida Politics: How does Key West celebrate for now?
Benson: Maybe on the weekend, we'll have a chance to let it all settle in and enjoy ourselves. It's really nerve-wracking when you're just a local guy. Four local guys, we're doing this up against 95 lobbyists, and we won. It took a lot out of us, I think, so it might take a minute to recover. I'm looking forward to going fishing again. I have been spending a lot of time fighting for the local rights, the vote, for the environment. This is a win for Florida today. If the reef wins and the fish win, really Florida wins. This is really important to our state for a lot of reasons. So, I think all Floridians can take stock in what happened.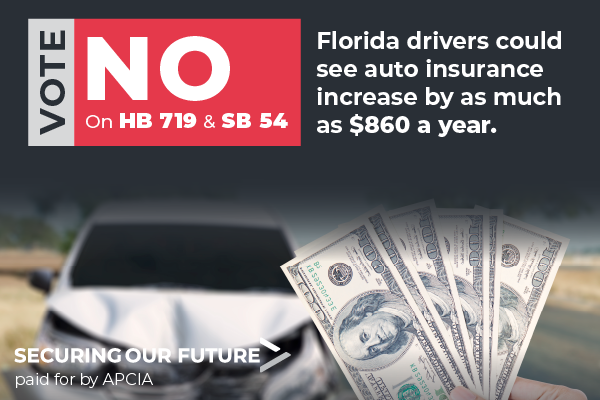 Lobby Up
The most exciting two months in Florida politics ends Friday. Less than 24 hours later comes "The Most Exciting Two Minutes in Sports."
The 147th running of the Kentucky Derby is Saturday, which will see 20 thoroughbreds run a one-and-a-quarter mile circuit for a chance at a $3 million purse.
Meanwhile, those at home will be on the edge of their seats, waiting to see if their horse comes through.
It'll be hard for anyone in Tallahassee to make it to the Blue Grass State in time to catch the race in-person, but the good thing is they don't have to travel far from home to see some action.
Florida is horse country — a handful of the Kentucky Derby entrants are even alums of the Florida Derby. To that end, the state has some tracks where thoroughbred races are regularly held.
Two of the best known are Tampa Bay Downs and Gulfstream Park Racing and Casino in Hallandale Beach.
Tampa Bay Downs is represented by David Ramba and Cameron Yarbrough of Ramba Consulting Group and Margaret Timmins and Lisa Hennings of Timmins Consulting. Gulfstream is represented by the team at Gunster Yoakley & Stewart, including Joanna Bonfanti, Ron Brise, Kevin Cleary, Julie Fess, Sha'Ron James and Larry Williams.
The Florida Thoroughbred Breeders' and Owners' Association also has a Tallahassee team, including Matt Bryan, David Daniel, Thomas Griffin, Jeff Hartley, Lisa Hurley, Jim Naff and Teye Reeves of Smith Bryan & Myers, as well as Warren Husband of Metz Husband & Daughton.
Breakthrough Insights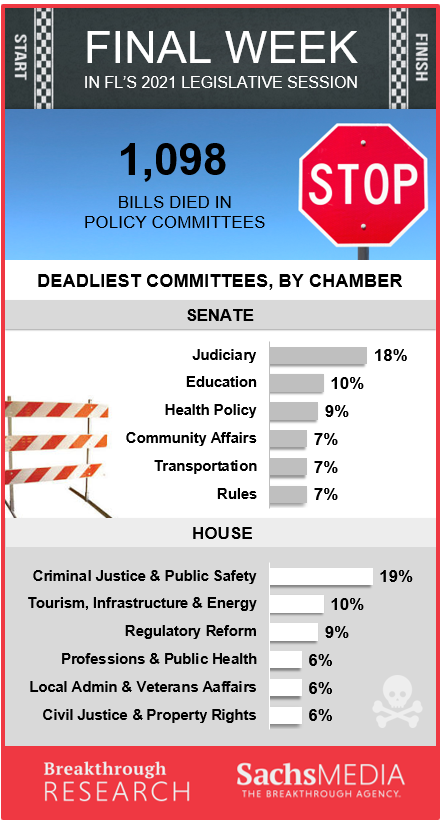 The Next 24
The Senate Democratic Caucus meets at 9 a.m. in Room 228 of the Senate Office Building. It will be streamed over Zoom.
The Senate will hold a floor Session at 10 a.m.
The House will hold a floor Session at 10:30 a.m.
Also, the following committees will meet.
— The Senate Special Order Calendar Group will meet in Room 301 of the Senate Office Building. The meeting begins 15 minutes after the Senate floor session adjourns.
Full committee agendas, including bills to be considered, are available on the House and Senate websites.