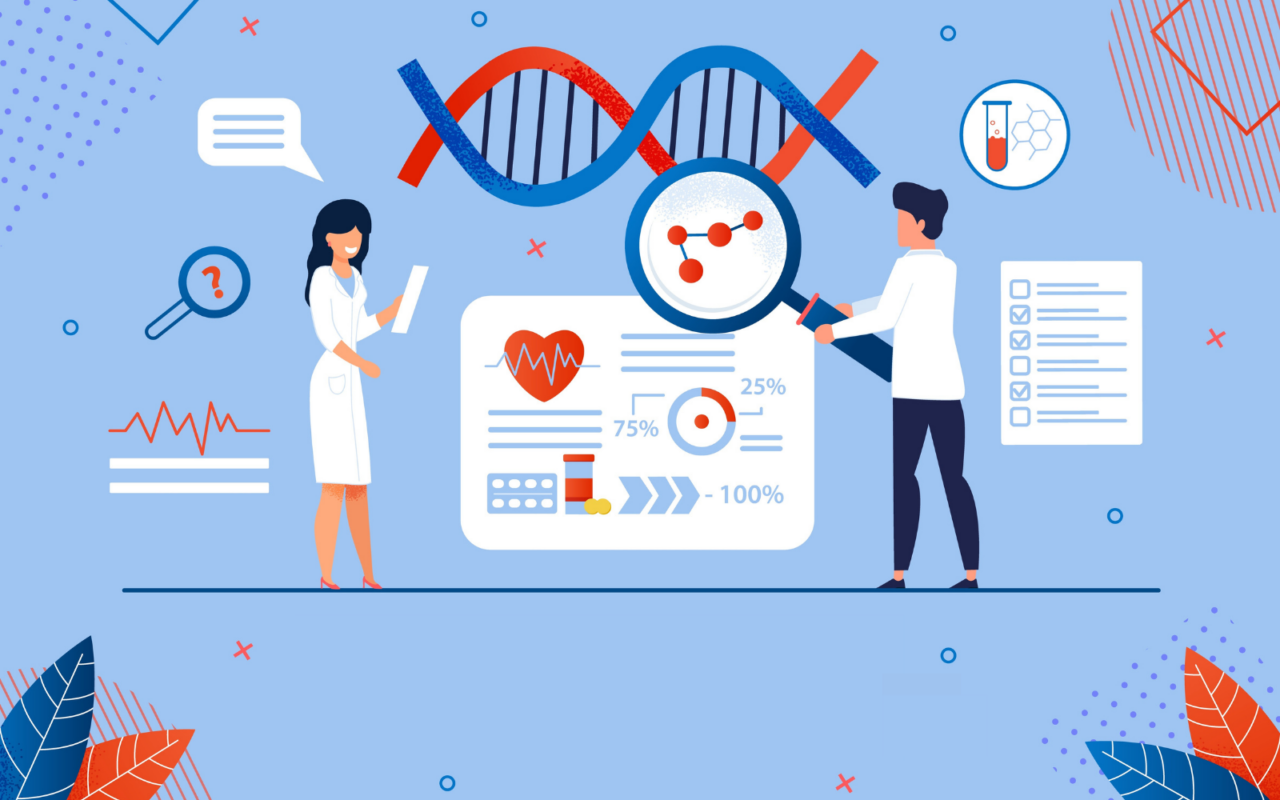 It's time again to check the pulse — of Florida's health care policy and politics.
Welcome back to Diagnosis, a vertical that focuses on the crossroads of health care policy and politics.
— A closer look —
Gov. Ron DeSantis is finally jumping into the race for President after a constant buildup following his November re-election.
While DeSantis built a reputation for his battles with Disney and on education, his first surge in national recognition came during the COVID-19 pandemic. DeSantis initially backed lockdowns, but quickly shifted his stance and became a consistent opponent of most federal health guidance.
In his quest to "Make America Florida," the Governor's health care record will face closer scrutiny.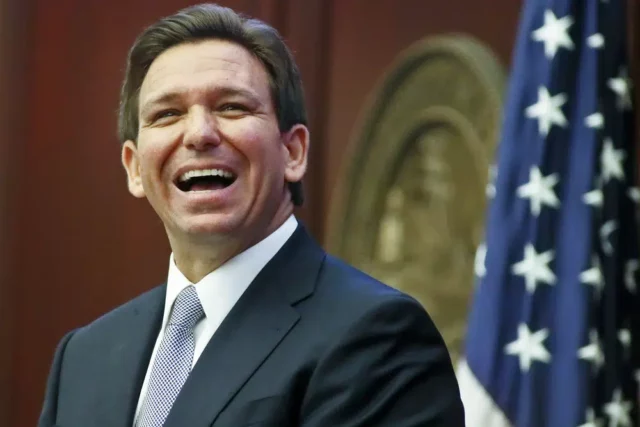 Expect political pundits to take a close look at how the DeSantis administration handles the "unwinding" of its Medicaid program from the public health emergency rules, namely a requirement that the state keeps people enrolled in the Medicaid program throughout the pandemic.
In the first month of Medicaid determinations, a May 9 report shows about 250,000 people were disenrolled in April. Most were purged from the program for procedural reasons. A large number of procedural withdrawals have some worried — 52 organizations signed a letter asking DeSantis to pause the redetermination process to ensure people are not being mistakenly disenrolled from the safety net program.
Worth noting: The DeSantis administration says the data from the monthly report is old and that as of May 26, 212,000 people were "no longer receiving benefits."
Department of Children and Families (DCF) Deputy Chief of Staff Mallory McManus defended the state's unwinding process. Enrollees can view their Medicaid account on their online accounts to prepare for their redetermination, she said.
Additionally, the department "has a robust outreach campaign, including up to 13 direct contact attempts to customers who do not submit a timely application."
"The Department is utilizing an aggressive text and email effort in addition to traditional mail, and if all of those efforts are unsuccessful, we are calling customers to inform them that their redetermination is past due and to encourage them to respond to the Department," McManus said in a prepared statement. "These efforts have significantly improved the response rate compared to previous redetermination cycles. We will continue to implement these customer focused approaches to ensure individuals who are eligible maintain their Medicaid coverage."
Florida is one of 10 states that has not expanded Medicaid to low-income uninsured childless adults. As a result, the state continues to have one of the highest percentages of uninsured residents. In 2021, 15.1% of Florida's population under the age of 65 was uninsured, the third highest rate behind Oklahoma and Texas.
Because Florida has not expanded Medicaid to low-income childless adults, health care advocates worry a large percentage of those people losing their Medicaid access are children. That's worrisome, advocates say, because most children should remain eligible for either the Medicaid program or the Florida KidCare program.
DCF has not responded to Florida Politics' repeated requests for disenrollment data by Medicaid eligibility category.
Meanwhile, DeSantis this week called attention to Florida's decision to take advantage of a provision in federal law to allow states to extend by 10 months Medicaid coverage for postpartum women, giving them a year's worth of Medicaid access following childbirth. Worth noting that DeSantis did not champion the idea. It was former House Speaker Chris Sprowls who pushed legislators to embrace the idea and pass legislation to make it possible.
Here's a review of his health care record since his election in 2018.
___
I welcome your feedback, questions and especially your tips. You can email me at [email protected] or call me at 850-251-2317.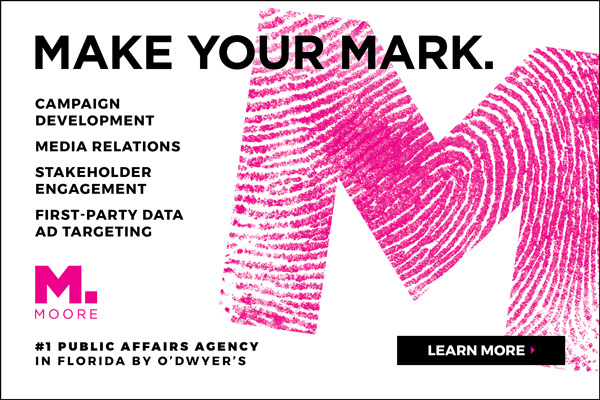 — Pre-pandemic agenda —
DeSantis' first decision on health care matters came shortly after he took office when he announced he wouldn't oppose smoking medical marijuana.
The Governor said he would not continue with former Gov. Rick Scott's (losing) legal fight to support the state's smoking ban. His support of medical marijuana made it difficult for DeSantis to find a state Surgeon General.
While DeSantis didn't appear to have his own health care agenda in 2019, he supported House Speaker José Oliva's ambitious agenda, which included eliminating certificates of need (CONs) for new hospitals and eventually tertiary programs.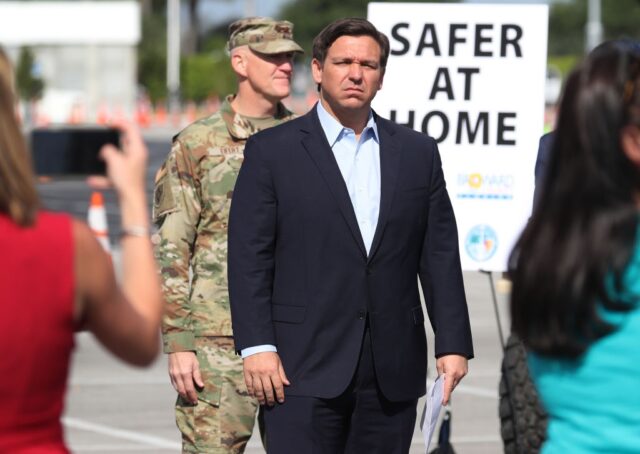 After years of unsuccessful efforts, the Florida Legislature in 2019 passed telehealth legislation (HB 23) which authorized out-of-state physicians to register with the Florida Board of Medicine and provide telehealth services to Florida residents. DeSantis signed the telehealth bill into law but surprisingly vetoed HB 7067, which required the Florida Department of Health (DOH) to charge a $150 registration fee for out-of-state health care professionals wanting to register as Florida telehealth providers.
While it was initially Oliva's idea, DeSantis did become the face of the state's efforts to establish a Canadian Drug Importation Program (which has yet to receive federal approval). The bill was heavily lobbied, and DeSantis publicly criticized PhRMA for trying to kill it.
Though DeSantis supported the Canadian Drug Importation Program (and still does), the Governor did not support the fees tied to the program that the Legislature approved. As such, DeSantis also vetoed HB 7073, which allowed the state to levy up to a $250 international export pharmacy permit fee. Additionally, the legislation authorized the state to levy between a $300 and $800 fee for an international prescription drug wholesale distributor permit and an annual inspection fee between $1,000 and $3,000.
The veto letter for 7067 and 7073 is here.
DeSantis in the 2020 Session continued to support Oliva's health care agenda, which included expanding the scope of practice for certain advanced practice registered nurses and pharmacists. While organized medicine was hopeful the Governor would veto the scope of practice bills, he did not.
The Legislature didn't tackle COVID-19-related issues because the Session adjourned as the pandemic arrived.
— DeSantis and the pandemic —
When the pandemic hit, the Governor didn't hesitate to wield executive power to slow the spread — in fact, he was quick to implement many of the policies that he would later come to view with disdain.
First came a March 9 emergency order declaring a state of emergency. On March 20, when there were only a handful of confirmed cases in Florida, the Governor issued another executive order shutting down bars and restaurants. In the second order, he pointed to a need for "social distancing" to prevent the virus' spread.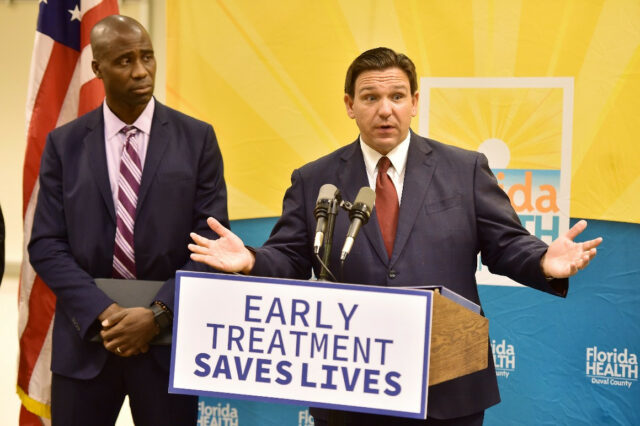 Though DeSantis today bristles at following federal guidance, he was something of a hard-liner on slow-the-spread policies — he even faced a lawsuit from bar owners in GOP-leaning Volusia County for keeping establishments closed in mid-2020.
The turning point came in September when the state entered "Phase Three" of its COVID response effort. At that point, most social distancing policies were lifted, and all businesses were allowed to re-open without limitation, though the Governor did allow local governments to cap restaurant and bar capacity to 50%.
"You can't just say no," DeSantis said at the time. "You can't say no after six months and just have people twisting in the wind."
When the vaccines dropped, DeSantis received the single-dose Johnson & Johnson shot privately, much to the chagrin of then-Agriculture Commissioner Nikki Fried who, like other politicians, opted to get the shot in a public setting to assuage vaccine hesitancy. Still, the Governor lauded the vaccine effort and urged Floridians to get vaxxed.
Contrary to his modern stance, DeSantis even downplayed concerns about vaccine effectiveness, claiming vaccinated individuals who later contracted the virus and had to go to the hospital for treatment were aberrations.
"These vaccines are saving lives. They are reducing mortality," DeSantis said in mid-2021.
His stance shifted later in the year when he called for a Special Session to ban mask and vaccine mandates and vowed to challenge mandates implemented at the federal level, which he called an "abuse of emergency power."
"Your right to earn a living should not be contingent on COVID shots," he said.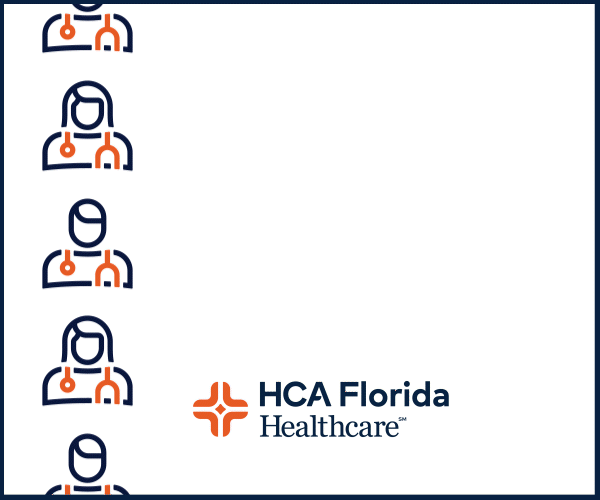 — Post pandemic —
In the past two years, DeSantis has been involved in health care issues that could resonate strongly with Republican Primary voters.
In 2022, he signed into law a ban on abortions after 15 weeks of pregnancy with no exceptions for rape and incest.
That law is still in effect and is currently being challenged in court. But even as that legal battle continues, DeSantis signed into law a ban on abortion after six weeks, although this version includes some exceptions provided the person seeking the abortion has some sort of documented proof of rape or incest.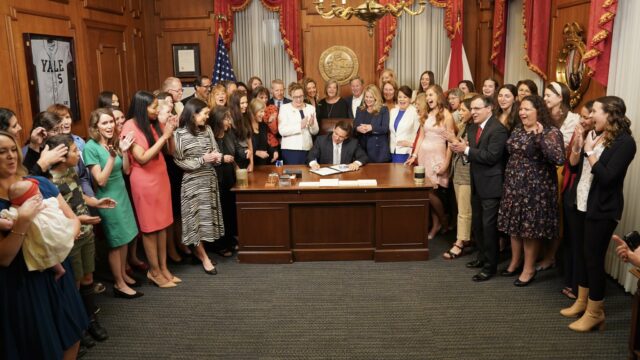 This new ban was passed during the 2023 Session. It does not kick in until the legal battle over the current 15-week ban is resolved.
After former President Donald Trump suggested a six-week ban may be "harsh," DeSantis has defended the measure.
Meanwhile, after First Lady Casey DeSantis' breast cancer battle, DeSantis made it a priority in 2022 to increase funding for cancer research in the state, calling for an additional $37 million in recurring funds to be spent on the Florida Consortium of National Cancer Institute Centers Program. Lawmakers agreed to allocate the funds and subsequently change the name of the program (which at the time only included the University of Miami Sylvester Comprehensive Cancer Center, Moffitt Cancer Center and UF Health Cancer Center) to the Casey DeSantis Cancer Research Program after the First Lady.
DeSantis also pushed for what he called the "No Patient Left Alone Act," which required health care providers to allow visitors in end-of-life situations, times of emotional distress and when patients need support from family members or caregivers to eat or drink, as well as any other circumstance AHCA deemed appropriate. The law requires providers to submit their visitation policies to AHCA for approval every Jan. 1.
Away from the cameras and media attention, DeSantis signed into law a bill that allows nursing homes to lower the number of nursing hours residents are required to receive. AARP Florida had launched a campaign aimed at getting DeSantis to veto the bill.
And with an eye on the 2023 Medicaid managed care procurement, AHCA successfully pushed through changes to Medicaid statutes meant to make the procurement process easier on the agency.
In the 2023 Session, the Legislature codified — and expanded upon — administrative changes DeSantis pushed through the rule-making process the prior year, such as banning Medicaid from reimbursing for any transgender health care services, regardless of a person's age, and precluding any transgender minor who currently is not being treated with puberty blockers or hormones from doing so.
DeSantis also pushed legislation during the 2023 Session to allow health care providers and insurance companies to deny care or reimbursement for care if it opposes their moral or ethical beliefs. Advocates for LGBTQ+ and women's health care worry that the law will give physicians and providers legal protections to discriminate against patients. Several Democratic lawmakers who spoke against the bill on final passage echoed those concerns.
Given the federal government hasn't approved his efforts to import drugs from Canada, DeSantis for the first time since getting elected in 2018, stepped into what has become a long-standing legislative battle over pharmacy benefit managers (PBMs) and their role in the health insurance system. With bipartisan support, the Legislature passed a bill that is considered one of the toughest in the country.
DeSantis, who opposes Medicaid expansion, doesn't appear to know much about one of House Speaker Paul Renner's main priorities: expanding Florida KidCare to children living in families earning 300% or less of the federal poverty level.
It's the first time the Legislature has expanded the program since its inception. When asked at an end-of-Session news conference whether he supports the bill, DeSantis stepped aside to let Renner explain the proposal. Renner said he doesn't consider the bill a "Medicaid expansion," even though it allows families to earn more without losing eligibility for subsidized children's health insurance coverage.
"I think that's a very strong conservative position; pro-family, pro-child position," Renner said.
DeSantis capped off Renner's remarks by adding, "I think he made a good case."
The governor's comments were met with a round of applause by the Republican lawmakers who attended the news conference.
— More transparency? —
The Centers for Medicare & Medicaid Services (CMS), this week announced it was pursuing additional changes to how the government purchases prescription drugs.
The proposed rule would allow CMS to have more insight into what the most expensive drugs on the market today actually cost to manufacture and distribute through a number of ways including the development of a "drug price certification survey." The survey will drug prices and help states better negotiate what the Medicaid program pays for high-cost drugs.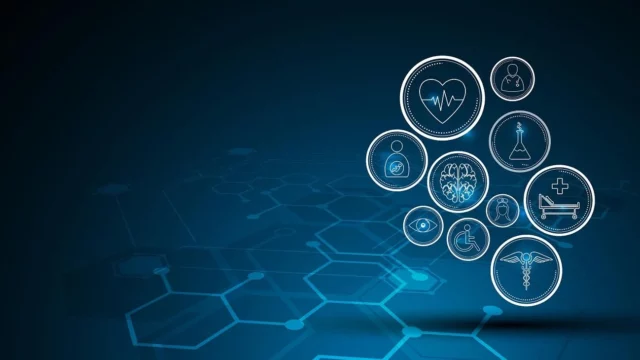 Another provision in the proposed rule aims to enhance transparency around Medicaid-managed care plans and the administration of drug benefits through pharmacy benefit managers (PBMs).
The regulation also contains a provision that would require contracts between states, Medicaid-managed care plans and PBMs reflect transparent reporting of drug payment information.
The proposed rule also focuses on the classification of drugs as brand name or generic. The proposed rule includes provisions to ensure that manufacturers classify their outpatient drugs as generic or brand names (states receive a higher percentage of rebate dollars for brand-name drugs compared to generics). If manufacturers misclassify their drugs the proposed rule gives CMS the ability to take corrective action.
The Joe Biden administration announced the new proposed rule this week and will be taking public comments on it through July 25. The proposed rule is here.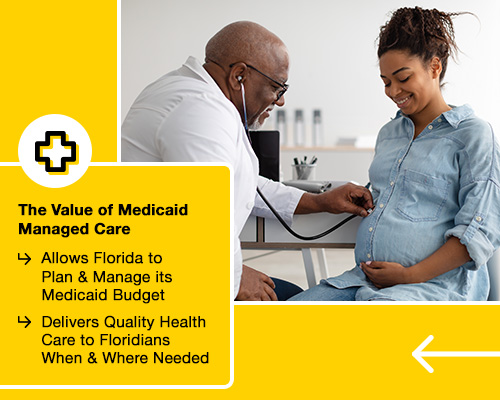 — First of its kind —
Tampa General Hospital, one of the nation's top 10 transplant centers and a U.S. News & World Report's 2022-23 Best Hospitals, announced this week the academic health system completed a successful liver transplant from a living donor earlier this month.
"Our living donor liver transplant program is a prime example of Tampa General continuing to drive innovation to deliver world-class health care," said John Couris, president and CEO of Tampa General. "This program opens up additional access to patients in need of a liver transplant and has the potential to transform the lives of patients and their families in the Tampa Bay region, Florida and across the United States."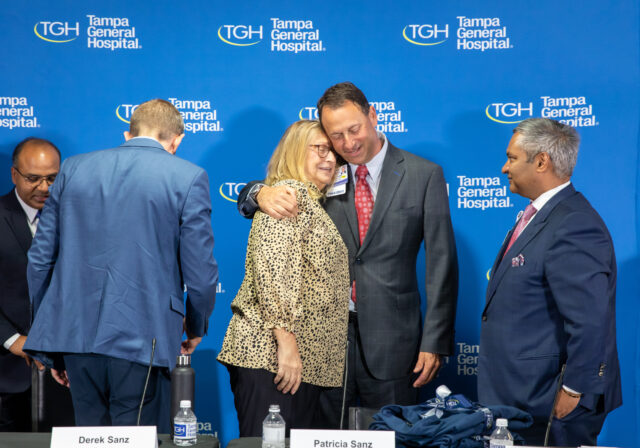 Tampa General's first living donor liver transplant is a significant milestone not just for the health system, but for the region. This successful surgery marks the first of its kind on the West Coast of Florida.
It's also a special story between a mother and son.
Patty Sanz had been suffering from liver disease for more than two years. The waiting period for a liver transplant from a deceased donor can last up to five years, according to the National Institutes of Health. Her son Derek volunteered to give a portion of his own.
"He said: 'Mom I'm in 100%, and you can't stop me,'" according to Patty Sanz. "Now, thanks to Derek, I'm going to live my life to the fullest … It's going to be fantastic."
"It's special to be able to do that for your mom," said Derek Sanz. Both TGH patients appeared healthy and full of joy at a news conference Tuesday in Tampa alongside the surgeon who performed the recipient operation, Dr. Kiran Dhanireddy.
"Living donor liver transplant is another avenue to save more lives of patients with liver disease in our community," said Dr. Dhanireddy, vice president and chief of the TGH Transplant Institute and surgical director of the Comprehensive Liver Disease and Transplant Center at the TGH Transplant Institute. "The profound generosity of living donors circumvents the need for extended periods of time to gain access to lifesaving transplantation."
An entire team of health care professionals joined Dhanireddy to participate in the transplant operation, including Dr. Ashish Singhal, director of Living Donor Liver Transplant, who performed the donor surgery; Dr. Diego Reino, an experienced Tampa General transplant surgeon who supported Dhanireddy; and Dr. Vijay Subramanian, a liver transplant surgeon at Tampa General who assisted Singhal.
Live-donor transplantation has many benefits. Most notably, a person who decides to donate a portion of their liver can reduce the waiting time for a recipient to receive a transplant. In addition, a closer match is more likely to occur with a live donor, and surgery can be scheduled more quickly and easily. Research also has shown that recipients of organs from living donors have better outcomes than those who receive organs from deceased donors.
The Tampa General Comprehensive Liver Disease and Transplant Center began in 1987 and is now one of the busiest such transplant centers in the country, with a record of more than 2,200 operations. The high patient volumes reflect the uncommon and challenging hepatic diseases the TGH Transplant Institute treats compared to other hospitals. In addition, the time required for a transplant is historically shorter than national averages, according to the Scientific Registry of Transplant Recipients data.
For nearly 50 years, Tampa General has been a national leader in lifesaving organ transplantation. In 2022, the hospital performed 682 transplants, a 20% increase in the number of procedures over the previous year. According to the United Network for Organ Sharing (UNOS), the national rate of transplants grew by 3.7% in 2022 over 2021.
— RULES —
—The Board of Medicine proposes updating Rule 64B8-42.003 regarding dietitians and nutritionists to reflect current examination scheduling procedures. More here.
—The Board of Medicine proposes updating Rule 64B8-51.006 regarding licensure and inspection of electrology facilities. More here.
—The Board of Nursing proposes amending Rule 64B9-3.002 amendment to clarify language regarding test scores. More here.
—The Board of Nursing proposes amending Rule 64B9-8.006 regarding disciplinary guidelines and penalties. More here.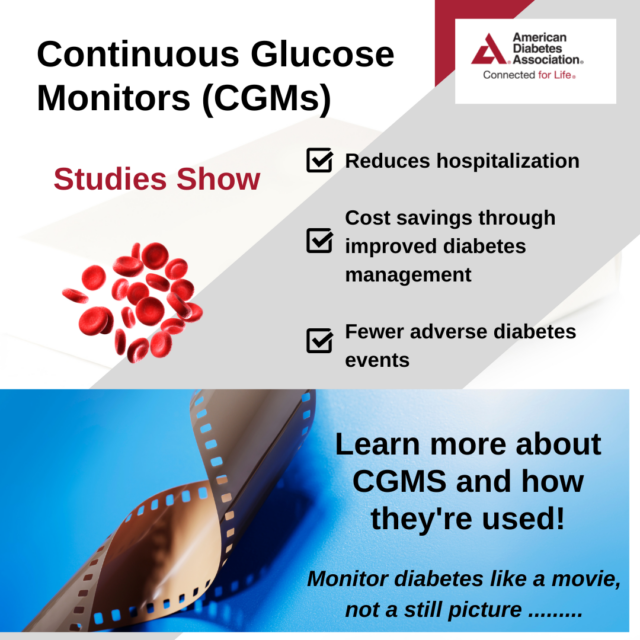 — LOBBYISTS —
Cynthia Henderson, Converge Public Strategies: CIOX Health, Epic Pharmacies, Florida Chiropractic Society, Moderna
Allison Liby-Schoonover, Metz Husband & Daughton: Karuna Therapeutics
Ashlee Tising, Akerman: Promptcare of Florida
— ETC —
— Hawthorne Ocala Operations d/b/a Hawthorne Center for Rehabilitation and Healing of Ocala submitted a certificate of need (CON) application to AHCA for 22 community nursing home beds in Marion County. AHCA also received applications from Okahumpa SNF, which submitted a CON to establish a new community nursing home with up to 150 beds in Lake County and Sumterlake Operations, which submitted a CON to establish a new community nursing home of up to 116 beds in Lake County. The CONs were submitted for the May 17 nursing home/intermediate care facility for the developmentally disabled (ICFDD) CON batching cycle.
— UF Online, the University of Florida's top-ranked online bachelor's degree program, is partnering with Nicklaus Children's Health System to support eligible registered nurses who want to receive a bachelor's in nursing degree. The opportunities start in the fall 2023 semester. UF launched its online education program in 2021. Dubbed UF Online's Gator Pathways, it is designed to welcome students from all locations and life stages to earn their bachelor's degrees via UF Online.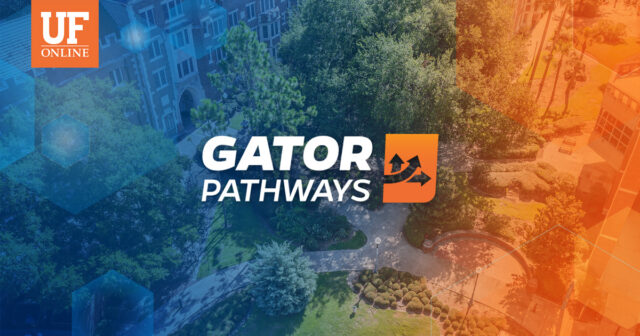 — The U.S. Department of Agriculture (USDA) awarded Healthcare Network a $325,224 grant to implement a WIC Community Innovation and Outreach Project (CIAO). CIAOs support efforts to develop, implement and strategies to increase awareness, participation and benefit redemption in WIC and reduce disparities in program delivery. Healthcare Network's program will focus on reaching mothers who are eligible for WIC, aiding with the application process and finding innovative ways to break the barriers that keep mothers from applying for WIC. The grant will fund gift cards, diapers and transportation/taxi vouchers to help engage mothers. DOH will work with Healthcare Network providing a management information system to track the program's effectiveness and the DOH in Collier County will provide training and education on WIC eligibility and enrollment requirements.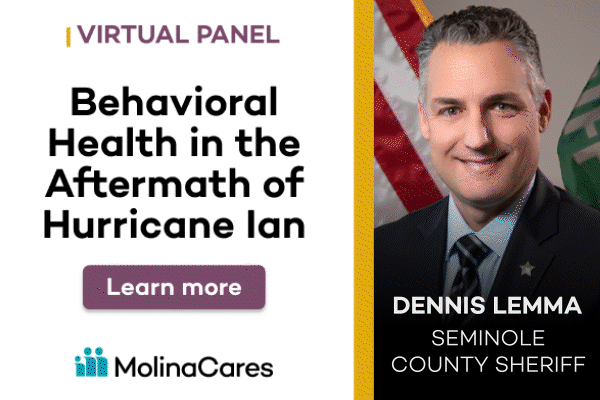 — ROSTER —
—TGH President and CEO Couris was inducted into the Tampa Bay Business Hall of Fame by the Florida Council on Economic Education. Since taking the helm at Tampa General in 2017, he has championed health care innovation and fostered excellence in clinical care for the entire Tampa Bay region. In May 2022, Tampa General and the city of Tampa launched a community wellness initiative focusing on three goals: routinely prescribing exercise and healthy food as medicine; enhancing fitness trails and parks in the downtown and adjacent areas; and developing a community garden and food pantry in East Tampa.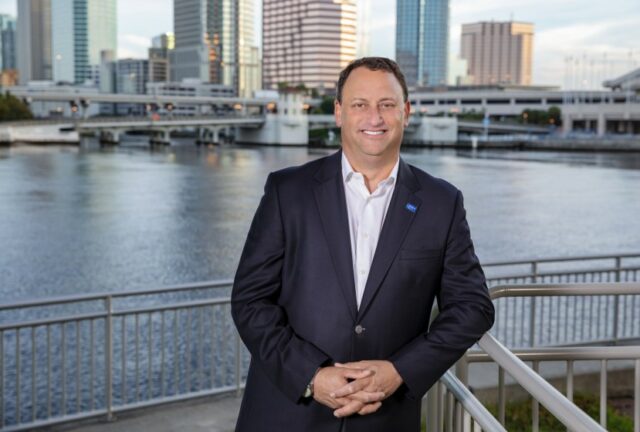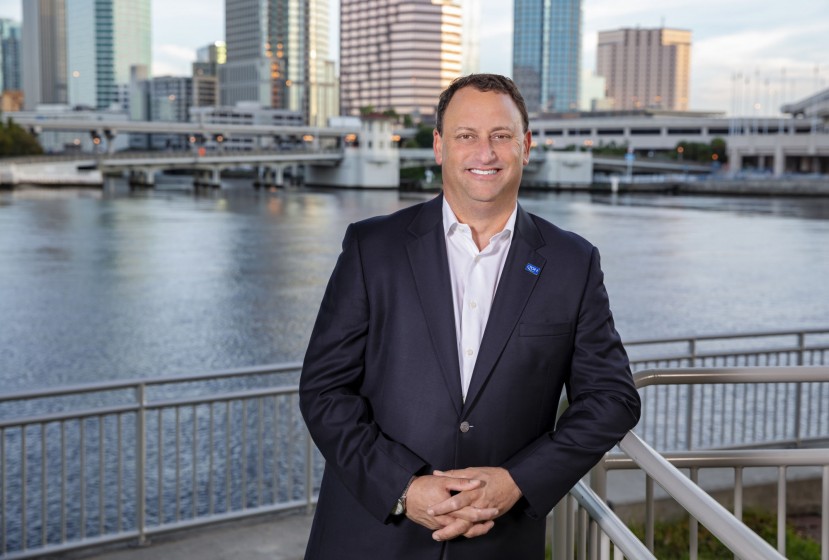 — Jyothi Gunta M.D., MPH, Director of the Florida Department of Health-Palm Beach County, was appointed to the Palm Health Foundation. The DOH Palm Health trustee position is appointed to ensure the foundation maintains close ties with public health in Palm Beach County.
— Baptist Health Miami has hired board-certified gynecological surgical oncologist Jean-Marie Stephan, Maryland Stephan specializes in gynecological cancer prevention, gynecological cancer surgery and chemotherapy.
— ICYMI —
In case you missed them, here is a recap of other critical health care policy stories covered in Florida Politics this past week.
— What's going on: Fifty-two organizations are asking DeSantis to "pause" the state's Medicaid disenrollment efforts long enough to review the process and to ensure Florida families are being made aware they need to apply for the safety net health care program. The request comes after data showed that about 250,000 people were disenrolled from Medicaid in April, mostly for procedural reasons.
— WHO are you: DeSantis doesn't support the World Health Organization's pandemic treaty. But it's not clear that members of the Public Health Integrity Committee hand-picked by his administration feel the same way. Chaired by Surgeon General Joseph Ladapo, the group met Monday to discuss state responses to the COVID-19 pandemic and the federal government's response.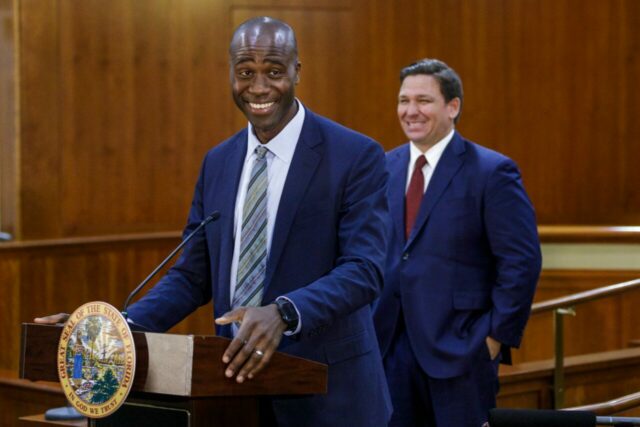 — The waiting is the hardest part: Florida's ban on minors accessing gender-affirming care remains in effect after a federal judge adjourned a hearing Friday without ruling from the bench on whether to block a new state law as well as a pair of medical board rules. U.S. District Judge Robert Hinkle said he wanted to hear from, at minimum, Attorney General Ashley Moody's office and said he wanted to ensure that the court and state had access to the medical records of the three transgender children who, along with their parents, have challenged the new bans.
— Going the distance: During an interview with John Stossel, the Governor was blunt in saying Social Security and Medicare currently weren't built for the long haul, as he defended potential changes to the programs. "I think a lot of younger people like me are receptive to this because I don't assume we're going to get any of this at this point right now," the 44-year-old Republican said, before floating unspecified changes. "I would not do things for people that are currently receiving these benefits because they've been made promises and we've got to fulfill them," DeSantis added. "The discretionary spending is funding agencies that are doing things that are hostile to the rights of the American people and have really been weaponized against factions of society that the elite ruling class doesn't like."
— Signed, sealed, delivered: DeSantis signed the bill, along with three others that advocates say target the LGBTQ+ community, in a ceremony at a Tampa Christian school Wednesday morning standing before a podium fashioned with the sign "Let Kids be Kids." SB 254 is a sweeping law that bans physicians from providing people under the age of 18 access to any "sex reassignment prescriptions or procedures," but contains exemptions for minors born with a "medically verifiable genetic disorder of sexual development." The law also limits who can provide the care to only medical doctors and osteopathic physicians and limits the use of telehealth by requiring patients to attest that they are voluntarily receiving the care. The attestation must be made on a state-approved form and while in the same room as a physician.
— FOR YOUR RADAR —
Aside from coverage by Florida Politics, these stories are worth your time.
—"Here's a solution to DeSantis' Social Security and Medicare conundrum" via Henry Olsen of The Washington Post — Trump has been hammering DeSantis over his past votes to significantly change Social Security and Medicare. The Florida Governor and former Congressman attempted to wave away the attacks, but there's a better way to counter Trump's charges: Appeal to both GOP conservatives and populists by targeting entitlement benefits to those in need. Social Security and Medicare are often called the "third rail" of U.S. politics for a reason. Because every working American receives or expects to receive benefits from these programs, any talk of reform raises the specter of unpalatable changes. That's why so few politicians talk about reducing the spending growth in these programs even though current levels of taxation simply cannot support it for long.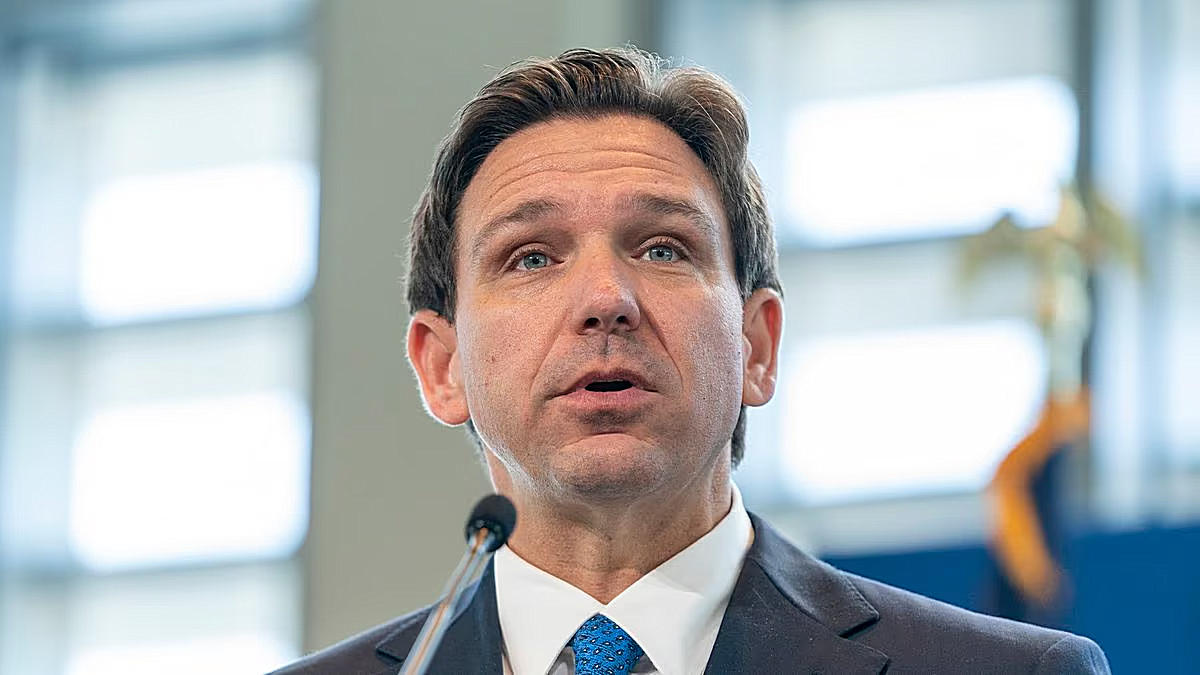 —"Why is Florida slashing the Medicaid rolls?" via the Tampa Bay Times editorial board — In April, the Florida Department of Children and Families began to purge the state's Medicaid rolls as part of the drawdown of COVID-19-era coverage. Since then, the state has reviewed more than 461,000 people, taking Medicaid benefits away from more than half. About 80% of those terminated — roughly 205,000 — were disqualified because they failed to respond to inquiries needed to renew their eligibility. Florida cannot turn its back on 80% of this population just because these residents failed to respond. Common sense says that tens of thousands of them remain eligible or qualify for coverage through other assistance programs. Someone just needs to reach them first.
—"For one family, Florida abortion law made a devastating loss into 'torture'" via Ruth Marcus of The Washington Post — Baby Milo's grandfather thought he might have hiccups. Instead, the newborn was gasping for air. Born without kidneys, his lungs underdeveloped, Milo Evan Dorbert lived for all of 99 minutes. The cause of death was Potter syndrome, discovered at 23 weeks of pregnancy. The cause of unnecessary suffering, for Milo and his family, was a Florida law that doctors said prevented them from terminating the pregnancy, even though it was clear the condition would be fatal. "To me, it's just pure torture," said Peter Rogell, the baby's grandfather.
—"Collier leaders may pay for health care team in Immokalee after federal grant was returned" via Liz Freeman of the Naples Daily News — A team of health care workers in Immokalee may gain job security at the behest of Collier leaders. That would be an about-face from mid-February when the Collier County Commission voted unanimously to return a grant from the U.S. Centers for Disease Control and Prevention. The grant was covering the workers' salaries to conduct COVID-19 education, among other services. The board faced lobbying from residents to send back the money, who argued the health care workers were pushing the COVID-19 vaccine upon the migrant farmworkers.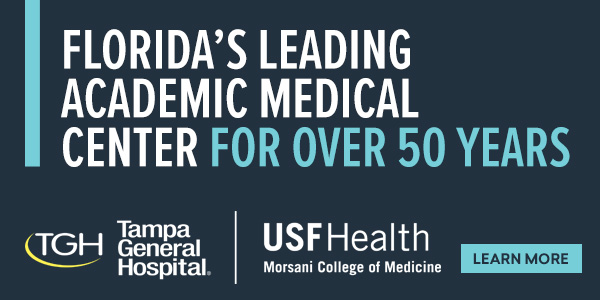 — PENCIL IT IN —
Thursday
8 a.m. — The Florida Board of Medicine's Probation Committee meets. Place: Virtual meeting link here. Or call (571) 317-3112; participant code 717632629.
9 a.m. — The Florida Chamber Foundation's 2023 Prosperity & Economic Opportunity Solution Summit begins. Place: Hyatt Regency Jacksonville Riverfront 225 E. Coastline Dr. Jacksonville. Agenda here.
11 a.m. — The Florida Board of Medicine Council on Physician Assistants meets. Place: Virtual meeting link here. Or call (571) 317-3112; participant code 717632629.
Friday
2:30 p.m. — The Board of Medicine North Probable Cause Panel meets. Call (646) 749-3122, access code: 841-195-637.
Monday
Happy Memorial Day
Happy birthday to Reps. Daryl Campbell and Kim Berfield.
Tuesday
Happy birthday to Rep. Kaylee Tuck.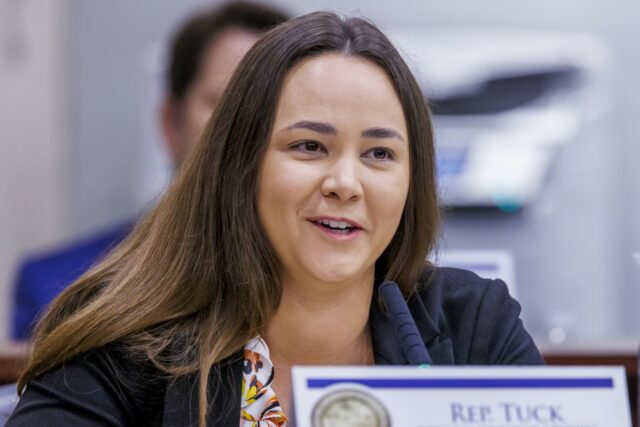 ___
Diagnosis is written by Christine Jordan Sexton and edited by Drew Wilson.