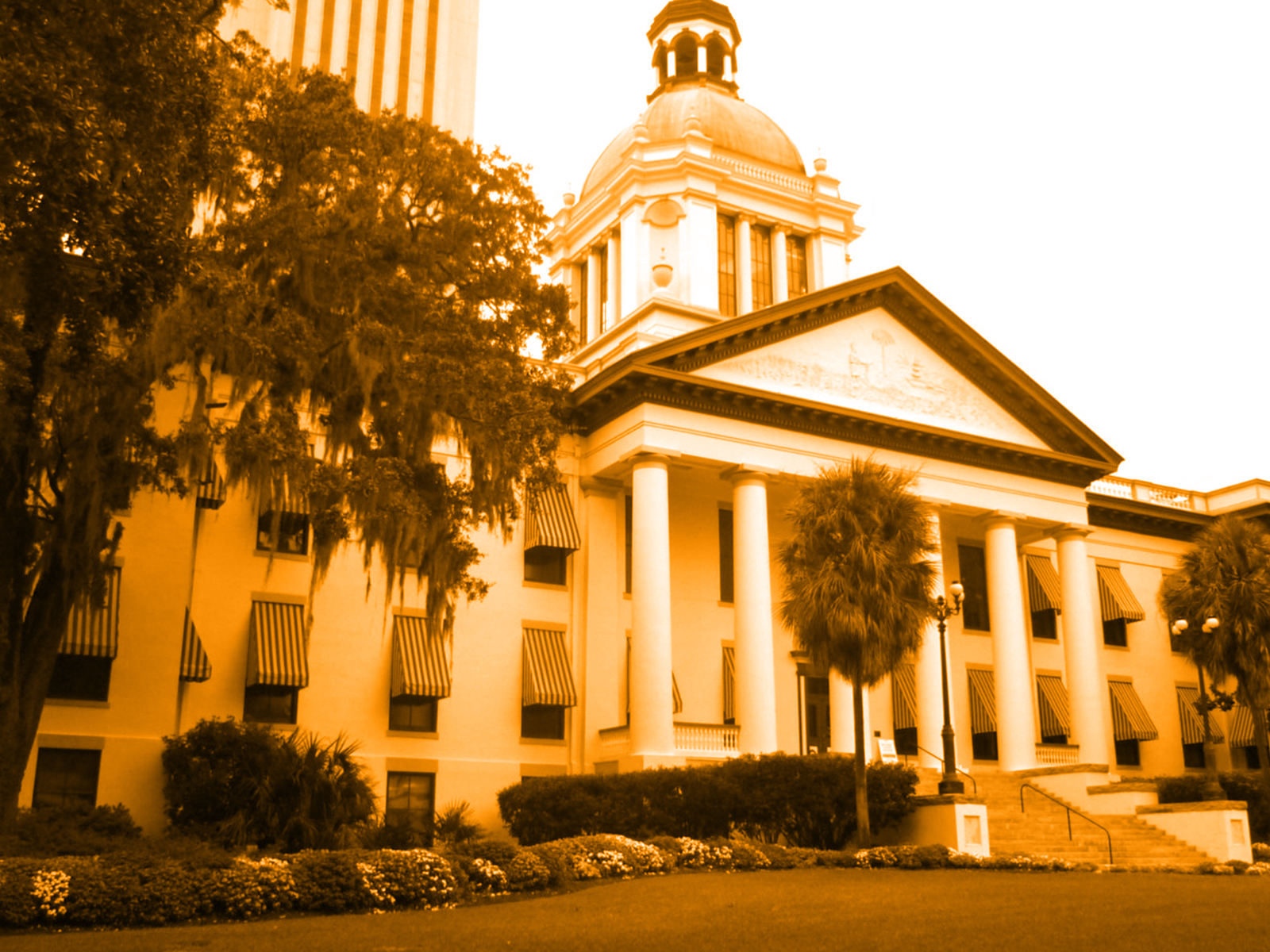 Who's up, down, in and out — your morning tip sheet on Florida politics.
Good Monday morning.
Filmmaker and communications expert Kevin Cate has just released his latest passion project — a short suspense film titled "OPEN DOOR," starring Sean Anthony Baker and Mia Matthews.
Directed by Cate with producer Danial Faber of Skysound Productions and CATECOMM — the leading Florida comms shop founded by Cate — the three-minute movie was created with a "world-class, almost all-volunteer" crew.
"OPEN DOOR" answers the question: What if an elevator fails? Two people in an elevator are faced with an unusual dilemma.
Cate says he's "hoping you'll click it, enjoy it, tell me what you think," and to please share it on Twitter, Facebook, Instagram, Threads, or YouTube (in 4k!).
To watch the movie, please click on the image below:
___
It's a new month and a new title for the tried-and-true Chad Poppell, who we've learned is now a principal at KPMG Tallahassee.
Poppell's ascension means he'll play an ever-greater role at the government-affairs affiliate of the Big Four brand. It's a great move for KPMG, given that Poppell boasts top-level experience under two separate Governors — a resume that any lobby shop in Tallahassee would jump at.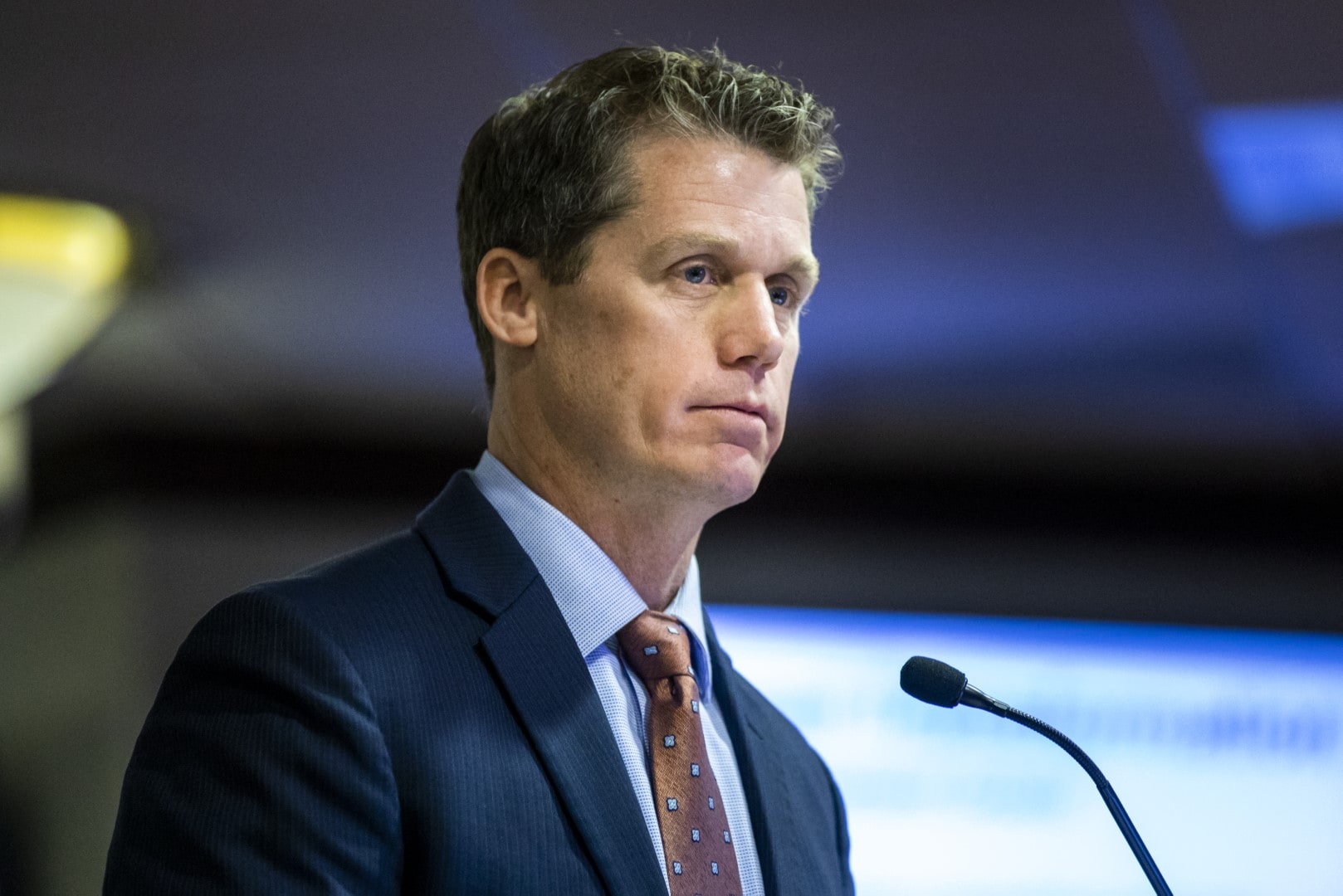 Poppell will continue to build on his earlier work at KPMG, namely in the areas of health care, IT services and health and human services.
Partner Anthony Monaco said that Poppell brings "experience" and "credibility" to the table.
"Chad is always personally and professionally invested, and he takes the success of a client very seriously," Monaco added. "We are fortunate to have such a skilled and experienced leader at KPMG."
Poppell joined KPMG in 2021 as Managing Director for the Health and Government Solutions practice. He came to the firm after serving as secretary for the Department of Children and Families under Gov. Ron DeSantis' administration. Under Gov. Rick Scott's Tallahassee tenure, Poppell led the Department of Management Services.
KPMG also elevated Maggie Mickler to Managing Director, Monica Russell to Senior Director, David DiSalvo to Director and Brooke Vilardebo to Manager.
Monaco said these moves mean there will be "a tremendous team" around Poppell in his new role. The internal advancements reflect what KPMG has dubbed its "Florida First" focus, coined for their prioritization of homegrown players at the firm.
___
Don Gaetz is running — Look for former Senate President Gaetz to officially launch his campaign today for state Senate District 1 to replace the term-limited Sen. Doug Broxson. The official launch follows some speculation that Gaetz would run. It also comes as many wonder whether his son, Republican U.S. Rep. Matt Gaetz, is positioning himself for a 2026 bid for Florida Governor. Should the senior Gaetz win, it could mean he's wielding power in the Senate while his son campaigns for Governor. Though the junior Gaetz has downplayed rumors that he's running for Governor in 2026, many are expecting he will.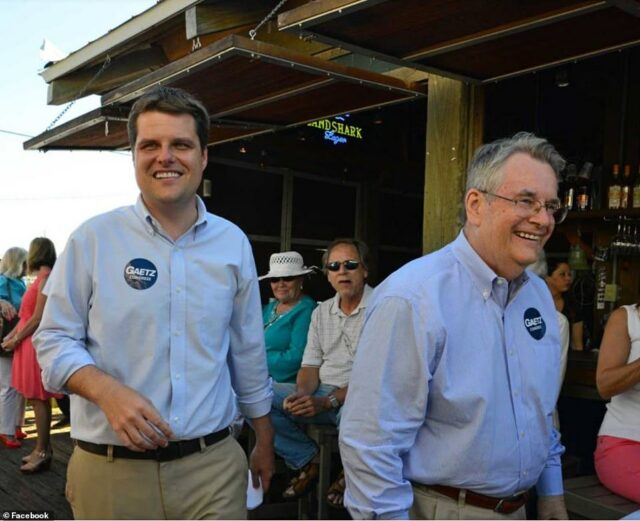 — SITUATIONAL AWARENESS —
—@RepMattGaetz: @SpeakerMcCarthy is going to get his wish. I'm going to file a motion to vacate against him this week. If at this time next week Kevin McCarthy is still Speaker of the House, it will be because the Democrats bailed him out. He can be their Speaker, not mine.
—@newtgingrich: Is Gaetz secretly an agent for the Democratic Party? No one else is doing as much to undermine, weaken and cripple the House GOP
—@RepJeffries: MAGA Republicans have surrendered. All extreme right-wing policies have been removed from the House spending bill. The American people have won.
—@TheRickWilson: I'm generally not a ray of sunshine, but the MAGA failure to shut down the government, the coming House GOP civil war, JFK running as an Indy pulling more GOP votes than Democratic, and the bonfire of GOP $$$ for (Glenn) Youngkin makes even me smile.
—@fineout: Fla's congressional delegation today split on the House vote to avert a shutdown. The measure passed 335-91. 10 of the nay votes were Fla Republicans. 8 Fla Republicans voted yes. There is no vote recorded for @ByronDonalds & @realannapaulina
Tweet, tweet:
After a day of campaigning, this is the message waiting for me outside my hotel room…#PrettyPatheticTryAgain#YouJustMadeMyCaseForMe pic.twitter.com/htbSumo58r

— Nikki Haley (@NikkiHaley) October 1, 2023
—@MarcACaputo: Disappointed there's no Taylor (Swift) Cam™️ at Chiefs-Jets
—@Mdixon55: The Denver Broncos might be the worst professional football team in the history of such things
— DAYS UNTIL —
Loki Season Two premieres — 4; Republican Party of Sarasota County honors First Lady Casey DeSantis with the 2023 Stateswoman of the Year Award — 17; Martin Scorsese's 'Killers of the Flower Moon' premieres — 18; 2023 Florida Chamber Annual Meeting & Future of Florida Forum — 21; Britney Spears memoir 'The Woman in Me' drops — 22; NBA 2023-24 season tipoff — 22; Swift's '1989 (Taylor's Version)' released — 25; Suncoast Tiger Bay Club hosts 'Evening with the Tigers' — 35; 'The Marvels′ premieres — 37; 2023 Florida Chamber Mental Health Innovation Summit — 38; Formula 1 will take over the Las Vegas Strip — 46; 'Squid Game: The Challenge' premieres — 51; Ridley Scott's 'Napoleon' premieres — 52; Florida TaxWatch's Annual Meeting begins — 58; 2023 Florida Transportation, Growth & Infrastructure Solution Summit — 60; 2023 Florida Chamber Annual Insurance Summit — 72; Zack Snyder's 'Rebel Moon' premieres — 81; Matt Dixon's 'Swamp Monsters: (Donald) Trump vs. DeSantis ― the Greatest Show on Earth (or at Least in Florida)' released — 99; 2024 Florida Chamber Legislative Fly-In and reception — 99; Florida's 2024 Regular Session begins — 99; Florida TaxWatch's State of the Taxpayer Dinner — 104; 2024 Primetime Emmy Awards — 105; South Carolina Democratic Primary — 124; New Hampshire and Nevada Democratic Primaries — 127; South Carolina GOP holds first-in-the-South Primary — 145; Michigan Democratic Primary — 148; Georgia Democratic Primary — 162; Trump's D.C. trial on charges related to trying to reverse his 2020 Election loss — 154; Super Tuesday — 155; 'A Quiet Place: Day One' premieres — 160; 2024 Oscars — 161; 'Dune: Part Two' premieres — 166; 'Deadpool 3' premieres — 212; 2024 Leadership Conference on Safety, Health & Sustainability — 221; 'Kingdom of the Planet of the Apes' premieres — 231; Republican National Convention begins — 285; New 'Alien' premieres — 289; Opening Ceremony of the 2024 Olympic Games — 298; 'Captain America: Brave New World' premieres — 298; Georgia Tech to face Florida State in 2024 opener in Dublin — 328; Swift's Eras Tour stops in Miami — 372; 2024 Florida Chamber Annual Meeting & Future of Florida Forum — 385; 'Thunderbolts' premieres — 445; 'Blade' reboot premieres — 501; 'Fantastic Four' reboot premieres — 580; 'Moana' premieres — 637; 'Avatar 3' premieres — 811; 'Avengers: The Kang Dynasty' premieres — 942; Untitled 'Star Wars' movie premieres — 964; Another untitled 'Star Wars' movie premieres — 1,177; 'Avengers: Secret Wars' premieres — 1,316; 'Avatar 4' premieres — 2,272; 'Avatar 5' premieres — 2,635.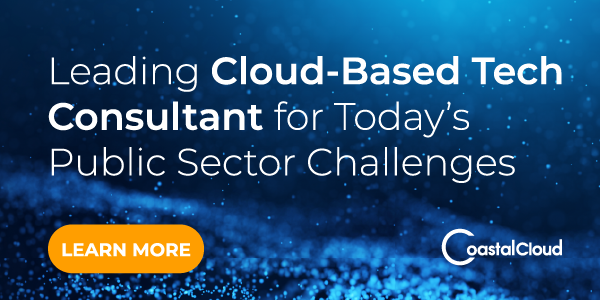 — TOP STORY —
"Congress narrowly averts shutdown as House Democrats help pass stopgap bill" via Carl Hulse and Catie Edmondson of The New York Times — In a rapid-fire sequence of events on Capitol Hill, a coalition of House Democrats and Republicans voted to pass a plan that would keep money flowing to government agencies and provide billions of dollars for disaster recovery efforts.
The bill did not include money for Ukraine despite a push for it by the White House and members of both parties in the Senate, but House Democrats embraced the plan anyway, seeing it as the most expedient way to avoid widespread government disruption.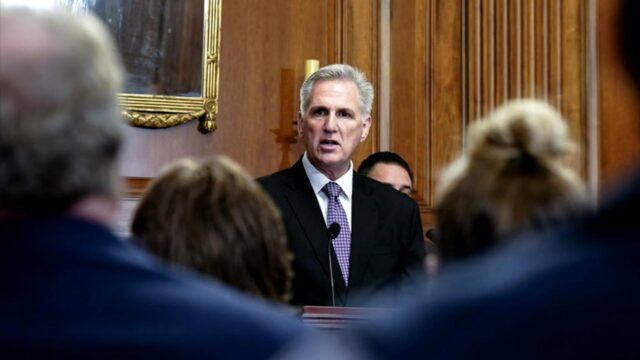 Speaker McCarthy, who had for weeks brushed off demands to work with Democrats on a spending solution, outlined the proposal for Republicans in a closed-door meeting Saturday morning and then rushed to get it on the floor under a special procedure that meant it could only pass with substantial Democratic help.
Democrats initially complained that McCarthy sprung the plan on them and was trying to push through a 71-page measure without sufficient scrutiny. But they also did not want to be accused of putting U.S. aid to Ukraine ahead of keeping government agencies open and paying 2 million members of the military and 1.5 million federal employees.
The measure was approved on a vote of 335 to 91, with 209 Democrats and 126 Republicans voting in favor and 90 Republicans and one Democrat in opposition.
The outcome could pose difficulties for McCarthy as a far-right faction had threatened to try to oust him from the Speakership if he worked with Democrats.
Hard-right Republicans refused to support the stopgap bill, known as a continuing resolution, because it essentially maintained funding at levels set when Congress was under Democratic control last year.
Gaetz, who threatened to try and oust McCarthy, was not willing to reveal his timing. He said, however, that McCarthy's speakership was "on tenuous ground."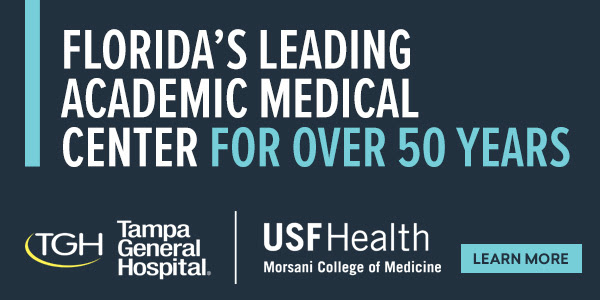 — THE TRAIL —
"Major GOP donors eye Nikki Haley and Ron DeSantis as the top Donald Trump alternatives" via Allan Smith, Jonathan Allen, Matt Dixon and Dasha Burns of NBC News — A collective of major Republican donors, known as the American Opportunity Alliance, is summoning representatives from both the DeSantis and Haley campaigns to Dallas on Oct. 13 to make presentations about why the deep-pocketed donor group should back them as the main Trump alternative in the GOP race. The candidates themselves will not be at the meeting coordinated by megadonors Ken Griffin, Harlan Crow and Paul Singer. The gathering offers both Haley and DeSantis camps to try and convince the group their candidate is the most viable alternative to Trump, who leads the GOP Primary polls by wide margins. "I think without question it's down to Haley and DeSantis," said a longtime Republican operative, one of a half-dozen GOP insiders who weighed in.
"Bill Maher grills DeSantis on path to defeat Trump: If things were going well, 'you wouldn't be on this show'" via Joseph A. Wulfsohn of Fox News — Maher grilled DeSantis on his uphill battle to defeat Trump in the GOP Primary. "You did not take my advice," Maher began. "I was on the show — a few times we talked — I said, 'this guy's crazy to run this time. He's — what are you, 45 years old? You just had a birthday, right?" "Yeah," DeSantis said. "You could run for the next 20 years. If you were (President Joe) Biden, the next 40," Maher quipped. "Why run against Trump? You're trying to thread this needle that will never happen. You can't disavow him because that's the base, and yet you're running against him. And that's why, I mean, let's face it, Ron, if the campaign was going well, you wouldn't be on this show."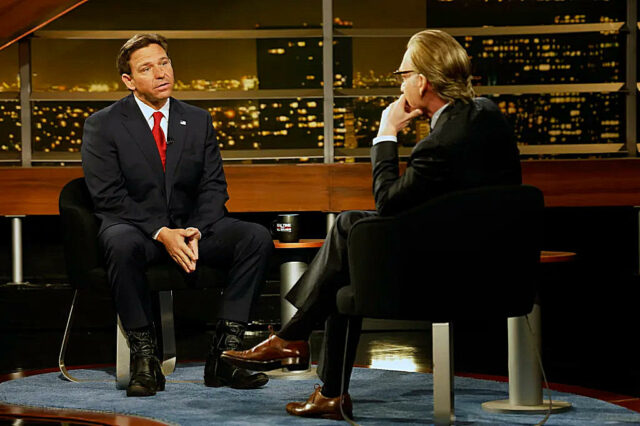 "'Embarrassing for him': Trump spox mocks DeSantis after Maher interview" via A.G. Gancarski of Florida Politics — The Trump campaign has a sharp rejoinder to DeSantis' interview on "Real Time with Bill Maher." "Ron DeSanctimonious's campaign is baked. His poll numbers are at the lowest it's ever been, while President Trump's numbers are the highest they've ever been and it's not even close," said representative Steven Cheung. "In another desperate sign that his campaign is off the rails, DeSanctus had the bright idea to travel to Los Angeles to do Bill Maher's show where he was filleted like he was the main course at Sugarfish. He had to sit silently, grinding and gnashing his teeth and twitching in his high-heeled cowboy boots as Maher told him to his face he had no chance of winning," Cheung added.
"Another poll shows DeSantis shedding 20% of his support after GOP debate" via A.G. Gancarski of Florida Politics — DeSantis hasn't gained ground on Trump in the wake of the debate. That's a conclusion to be drawn from new polling. DeSantis has 11% support in the poll released Sunday, down from 14% in the previous poll and 45 points behind Trump. He lost more than 20% of his support from the previous administration of the survey. While DeSantis is still the top second choice of 31% of GOP voters, the poll's top-line accords with another post-debate poll that also shows DeSantis losing 20% of his support.
"At least one poll shows DeSantis leading Gavin Newsom in hypothetical 2024 matchup" via A.G. Gancarski of Florida Politics — When the question of whether voters prefer DeSantis to Newsom was posed in a Daily Mail and J.L. Partners poll released Saturday, a slight plurality of likely voters polled said they prefer "America's Governor" to California's Governor, by a 43% to 39% margin. Predictably, DeSantis takes 81% of Republicans while Newsom takes 77% of Democrats. But when it comes to pivotal independent voters, DeSantis commands, with 43% versus 32%. Meanwhile, respondents were even more emphatic in expressing their preference for the Sunshine State over the Golden State, with 47% of those surveyed saying they would rather be governed by DeSantis than Newsom.
"DeSantis Super PAC cuts back Iowa, New Hampshire TV ads in shift" via Gregory Korte of Bloomberg — Never Back Down, the super PAC supporting DeSantis' bid, cut more than $530,000 in reserved time on broadcast television stations in Iowa and New Hampshire on Friday in what the group said was a shift in strategies following the second Republican debate. At the same time, the political action committee bought $91,165 in time on national conservative television news networks, reaching beyond the first two Primary states where it's put most of its resources, according to data collected by ad tracking company AdImpact. DeSantis, the second-highest polling candidate behind Trump, has struggled in the first two debates to stand out.
"DeSantis vows to deport 'everyone that has come illegally under Joe Biden'" via Paul Steinhauser, Andrew Mark Miller, Monica Oroz of Fox News — DeSantis pledged to remove migrants who entered the U.S. illegally during Biden's administration. "Everyone that has come illegally under Biden. We got to go — they're sending back," DeSantis said on Friday. Asked about deportations as he took questions from reporters following a campaign event in Long Beach, California, DeSantis reiterated that if elected to the White House, "that's going to be the first priority. That's probably six or seven million people right there. It's going to require a lot of effort. It's going to require us to lean in."
"With unrealistic immigration proposals, DeSantis and Trump try to outdo each other" via Nicholas Nehamas and Eileen Sullivan of The New York Times — DeSantis has said he would authorize the use of deadly force against people crossing the border, seek to end the practice of birthright citizenship and send the military to strike against drug cartels inside Mexico, a key ally of the United States, even without the permission of its government. Those positions put him on the hard right among the Republicans running for President, many of whom are tapping into deep anger among GOP Primary voters over immigration. Now, DeSantis, who often tries to stoke outrage with his border policies, has unveiled another extreme position: deporting all undocumented immigrants who crossed the border during the Biden administration.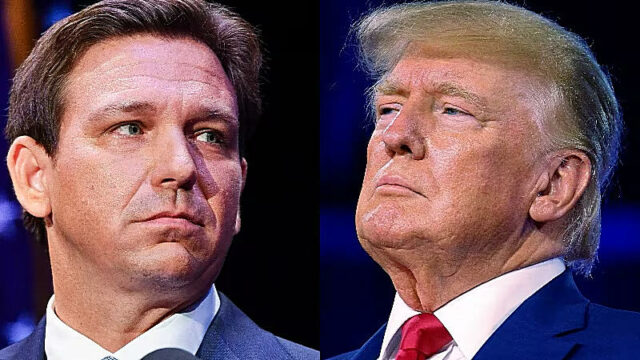 "'One of my residents': DeSantis mocks Trump at California GOP convention" via Olivia Alafriz of POLITICO — DeSantis hit back at Trump at the California GOP convention, chiding him for having "turned Georgia and Arizona blue." "I understand that one of my residents was here earlier saying that he turned Florida red," DeSantis said. "I just wish if he was the one that turned Florida red, that he wouldn't have turned Georgia and Arizona blue." Trump, who delivered a combative address including a lengthy broadside at DeSantis at the convention earlier Friday, said of his rival for the nomination: "I'm the one that turned Florida red, not him."
"DeSantis drags Florida Gators football during speech to California GOP" via A.G. Gancarski of Florida Politics — Speaking to the California Republican Party Friday night, DeSantis yet again insulted the University of Florida's 3-1 football team for the benefit of juicing an out-of-state crowd on the presidential campaign trail. The Governor told the Fall Summit crowd that UF was "the top-ranked public university in America." "No one would have thought that was possible 20 or 25 years ago. I just need their football team to start doing a little bit better and we'll be doing really well," he joked. Of course, DeSantis has made a habit of riffing on the Gators football team, such as during an August trip to Georgia.
"DeSantis can't stop meeting people who've been mugged" via Peter Wade of Rolling Stone — While bashing democratic governance, DeSantis claimed at Wednesday's debate that he and his wife had met "three people who had been mugged on the street" in southern California. By Sunday — just four days later — that number has doubled. "My wife and I ran into six or seven people that had been mugged in the last year in southern California," DeSantis said. If only his poll numbers could grow at this same rate, DeSantis might stand a chance at defeating Trump.
"DeSantis claims GOP debate opponents didn't 'act like a President should act'" via A.G. Gancarski of Florida Politics — DeSantis is taking shots at the six Republicans he debated earlier this week, saying their performances were unpresidential and "off-putting," continuing earlier critiques where he blasted "bickering" on the stage. "Anyone that watched that debate the other night saw, you know, there was one person who acted like a President should act. And if you look at how they were carping and all this stuff, to me, I thought it was very off-putting," DeSantis said. Additionally, DeSantis predicted that the race would be over "hopefully pretty quickly," given polling in the "early states" suggesting an imminent "conclusion."
"DeSantis accuses Trump of 'adopting Biden's basement strategy'" via Sarah Al-Arshani of USA Today — DeSantis criticized Trump for not showing up to the second GOP Primary debate. "With all due respect to Donald Trump, we're not going to beat the Democrats by adopting Joe Biden's basement strategy," DeSantis said. "You can't just be missing in action. You got to show up, you got to earn people's votes. And if you're not willing to do that, voters will take notice as we get closer to these contests," he said. DeSantis was referencing Biden's campaign during the early months of the COVID-19 pandemic. Because of social-distancing guidelines, Biden conducted many campaign events from his home, notably from his basement.
"DeSantis again rules out running as Trump's VP" via Shauneen Miranda of Axios — DeSantis shot down questions once again about whether he would serve as Vice President, if asked, on a Trump ticket. What he's saying: "No, I'm running for President," DeSantis said. "We need somebody that can serve two terms. We need somebody that can win states like Georgia and Arizona, which President Trump cannot do or did not do even though candidates like [John] McCain and [Mitt] Romney had no problem winning those states," DeSantis said. In March, DeSantis had laughed off a question about being Trump's VP pick. Again, in July, the GOP Governor said he would not be interested in such a role.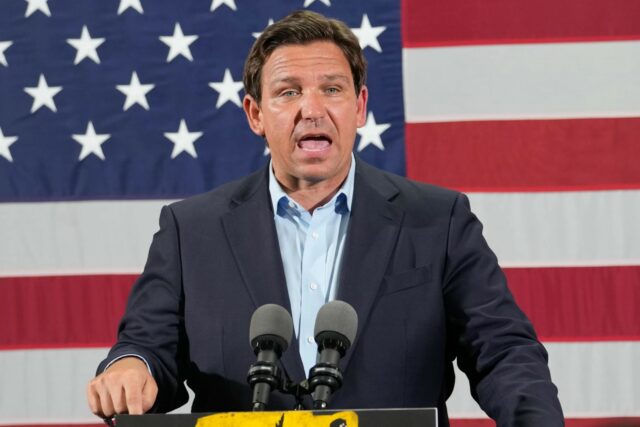 "DeSantis is still trying to say 'Hello' to America. But it's time to say, 'Goodbye.'" via Roger Brown of the Sarasota Herald-Tribune — Sorry, but that's the sole conclusion to take from DeSantis' performance in the second Republican Party presidential debate — during which the Florida Governor literally had the center spot on the stage but was pushed to the periphery once the seven candidates actually started talking. Throughout his run, DeSantis has been a textbook example of the perils of overpromising and underdelivering. It's time for him to accept that America has had enough opportunities to ponder the prospect of a DeSantis presidency and that it has reached its emphatic one-word verdict on that possibility: No!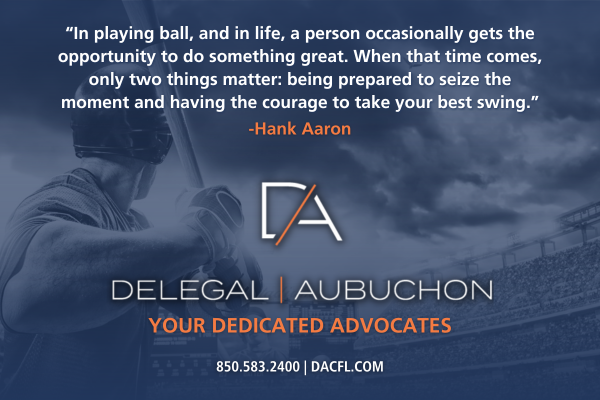 — MORE 2024 —
"Biden sees prime opportunity in Deion Sanders-coached matchup on Atlanta TV" via Greg Bluestein of The Atlanta Journal-Constitution — Biden's re-election campaign is hoping the "Coach Prime phenomenon" will help the Democrat energize Black voters. The campaign is set to air an ad in Atlanta on Saturday during the highly anticipated showdown between the University of Southern California and the University of Colorado, the Deion Sanders-led team that's been one of the biggest surprises this college football season. The 30-second spot targets Black voters by highlighting Biden's efforts to address racial inequity and his work to "narrow the racial wealth gap by creating millions of new, good-paying jobs and more funding for Black businesses," the narrator says. The President's strategy is echoed in the latest ad, part of a $25 million ad campaign targeting Georgia and other battleground states.
To watch the ad, please click on the image below:
"Biden, Trump visits fall flat for autoworkers girding for long strike" via Isaac Arnsdorf of The Washington Post — "The fact of the matter is that you guys, the UAW, you saved the automobile industry back in 2008," Biden said, speaking into a megaphone and wearing a United Auto Workers cap. The next night, at a nonunion parts plant across town, Trump staged his own campaign stop, offering up a nationalist vision of industrial revival. Then the candidates each jetted off; and back on the ground; in dozens of interviews across eight active picket lines in the Detroit metro area, the striking workers' expressions of gratitude for the candidates' visits sounded about as genuine as they'd made out the politicians' promises to be. "They just want our endorsement. They talked a good game, but we're still out here," said Mike Lowery, a 50-year-old production operator.
"Trump's rivals step up attacks as time runs out" via Jared Gans of The Hill — Trump's GOP rivals are signaling more willingness to attack him as the Iowa caucuses approach and the front-runner's lead shows few signs of shaking. DeSantis was among those who let loose on Trump during Wednesday night's debate, a notable shift from a candidate who had generally been cautious about alienating Trump's loyal base. Such attacks open a new phase of the Primary as Trump's rivals grow increasingly desperate with only a few months before early voting begins. "It's getting late, and so if your campaign is going to make a move, now's the time," said Republican strategist Nicole Schlinger.
"Trump's rivals search for paths to stop him as he blazes his own trail" via Thomas Beaumont of The Associated Press — Having stood out in two debates, Haley has booked her largest venue in Iowa since launching her campaign. She's hoping to fill a 600-person hall in a western Des Moines suburb on Saturday. That would be a huge number for most of her rivals. It's also less than the smallest crowds usually drawn by Trump, who is dominating the Republican field for the 2024 Iowa caucuses less than four months away. Trump will be in rural southeast Iowa the following day to headline an organizing event. Aides were expecting at least 1,000 to attend. In essence, there are two Iowa campaigns underway: Trump is holding fewer, bigger events that demonstrate the strength of his organization and grip on GOP base voters, while his rivals attend the state's traditional candidate forums and meet-and-greets, searching for ways to cut into his lead or consolidate second place.
"Trump aims to lock down supporters in Iowa counties that he flipped from Democrats in 2016" via Thomas Beaumont of The Associated Press — Trump was in southeast Iowa Sunday in the middle of a Fall campaign push aimed at locking in supporters with large organizing events. As he has with his other recent travels to the leadoff caucus state, Trump was campaigning in an area that formerly supported Democrats but has embraced him, as the influence trade unions once held has shrunk and lost voters to Republicans. Trump was headlining an afternoon event in Ottumwa, where 2,500 packed the inside of an event hall at the Bridge View Center in Ottumwa. The small city is a hub in eastern Iowa and the seat of Wapello County, one of 31 counties Trump carried in 2016 that Barack Obama had won four years earlier.
"Christina Pushaw says Trump 'going back to his roots as a Democrat'" via A.G. Gancarski of Florida Politics — Pushaw has been one of the most prominent defenders of DeSantis, and on Saturday she took her talents to a Twitter Space as time ran down on a pivotal third quarter of fundraising. DeSantis is down to Trump by more than 50 points in some polls of the Republican field, but as has been the case with the DeSantis campaign, his current rapid response director made the case that the Governor has a singular ideological purity that others in the race (particularly Trump) lack. Pushaw said DeSantis needed a "good performance this quarter that is better than the other candidates in the race," which could theoretically guide Republican opponents to "find a reason to exit stage left."
"Haley won the debate stage. Now, she's trying to win over Iowa." via Michael Gold of The New York Times — Both nationally and in first-in-the-nation Iowa, Haley lags behind DeSantis. To boost her chances, Haley is banking on events like Saturday's town hall, an intimate gathering of around 150 people in a nondescript ballroom festooned with campaign posters. Haley staged a kind of political theater in the round, standing on a platform surrounded by audience members on all sides. Dressed casually, Haley played more to the crowd than to the cameras. She emphasized her small-town origins and nodded to her alma mater's football team, Clemson. Though one-liners have challenged some of her rivals, Haley's jokes elicited the desired response.
"Haley draws Trump's fury after strong debate showing" via Caroline Vakil of the Miami Herald — Haley is coming out of Wednesday night's debate with a fresh burst of momentum, but members of the party say she still faces a steep hill in toppling Trump. Haley's Wednesday night performance in Simi Valley, California, was lauded by Republicans after she targeted several contenders, including DeSantis, biotech entrepreneur Vivek Ramaswamy and Sen. Tim Scott. Trump took notice, as well. His campaign hit her during the event, and Trump himself lashed out at her Friday on social media, in what some say is an indication she's being viewed as a more formidable opponent than before.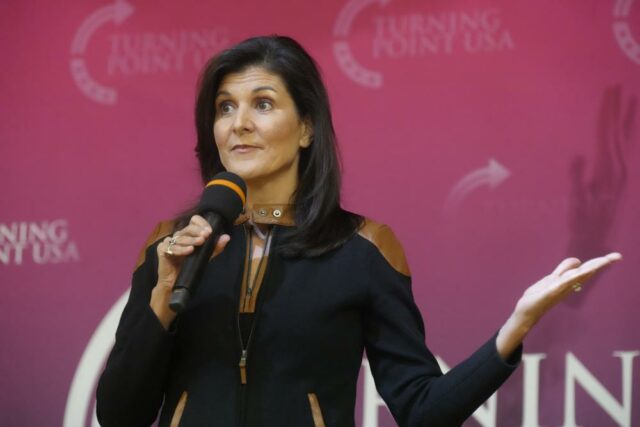 "Haley says Trump campaign sent her bird cage after he called her 'birdbrain'" via Sarah Fortinsky of The Hill — Haley said the Trump campaign sent a bird cage and bird food to her hotel room, a day after Trump called her "birdbrain." In a post on X, the social media platform formerly known as Twitter, Haley posted a photo of a bird cage with a large bag of food, with a sign that said, "From: Trump Campaign." The post comes as Trump, the front-runner in the GOP Primary campaign, has shifted his focus to target Haley.
"Vivek Ramaswamy likes one of Jimmy Carter's worst ideas" via Matthew Yglesias of Bloomberg — Somehow a failed good-government initiative from Carter's presidency, "zero-base budgeting," has become an applause line for Ramaswamy on the 2024 campaign trail. To make a long story short, the so-called ZBB failed in accomplishing anything in the 1970s, other than wasting some people's time, and it's not going to accomplish anything if it's tried again in the 2020s. But its allure to contemporary conservatives is illustrative of several important points. The upside of ZBB is that it's supposed to impose discipline. The downside is that ZBB generates a lot of extra hassle and work. Ramaswamy is on the political right, of course, and complaining about wasteful government spending feels like a right-coded undertaking.
"Ramaswamy criticizes stopgap funding measure: 'It's a deflection'" via Eva Surovell of The Messenger — Ramaswamy criticized the stopgap measure passed by Congress and signed by Biden on Saturday to keep the government funded for 47 days. "My first reaction is the reaction it's been for the last several days, which is this whole debate is a farce," Ramaswamy said. "It's a deflection." Ramaswamy made the comments after speaking at the California GOP convention on Saturday. "We need to stop the artificial debate about fake government shutdowns and start having a real debate — how to achieve a true shutdown of the administrative state," Ramaswamy said.
"House Democrat steps down from leadership role over party's support of Biden's re-election" via Kristin Wilson of CNN — Rep. Dean Phillips is leaving his position in House Democratic leadership over his party's support of Biden's 2024 re-election bid. "My convictions relative to the 2024 presidential race are incongruent with the majority of my caucus, and I felt it appropriate to step aside from elected leadership," Phillips said. "I celebrate Leader (Hakeem) Jeffries for his remarkable and principled leadership and extend gratitude to my outstanding friends and colleagues for having created space and place for my perspectives," added Philips, who had been Co-Chair of the House Democratic Policy and Communications Committee.
"Trump expected to appear at civil fraud trial in New York on Monday" via Alayna Treene and Kristen Holmes of CNN — Trump is making plans to appear in person for his civil fraud trial in New York on Monday, multiple sources familiar with the planning said. Law enforcement and court employees have been making security preparations for Trump's potential appearance at the courthouse in Lower Manhattan on Monday and possibly Tuesday. Trump has not yet confirmed that he will attend the trial. Trump spokesperson Steven Cheung said, "No final decision has been made yet." Trump's plans started to become clear after a federal judge in Florida granted his request to postpone a deposition in a separate case because it would conflict with the start of the New York trial.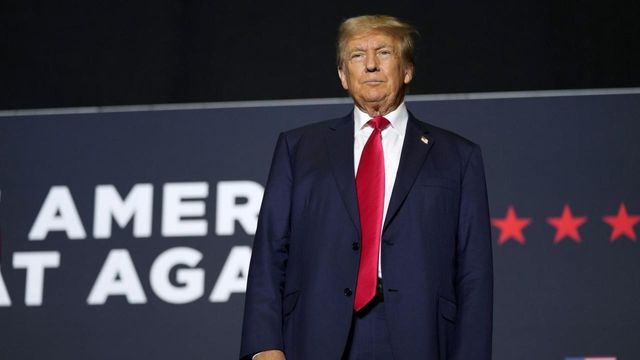 "Trump's wallet — and reputation — to be tested in civil-fraud trial" via Corinne Ramey, Peter Grant and James Fanelli of The Wall Street Journal — Trump begins a monthslong courtroom battle in New York this week that could cost him several hundred million dollars in penalties and deal a blow to the business-titan persona on which he built his political identity. The civil trial pits Trump, who plans to attend the opening day in Manhattan on Monday, against New York Attorney General Letitia James, who filed suit a year ago accusing Trump of inflating his net worth by billions of dollars in a scheme to obtain favorable terms on bank loans and insurance policies. James could call 50 or more witnesses, including accountants, bankers and Trump Organization employees. His defense lawyers have said that the transactions in question were profitable, with no indication of defaults or late payments on loans. They indicated they could put more than 100 people on the stand.
"Special Counsel Jack Smith demands a gag order on Trump after rants about executing General Mark Milley, blasted Judge Tanya Chutkan as 'very biased and unfair'" via Rachel Bowman of the Daily Mail — Federal prosecutors submitted a new filing in their quest to impose a gag order on Trump, citing his attacks on General Milley and Judge Chutkan. Smith pressed his case Friday for a limited gag order arguing that Trump has ramped up incendiary and intimidating comments since he initially requested the order two weeks ago. Lawyers for Trump have demanded the judge reject the gag order calling it election interference and censorship.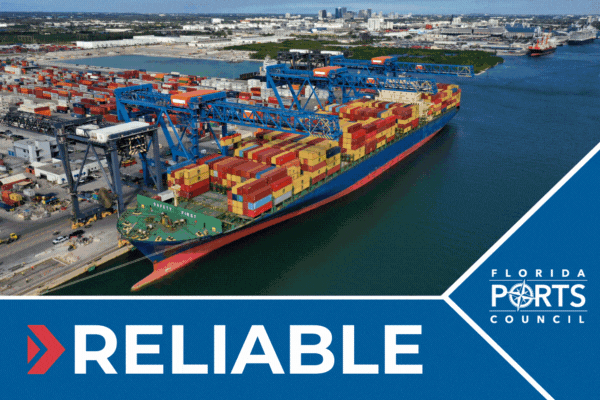 — DESANTISY LAND —
"Prominent GOP donor, now dead, accused of using Taylor Swift tickets to coerce young woman" via Nate Monroe of The Florida Times-Union — A Northeast Florida powerbroker who nurtured friendships with a slew of local and state officials, including DeSantis, was under investigation at the time he killed himself this past December for a "bizarre and fraudulent scheme" in which he tried to trick a significantly younger woman into sending him topless pictures in exchange for VIP access to a Swift concert in Tampa, state prosecutors disclosed Friday. State Attorney Melissa Nelson's office said it would have charged the "cunning and deceptive" Kent Stermon with multiple crimes — including solicitation for prostitution, false imprisonment and different categories of fraud — for allegedly using a fake email account to pose as a security staffer on Swift's "Eras Tour" in an effort to get the woman to email him topless photos.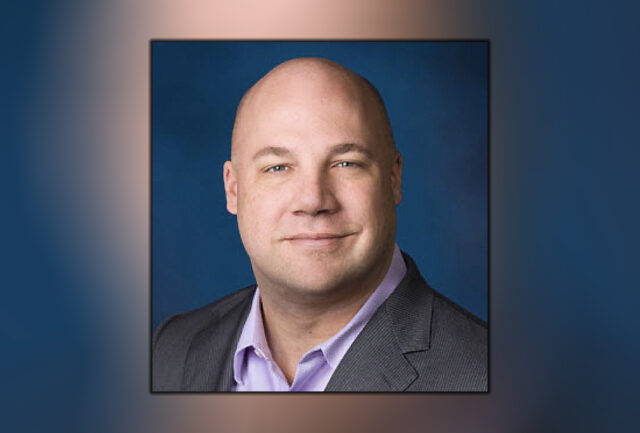 "Disney battle ratchets up as company demands documents from DeSantis" via The Associated Press — DeSantis asked that the company's First Amendment lawsuit against him be tossed from federal court, and Disney demanded emails, texts and other communications from the Governor's Office in a separate state court lawsuit originally brought by DeSantis appointees of Walt Disney World's governing district. "Although Disney has grabbed headlines by suing the Governor, Disney — like many litigants before it who have challenged Florida's laws — has no basis for doing so," DeSantis' motion said.
"DeSantis insists Disney has no right to sue him; DeSantis wants 'last-ditch' case chucked" via Dominic Patten of Deadline — DeSantis was in Anaheim speaking at the California Republican Party Fall Convention. However, a new filing in federal court this week reveals that if it were up to the Florida Governor, he'd get as far away from Disney as he can — on both coasts. Responding to the latest amended complaint from the Bob Iger-run Disney, lawyers for DeSantis this week asserted that DeSantis and the secretary of Florida's Department of Commerce don't "enforce any of the laws at issue, so Disney lacks standing to sue them." Or, to cut through the legal-eze and go straight to a populist sound bite decrying the now-First Amendment-focused action, DeSantis says the real point of the suit isn't freedom of speech. Instead, he claims it's a "last-ditch effort" by Disney "to reinstate its corporate kingdom" in the Sunshine State.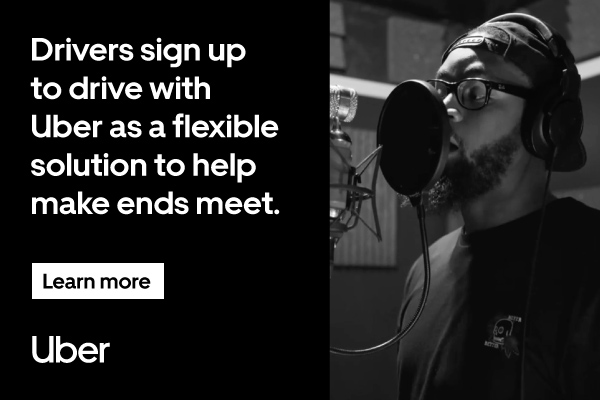 — D. C. MATTERS —
"A final chapter unbefitting an extraordinary legacy" via Mark Leibovich of The Atlantic — With the official notice of her death today, Dianne Feinstein received her just and proper tributes, hitting all the key markers. Over her last year, Feinstein's declining health became a bleak sideshow. Feinstein's insistence on remaining in the Senate and the uncertainty of her schedule complicated life for Democrats, making it harder for them to hold votes, set strategy, and confirm judges. Her colleagues and White House officials whispered their frustration. Often your most important job is simply to be available, show up, be counted. When that is in doubt, patience can wear fast. Questions about "fitness" arise. Such is the price of continued residency in the senior center of the Capitol.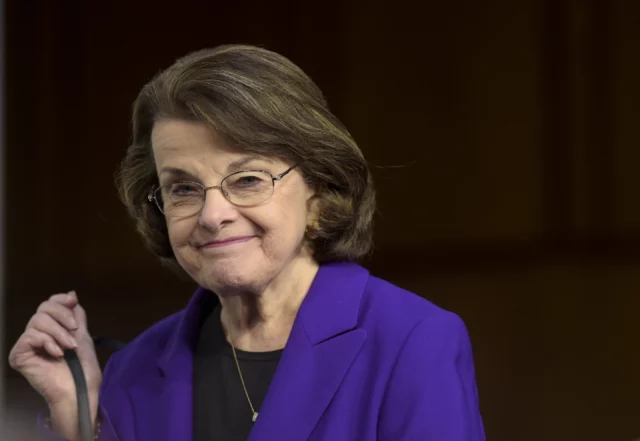 "Biden says it's 'good news' the shutdown was averted but blames House GOP for 'manufactured crisis'" via The Associated Press — Staring down a possible government shutdown, the White House wanted to make sure any blame would fall on the other end of Pennsylvania Avenue, specifically on House Republicans. Biden is hoping the rest of the country would see things the same way. It's a murky proposition at a time of extreme political polarization, with many Americans dug into their partisan corners regardless of the facts of the matter. In a statement, Biden said the bill was "good news for the American people." "But I want to be clear: we should never have been in this position in the first place. Just a few months ago, Speaker McCarthy and I reached a budget agreement to avoid precisely this type of manufactured crisis," he said in a statement.
"Biden warns MAGA Republicans will try to thwart the next funding deal" via Summer Concepcion of NBC News — Biden has warned that conservative rebels "will be back again" to try to thwart the next funding deal after Congress voted to pass a stopgap bill to keep the government funded, avoiding a shutdown with just hours until the deadline. "The last few days and weeks extreme MAGA Republicans tried to walk away from that deal," Biden said. "Voting for deep, lasting spending cuts from 30 to 80% — that would have been devastating for millions of Americans. "It failed again, it failed again, and we stopped it," he added. "But I'm under no illusions that they'll be back again."
"Kevin McCarthy faces test as Matt Gaetz moves to oust him for working with Democrats" via Karoun Demirjian of The New York Times — "I think we need to rip off the Band-Aid," Gaetz said, promising in the next few days to bring up a measure called a "motion to vacate," which prompts a snap vote on whether to keep the speaker in his post. "I think we need to move on with new leadership that can be trustworthy." Gaetz's move is the culmination of a monthslong power struggle between McCarthy and far-right members of his party. McCarthy shrugged off the threat, predicting that Gaetz's effort to remove him would fail and was motivated by a petty grudge rather than a substantive dispute.
"Who is this man and what has he done with McCarthy?" via Dana Milbank of The Washington Post — Let's have two cheers for the embattled Speaker. He did the right thing — after he had exhausted all other options. After bumbling into another manufactured crisis, he turned to Democrats to bail him out, just as he had done on the debt ceiling. It's not an ideal fix; it merely delays the shutdown threat until just before Thanksgiving, and it doesn't provide urgently needed funds for Ukraine to hold off Russia's invasion. But it is, at long last, a nod to sanity — especially considering that, a day earlier, House Republicans tried to slash government spending by about 30%. And just a few hours earlier Republicans were willing to let the government shut down. "MAGA Republicans have surrendered," Hakeem Jeffries, the House Democratic leader, exulted. Actually, they hadn't surrendered; they had been sidelined.
"So how did Florida lawmakers vote on avoiding shutdown?" via Michael Van Sickler of the Orlando Sentinel — House vote was 335-91. Hours later Saturday, the Senate passed the funding plan by an 88-9 vote. Sens. Marco Rubio and Scott voted for the funding. In the U.S. House, all eight Florida Democrats voted for the funding plan, which contained disaster aid, including money for those still digging out from hurricanes, but not aid for Ukraine that the Senate had initially included in its funding plan. Republicans weren't as united.
—"John Rutherford slams fellow Republicans by name who voted against McCarthy budget plan" via Jacob Ogles of Florida Politics
"SCOTUS set to tackle abortion, guns in new term" via The Associated Press — The Supreme Court is returning to a new term to take up some familiar topics, guns and abortion, and concerns about ethics swirling around the justices. The year also will have a heavy focus on social media and how free speech protections apply online. A big unknown is whether the court will be asked to weigh in on any aspect of the criminal cases against Trump and others or efforts in some states to keep the Republican off the 2024 ballot because of his role in trying to overturn the results of the 2020 election that he lost to Biden. Lower-profile but vitally important, several cases in the term that begins Monday ask the justices to constrict the power of regulatory agencies.
"Rep. Jamaal Bowman triggered a fire alarm in a House office building amid voting on a funding bill" via Farnoush Amiri of The Associated Press — Bowman acknowledged triggering a fire alarm Saturday in one of the U.S. Capitol office buildings as lawmakers scrambled to pass a bill to fund the government before the midnight shutdown deadline. The fire alarm sounded out around noon in the Cannon House Office Building and prompted a building-wide evacuation at a time when the House was in Session and staffers were working in the building. The building was reopened an hour later after Capitol Police determined it was not a threat. The GOP-controlled House Administration Committee, which oversees issues pertaining to the Capitol complex, posted a picture of a person pulling the fire alarm who appeared to be Bowman.
"Trump's war on federal agencies — fueled by his judges — reaches the Supreme Court" via Lawrence Hurley of NBC News — Trump's top lawyer put it bluntly when speaking at a conservative conference five years ago: The goal was to name judges who would help further the administration's deregulation agenda. "There is a coherent plan here where actually the judicial selection and the deregulatory effort are really the flip side of the same coin," White House counsel Don McGahn said onstage at the Conservative Political Action Conference in 2018. That plan is bearing fruit. The Supreme Court's new nine-month term starts Monday, with three major cases shaped by Trump-appointed judges that could hobble federal agencies already on the docket.
"Rep. Laurel Lee appointed to role setting military funding levels" via The Lakeland Ledger — Lee has been appointed to serve as a conferee to the Fiscal Year 2024 National Defense Authorization Act. The NDAA sets the military's fiscal year funding levels and provides for national security and military priorities. McCarthy appointed Lee to the position, her office said in a news release. She represents District 15, which encompasses western Polk County and parts of Hillsborough and Pasco counties. "I am honored to have been selected to advocate on behalf of our military service members, including those at MacDill Air Force Base, as we work to ensure the final passage of the National Defense Authorization Act," Lee said.
"María Elvira Salazar praised 'impressive facilities' at Miami airport after voting against the spending" via Jacob Ogles of Florida Politics — Salazar sent a team from her office to tour facilities at Miami International Airport. Now Salazar is sharing photos of work being done and praised efforts to modernize the facility, replacing and refurbishing bridges and loading platforms. The problem? She voted against funding for any of it. The improvements to the airport moved forward thanks in part to $84.9 million in funding through the Bipartisan Infrastructure Law passed in 2021 and signed by Biden in November that year. The trillion-dollar package passed on a 228-206 vote, with 13 Republicans voting in favor. But every one of Florida's congressional representatives voted against the measure. That included Salazar, a first term lawmaker at the time.
"DCCC attacks Salazar for vote to limit access to abortion pill" via Jacob Ogles of Florida Politics — The Democratic Congressional Campaign Committee is hitting Salazar over a bill she supported amid negotiations to avoid a shutdown. The U.S. House took up, but failed to pass, an agriculture appropriations bill late Thursday night. Dozens of pro-choice Republicans joined with Democrats to nix the bill over limiting access to an abortion pill. But Salazar, a Coral Gables Republican, voted for the legislation. "María Elvira Salazar is so obsessed with chipping away at reproductive freedom that she is willing to shut down the federal government if she doesn't get her way," said Justin Chermol, a DCCC spokesperson. "Floridians deserve responsible governance, not MAGA brinkmanship at the expense of middle-class families."
"Rep. Carlos Gimenez blasts Gaetz as 'Biden's favorite Republican'" via Zachary Leeman of The Messenger — Giménez labeled Gaetz Biden's "favorite Republican" after Gaetz promised to put forth a motion to vacate McCarthy. "Matt Gaetz is Joe Biden's favorite Republican," Gimenez said. The Florida Congressman accused Gaetz of causing "chaos" in his own party and benefiting Democrats, calling him a "Democrat in disguise." Gimenez blasted Gaetz for refusing to support a federal spending bill without major cuts. Over the weekend, the House managed to pass a 45-day extension, averting a government shutdown at the eleventh hour. Gimenez argued Gaetz and others demanding spending cuts and prolonging the process meant Republicans did not get funding for the southern border they were seeking.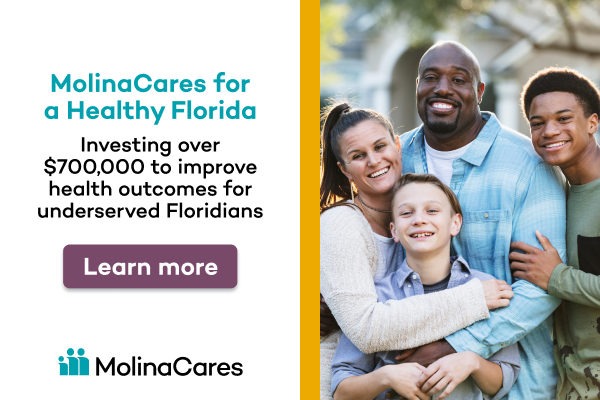 — STATEWIDE —
"Tropical storm watch issued as Tropical Storm Philippe moves into the Caribbean" via Howard Cohen, Devoun Cetoute, David J. Neal, and Grethel Aguila of the Miami Herald — There's a tropical storm watch for Tropical Storm Philippe, which is forecast to get stronger, while Tropical Storm Rina is expected to die off, according to Sunday's 5 p.m. advisories from the National Hurricane Center in Miami. The Sunday 5 p.m. advisory for Tropical Storm Philippe included the aforementioned tropical storm watch issued by Antigua's government for Antigua and Barbuda. Tropical-storm-force winds extend outward up to 175 miles from the center, mostly to the east.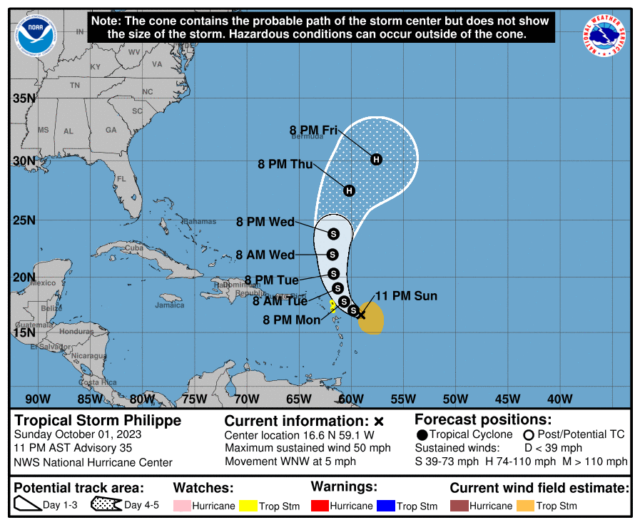 "Bad blood: Jimmy Patronis claims 'deep state' targets Taylor Swift fans" via A.G. Gancarski of Florida Politics — "Just when you thought Washington couldn't further intrude into the lives of Americans more, the deep state has found yet another way to screw over honest, hardworking taxpayers by digging deeper into your wallets. The Biden administration's new 'Taylor Tax' on Taylor Swift fans who choose to resell their tickets are now at risk of being audited by the IRS," Patronis noted. Talk about "Bad blood!" But in a clear case of "Look what you made me do," Patronis wasn't ready to drop the mic. One thing's for sure: when it comes to the CFO and the IRS, they are never, ever, ever getting back together.
Happening today — The Indian River County legislative delegation meets: 9 a.m., Indian River County Administration Complex Bldg. A, Commission Chambers, 1801 27th St., Vero Beach. The Pasco County delegation meets: Noon, 10230 Ridge Rd., New Port Richey. The Polk County Legislative Delegation meets: 1 p.m., Polk State College — Center for Public Safety, 1251 Jim Keene Boulevard, Winter Haven. The Bay County legislative delegation meets: 5 p.m. CST, Bay County Government Building, 840 West 11th St., Panama City.
"Nearly half of the 500,000-plus individuals who have lost Medicaid benefits in Florida are children" via Christine Jordan Sexton of Florida Politics — Democrats, alarmed at what they say is a startling number of children getting knocked out of Medicaid, are calling on the DeSantis' administration to act now to stop more children from losing health care coverage. Democrats made their request just two days after DeSantis himself brushed aside questions about the state's above-average rate for the uninsured at the second Republican presidential debate, calling Florida a "field of dreams." But Democrats in the House released an analysis Friday that shows that of the 524,076 Floridians who have lost coverage in the last four months, nearly 50% — or 257,901 — are individuals aged 20 or younger.
"Florida criminal justice groups fight prosecution of former felons for alleged voter fraud" via Greg Fox of WESH — New legal maneuvers are underway to stop the state's prosecution of former felons for alleged voter fraud. WESH 2 News Investigates has been talking with those groups, who claim the Office of Statewide Prosecution is being punitive, using prosecutorial punishment on individuals who previously committed crimes, served their time, and may have believed they had a genuine right to vote following the passage in 2018 of Amendment Four. "Ma'am, we have a warrant for your arrest," an officer said. "For what?" resident Romona Oliver said. "For voter fraud. You're a felon, right?" an officer said. The warrant for her and 19 others was issued by the Office of Election Crimes and Security, an agency in the Department of State, Division of Elections.
"A national anti-union group tries to capitalize on a new union-busting law in Florida" via Jason Garcia of Seeking Rents — The Freedom Foundation, a nonprofit based in Olympia, Washington, has been sending mailers with misleading claims to the homes of public-sector employees urging them not to join or pay dues to their union: "Are you tired of seeing your dues going toward funding a massive bureaucracy? Don't give them your bank account or credit card." The "opt-out" campaign is timed to capitalize on a union-busting law that the Freedom Foundation helped lobby through the Florida Legislature. The goal is to dissolve as many public labor unions as possible — and all the labor contracts they have negotiated. That would bring down wages and benefits for government workers. But it would also drag down pay for people in the private sector, too — especially for women workers.
"Rosalind Osgood refiles bill to help prisoners get in-state tuition" via Jesse Scheckner of Florida Politics — The purpose of prison, beyond punishment and public protection, is to rehabilitate offenders so they become productive members of society. Part of that process involves education. But in Florida, there's something of a hitch. Prisoners who spend a year or more behind bars lose their residency status and are ineligible for in-state tuition. Sen. Osgood wants to change that through a bill she's re-filed for consideration next year. SB 62 would allow Floridians incarcerated in a state or federal prison or who have been released from such a facility within 12 months to use otherwise expired documentation to prove their residency for in-state tuition. It would also protect them from losing their resident status for tuition purposes solely because of their confinement.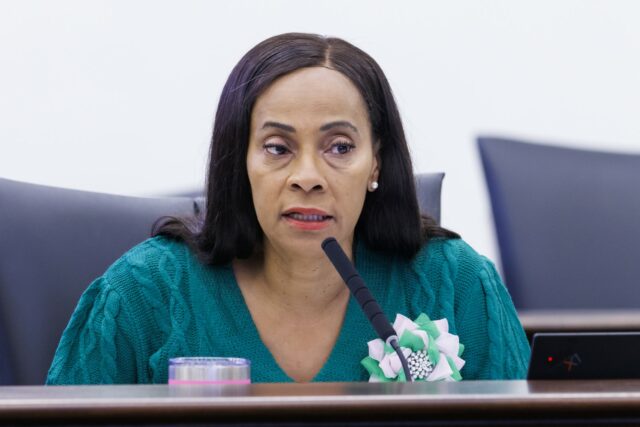 "Should Florida require use of facial recognition program to access Hurricane Idalia benefits?" via Jacob Ogles of Florida Politics — Before victims of Hurricane Idalia can access disaster benefits online, they must verify their identity. The state directs individuals to use ID.me facial recognition software. FloridaCommerce, the state agency managing many of the services, says this allows secure online activity regarding financial matters. However, critics say it requires individuals in need of critical support services to compromise their privacy. "People shouldn't be required to undergo a facial recognition process or give up sensitive private information to a private company in order to access critical government services," said Kara Gross, legislative director and senior policy counsel for the American Civil Liberties Union (ACLU) of Florida.
Florida health gets bad marks — Maybe there's a reason debate moderators last week confronted DeSantis about health care: it's ailing in the Sunshine State. Don't take our word for it; a new Harris Poll found that more than 25% of patients in Florida give the current health care system a failing grade. More than two-thirds, meanwhile, are concerned about how the health care workforce shortage will impact them. The survey and report, conducted in partnership with the American Academy of Physician Associates (AAPA), also highlighted the many barriers to health care that Floridians face. For example, on average, Floridians wait 4.2 weeks for a needed medical appointment, which is days higher than the national average of 3.9 weeks. One solution might be to give PAs greater flexibility, a concept that nearly 90% of Floridians support.
"Migration route for Parrotheads? Lawmaker wants to rename A1A as Jimmy Buffett Memorial Highway" via Christine Sexton of Florida Politics — Rep. Chuck Clemons filed a bill (HB 91) that directs the Department of Transportation to erect signs calling A1A the "Jimmy Buffett Memorial Highway" all the way from Key West (the inspiration for the hit song "Margaritaville") to Nassau County in Northeast Florida. Buffett first became a star in the 1970s with his songs which were a mix of country, folk and rock. Even though he was not born in Florida, he became ubiquitous with the Key West lifestyle and his adoring fans were called "Parrotheads." Buffett also became deeply involved with environmental causes in his adopted home state and campaigned for Democratic candidates.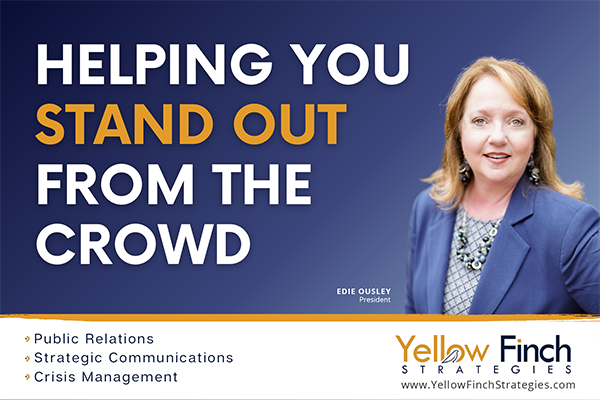 — DOWN BALLOT —
"Allison Tant to kick off House re-election campaign with Tuesday fundraiser" via Florida Politics — "Your support has been invaluable, and I can't wait to see you there for food, drinks, and a great conversation about how together, we can build a brighter future for District 9," the Tant campaign wrote in an email advertising the event, slated for 5:30 p.m. on Tuesday at Food Glorious Food in the Capital City. As of writing, no challenger has filed to run against the Tallahassee incumbent. Tant is a former Chair of the Florida Democratic Party. The campaign kickoff will add to Tant's already impressive fundraising. She's received more than $47,000 in contributions to her personal account from January through June of this year. Her affiliated political committee, People First Leadership, has collected $46,000 through the same period.
Happening tomorrow: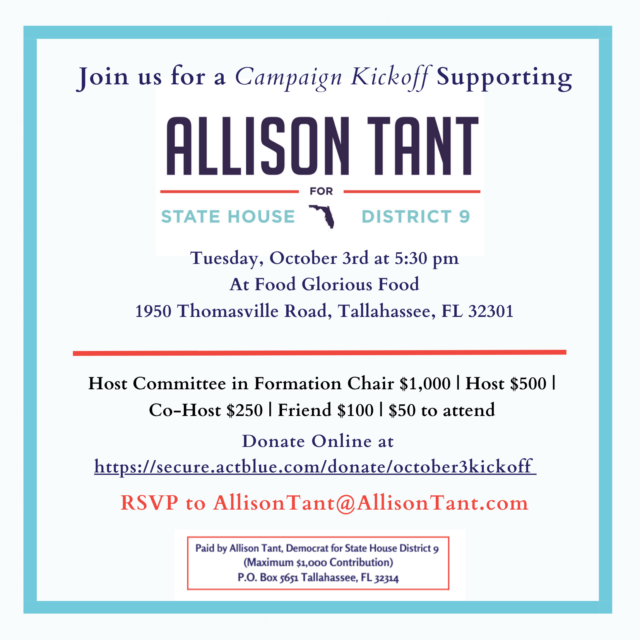 —"FHP Trooper Joe Sanchez to possible run for Miami-Dade County Sheriff" via NBC Miami
"Firefighter Ryan Cotton to seek Clearwater City Council, Seat 2" via Peter Schorsch of Florida Politics — A fire captain joins the race to unseat Mark Bunker on Clearwater City Council. Cotton, a captain with the Lealman Fire Department, has filed for Seat 2 and enters the race with early support from local conservative leaders. At 35 years old, Cotton is the youngest candidate in the race. He is a second-generation Clearwater native. "My priorities are to focus on fiscal responsibility by ensuring every tax dollar is put to its best use. Streamlining City Services to ensure our government works as efficiently as possible for the residents of Clearwater," he wrote.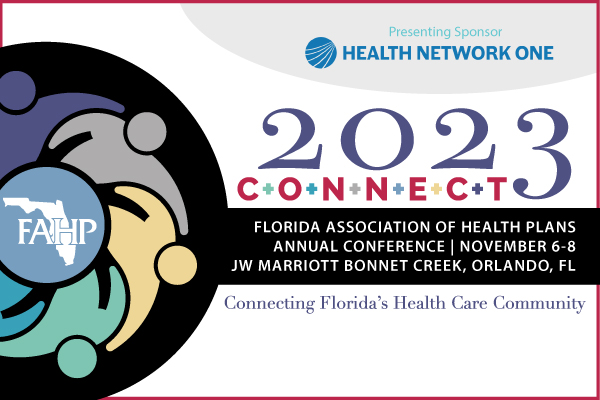 — LOCAL: S. FL —
"Miami Commissioner facing corruption charges yanked from Republican leadership post" via Max Greenwood of the Miami Herald — Alex Díaz de la Portilla, the suspended Miami Commissioner facing corruption charges, has been removed from his leadership role with the Miami-Dade Republican Party. Díaz de la Portilla was ousted as the local party's State Committee member, two weeks after he turned himself in to the Florida Department of Law Enforcement to face charges that include bribery. But his removal was unrelated, the result of what top county and state Republican Party officials said was an excessive number of unexcused absences at county party meetings. A grievance related to his attendance was filed against Díaz de la Portilla before his arrest.
"South Florida lawmakers propose cap on rent increases, AC requirements" via Jesse Scheckner of Florida Politics — Democratic lawmakers from South Florida are again seeking stronger protections for apartment tenants, including limiting how much rents can rise yearly and requiring landlords to provide air conditioning. They face an uphill battle, based on recent actions and inaction by the GOP-controlled Legislature. This month, Osgood of central Broward County and West Palm Beach Rep. Jervonte Edmonds filed twin bills (SB 64, HB 31) that would restrict landlords from raising rents more than once yearly. Rent increases would not be allowed to exceed 30% of the existing rate.
"Book bans are growing across Florida. So, a church and bookstore teamed up in protest" via Grethel Aguila of the Miami Herald — In Florida, the freedom to read is under attack, said Mitchell Kaplan, the owner of Books & Books. That's why Kaplan turned to the Coral Gables church, which calls itself "a sanctuary for banned books," to kick off Banned Books Week. Mayade Ersoff, a history teacher at Palmetto Middle School, said she joined the march so that her students — and future generations — have the opportunity to read the same books that she did. "New learners are going to learn lies about our history, and I refuse to do that," Ersoff said. "I refuse to push lies on my students. That's not what I was hired for. That's not what teaching and learning is about."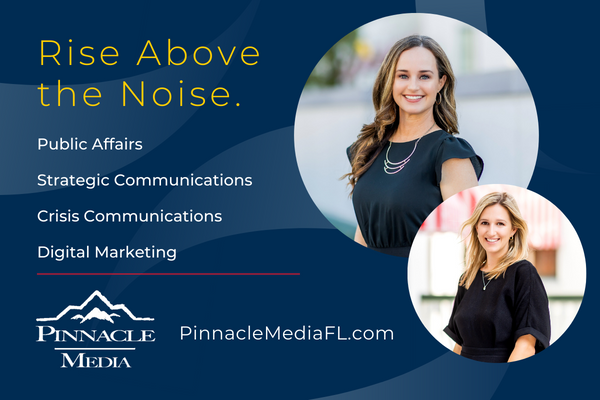 — LOCAL: C. FL —
"Winter Haven Commission: 2 races, 2 re-elected without challenges" via Gary White of The Lakeland Ledger — Winter Haven will hold elections for two seats on the City Commission in November, while two incumbents will receive additional terms without facing opposition. No one filed by the Sept. 22 qualifying deadline to challenge either Nathaniel J. Birdsong Jr. or Brian Yates. For Seat 1, incumbent Tracy Mercer will face opposition from Kim Davis. Seat 5 is open following the death of Commissioner J.P. Powell in April. Three candidates have qualified to run for the seat: Johnathon Bush, Clifton Dollison and Tom D. Freijo.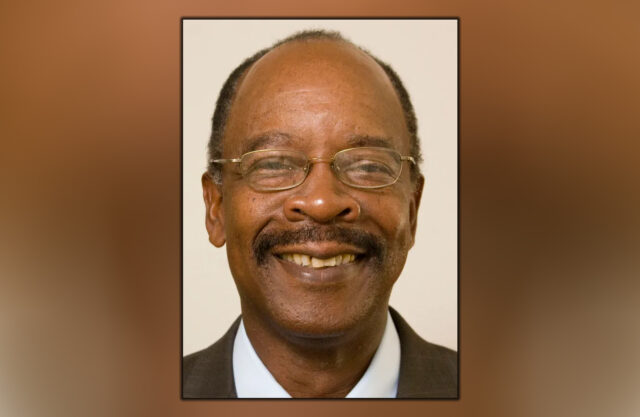 "Orlando Senator elected Chair of African American History Museum task force" via West Orlando News — During the first meeting of the African American History Museum Task Force, Orlando Sen. Geraldine Thompson was elected as Chair. The nine-member group met for the first time last week to work on the planning, construction, operation and administration of the most comprehensive collection celebrating Black history in Florida. The Task Force was appointed shortly after the passage of HB 1441, signed into law by DeSantis. The group is charged with recommending the location, content, funding mechanism, programming and sustainability measures for the Museum.
"Woman sues Disney for $50K over 'injurious wedgie' on waterslide at Typhoon Lagoon in birthday trip gone wrong" via Fox Business — A woman is seeking a hefty sum of money from the House of Mouse in a recent lawsuit following an unpleasant trip down a waterslide at Disney's Typhoon Lagoon that resulted in an "injurious wedgie." In a lawsuit filed on Wednesday in Orange County, Emma and Edward McGuinness said that they are seeking $50,000 in damages from Disney World for injuries from a 2019 visit to the resort's popular water park. The lawsuit details Emma's painful trip down the Humunga Kowabunga slide, which consists of three body tubes totaling 214 feet in length. The ride ends in a nearly five-story plummet in the dark at nearly 40 mph into the pool.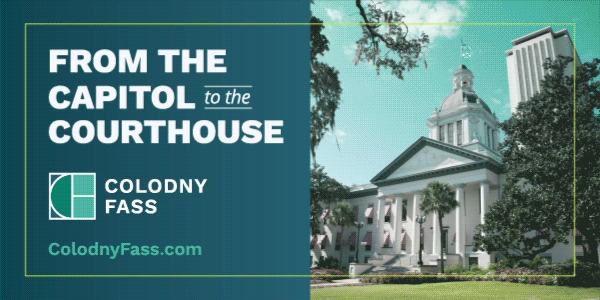 — LOCAL: TB —
"Senator's wife seeks Hillsborough school board seat" via William March of the Tampa Bay Times — It hasn't gotten much attention, but one of the candidates challenging Hillsborough School Board Chair Nadia Combs is Layla Collins, the wife of freshman state Sen. Jay Collins, a Tampa Republican, a protégé of DeSantis. If the 2022 Election that brought Jay Collins into office is any indication, Layla Collins could get huge backing from Republican Party coffers and from DeSantis, who has vowed to remake Florida school boards. Combs is one of four Pinellas and Hillsborough school board members DeSantis has said he'll attempt to unseat in 2024.
"Who will be Tampa's next Mayor? It's already the talk of the town" via William March of the Tampa Bay Times — The next Tampa Mayor's election is more than three years away, but that isn't stopping the political chattering classes from chattering and possibly some potential candidates from positioning themselves. It's unusually early to speculate, but the amount of talk among local insiders is getting hard to ignore. Names being bandied include three City Council members, Bill Carlson, Lynn Hurtak and Luis Viera, plus former Mayor Bob Buckhorn, County Commissioners Harry Cohen and Pat Kemp, Property Appraiser Bob Henriquez and former state Rep. Sean Shaw. All are Democrats. None of them rule it out. "Never say never" is a political rule of thumb. But none expressed a concrete intent. Nearly all acknowledged they've "been approached" or heard the chatter.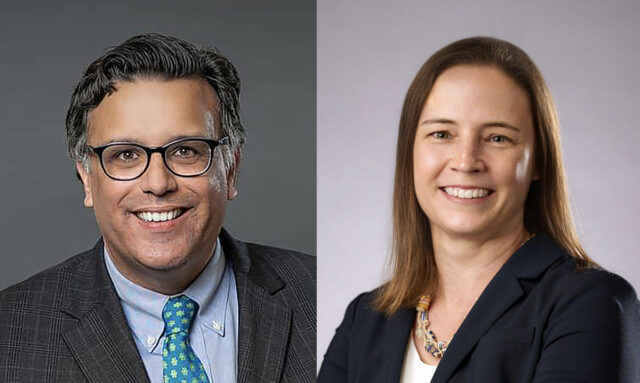 "3 Tampa Bay cities among most overvalued housing markets in America, study says" via Kevin Accettulla of WFLA — Three cities in the Tampa Bay area rank among the most overvalued housing markets in America. Homebuyers in Tampa, on average, paid a 42.81% premium for a home. That's the third highest in the country, behind Cape Coral and Atlanta. "Most cities around the country have seen prices come back in line with their local long-term pricing trends or have witnessed a slight cooling in prices over the last few months," Ken H. Johnson, a real estate economist at FAU, said. "That hasn't been the case in Florida as prices in the state have remained robust, causing premiums to rise throughout the state."
"Gus Bilirakis to again host no-cost dental care day for veterans" via Florida Politics — Those who've served may get the chance to get free dental work done in November. That's courtesy of Bilirakis and the Pasco County Dental Association. They're teaming up to once again host the annual "Stars, Stripes and Smiles" event on Nov. 3 — a week before the country celebrates its soldiers on Veteran's Day. Bilirakis prioritizes veterans' issues, including dental care, in Congress. He said in a statement that it's unfortunate that dental care through the VA is limited to those who are 100% disabled or have a direct service-connected injury impacting their oral health. The Palm Harbor Republican is working on expanding that coverage. In the meantime, however, Bilirakis in a statement thanked the local dentists who've volunteered their services, saying they're not waiting for any law to change before helping out our heroes.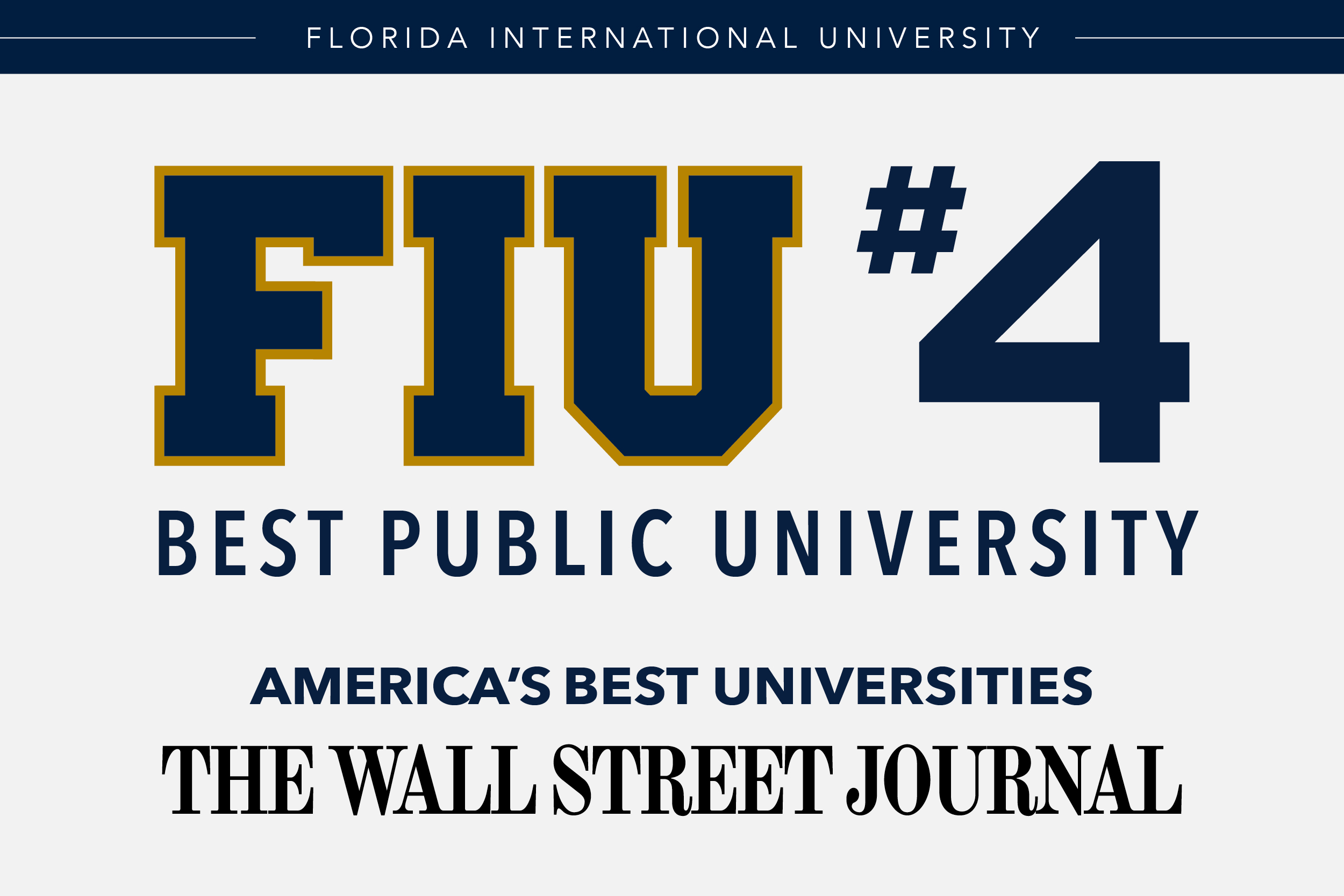 — LOCAL: N. FL —
"UNF settles dispute over post-tenure reviews for professors" via Dan Scanlan of Jacksonville Today — The University of North Florida has reached an agreement with its teachers' union over the thorny issue of post-tenure reviews for longtime professors, a new process required by the state. The agreement was reached as both sides met Wednesday, only a week and a half after union members told UNF trustees that reviewing the performance of tenured professors was an assault on higher education that could accelerate "the ongoing exodus" from UNF. UNF President Moez Limayem said the United Faculty of Florida had accepted the university's post-tenure review procedure, subject to a final review. That means that "we are now in agreement" on how to implement it after what he said had been a difficult few weeks.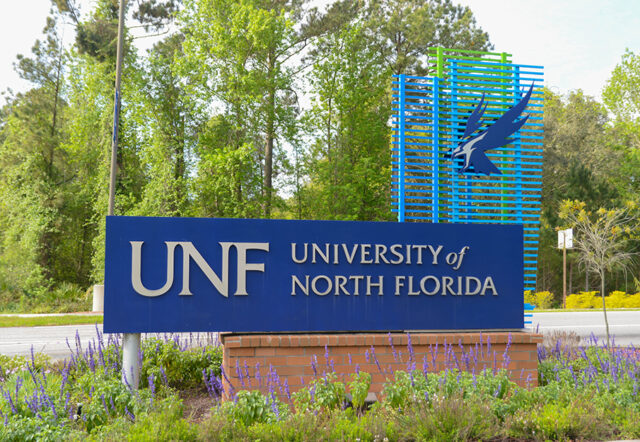 Appointed — Luis Bustamante to the Levy County Court.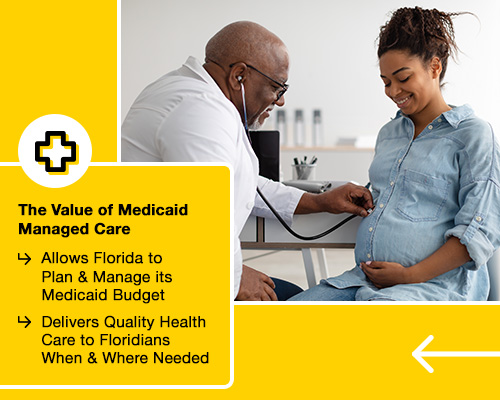 — LOCAL: SW. FL —
"The MAGAmerican dream lives in Sarasota" via Kara Voght of The Washington Post —The MAGA synergy in Sarasota County is not just about building alternative institutions that empower the faithful to live their truth, self-segregated from the mainstream, but to bring existing institutions more in line with the convictions and anxieties of the modern right. Welcome to Sarasota County, a cradle — and proving ground — for the MAGAmerican dream. The area has been solidly Republican since the 1950s, thanks in part to a steady flow of socially conservative Midwesterners migrating to the Gulf Coast for their golden years. The 21st century has seen an even redder shift: Trump won the county by 28,260 votes in the 2020 Election, just 12 years after Barack Obama lost Sarasota County by only 211. Even so, there are non-MAGA forces at work here, too. More than 44% of the county voted against Trump last election, and the recent right-wing revolutions have faced headwinds.
"After DeSantis takeover, New College attorneys threaten to sue 'alternate' school" via The Associated Press — Attorneys for New College of Florida, the traditionally progressive public liberal arts college that was taken over by allies of DeSantis as part of his "war on woke," last week threatened to sue a group of former faculty members and students who have formed an alternative online institute named "Alt New College" after departing the school following the takeover. Alt New College says on its website that it was created to teach free and subsidized courses and to preserve the original educational philosophy of the school following the "hostile takeover" of New College of Florida earlier this year. "Over time, we hope to build an online institute that helps protect other communities facing similar attacks," the Alt New College website said.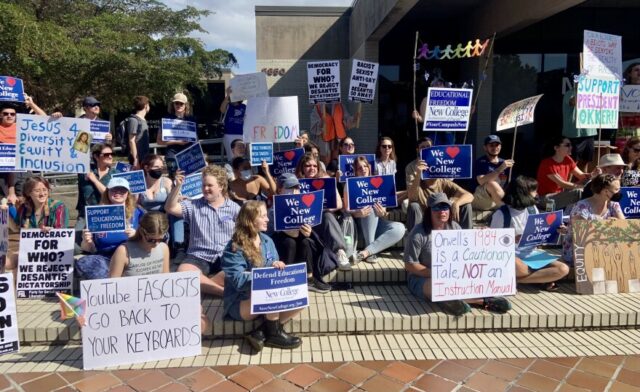 "'No enemies to the right': DeSantis ally hosts debate hedging White nationalism" via Jason Wilson of The Guardian — Conservative activist Christopher Rufo, who is a close ally of DeSantis, hosted a social media debate in which one participant argued that conservatives should cooperate with a hypothetical White nationalist dictator "in order to destroy the power of the left." Rufo, a Manhattan Institute fellow who has been a hugely influential figure in DeSantis' culture war policies in Florida, did not disagree with the sentiments. Instead, he commended speakers for their "thoughtful points" and presented the discussion as a model for engagement with "the dissident right."
"Proud Boy who disappeared before J6 sentencing found unconscious in Florida home" via The Associated Press — A member of the Proud Boys extremist group who disappeared days before he was supposed to be sentenced for his role in the U.S. Capitol riot was found unconscious by federal agents after he tried to "covertly return" to his home, the FBI said on Friday. Christopher Worrell, of Naples, was taken to a hospital where he remained on Friday. The FBI did not provide further details about his condition. Authorities had been searching for weeks for Worrell, who had been under house arrest when he went missing last month ahead of his sentencing in Washington. Prosecutors had been seeking 14 years in prison for Worrell on convictions for assault, obstruction of Congress and other offenses.
"Florida buys panther habitat that was home to indigenous leader during Seminole Wars" via Chad Gillis of the Fort Myers News-Press — The state recently acquired a large chunk of land near Devil's Garden in Hendry County in hopes of helping wildlife disperse north and out of the heart of the Everglades. The Florida Department of Environmental Protection last week secured 17,229 acres within the Devil's Garden Florida Forever Project. The total cost for the parcels was $141 million. "That area is a really critical piece when you're looking at connectivity and making sure we have a functional corridor and landscape for the Florida panther," said Meredith Budd, director of external affairs at the Live Wildly Foundation.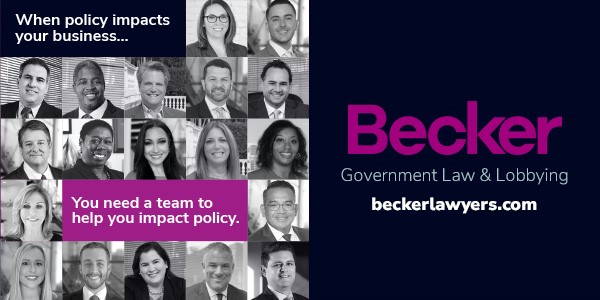 — TOP OPINION —
"One reason the Trump fever won't break" via David French of The New York Times — Arguments about the proper role of virtue in the public square, for example, or arguments over the proper balance between order and liberty, are helpless in the face of prophecies, like the declarations from Christian "apostles" that Trump is God's appointed leader, destined to save the nation from destruction.
Sometimes there's no need for a prophet to deliver the message. Instead, Christians will claim that the Holy Spirit spoke to them directly. As one longtime friend told me, "David, I was with you on opposing Trump until the Holy Spirit told me that God had appointed him to lead."
But there's one last element that cements that bond with Trump: faith, including a burning sense of certainty that by supporting him, they are instruments of God's divine plan.
For this reason, I've started answering questions about Christian nationalism by saying it's not serious, but it's very dangerous. It's not a serious position to argue that this diverse, secularizing country will shed liberal democracy for Catholic or Protestant religious rule. But it's exceedingly dangerous and destabilizing when millions of citizens believe that the fate of the church is bound up in the person they believe is the once and future President of the United States.
That's why the Trump fever won't break. That's why even the most biblically based arguments against Trump fall on deaf ears. That's why the very act of Christian opposition to Trump is often seen as a grave betrayal of Christ himself.
— OPINIONS —
"Why Republicans are so scared of Trump" via Mona Charen of the Tampa Bay Times — The stench of political violence has been attached to Trump from the start. In 2016, CNN's Jake Tapper invited him to denounce the KKK. Trump declined. In the first year of Trump's tenure, threats against members of Congress quadrupled from fewer than 900 to 3,930. As Time magazine reported in 2022, "Threats against federal judges have spiked 400% in the past six years, to more than 4,200 in 2021." A survey of Mayors found that 1 in 3 had considered resigning due to death threats, and 70% reported knowing of someone who chose not to run for office out of fear for their personal security.
"For America to become energy-dominant, we need President DeSantis" via Kevin Stitt for The Washington Examiner — Energy production is the backbone of the Oklahoma economy. For over a century, my state has been a leader in helping Americans achieve energy independence. But America's domestic energy industry is under attack. Biden and the environmental activists that staff his administration are undertaking a full-frontal assault against energy-producing states like mine. Biden has succumbed to pressure from environmental groups and has left us reliant on often hostile nations for our country's energy needs. We need a President who is going to increase and expand domestic production of oil and gas. DeSantis understands that we need to unleash American energy and reverse harmful Green New Deal policies that Biden continues to push.
"Books are written to be read, not banned" via Mitchell Kaplan of the Miami Herald — The truth is we've never been through a period as perilous as right now. We in Florida are ground zero in this new, cynical attempt to gain and maintain political power by weaponizing books. Our Governor, Legislature, School Boards, Mayors and City Councils are enacting laws and edicts meant to distort the histories and silence the voices of so many. Beginning Oct. 1, we celebrate Banned Books Week, a national effort to galvanize communities across the United States through activities and events at independent bookstores like ours and libraries everywhere.
"Corporate corruption fuels Florida's anti-immigrant policies" via Tessa Petit of the Orlando Sentinel — Immigration has historically been a hot-button issue in American politics, but since the election of Trump in 2016, it has increasingly been used as a tool to divide the nation along ideological lines. While some argue for comprehensive immigration reform that addresses the needs of both migrants and the nation, others seem more interested in wielding immigration policy as a partisan weapon. DeSantis' Migrant Relocation Program is a case in point, displaying a disconcerting trend in contemporary American politics in which immigration is weaponized to benefit partisan interests while undermining the needs of both immigrant families and the economic well-being of the country.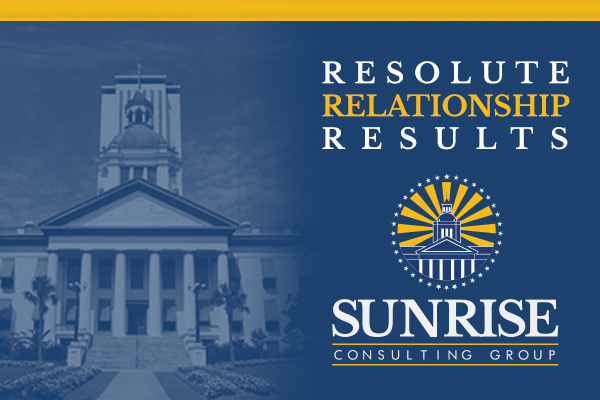 — INSTAGRAM OF THE DAY —
— ALOE —
"Disney's Wish trailer shatters Frozen 2's decade-long viewership record" via Ali Valle of MovieWeb — In the ever-evolving world of animation and cinematic storytelling, a fresh, invigorating breeze wafts in as Disney's latest cinematic offering, Wish, carves a significant mark. The film's trailer, released on Sept. 27, has not only stirred boundless excitement but also smashed viewership records, amassing a staggering 66.5 million views across various platforms. This remarkable achievement has set a new milestone, making it Disney's most-viewed trailer since Frozen II, becoming the most-viewed trailer of the decade for the esteemed franchise's animated releases.
To watch the trailer, please click on the image below:
"Beyoncé in final talks to release 'Renaissance' concert film through AMC Theatres following Taylor Swift deal" via Variety — A film based on Beyoncé's smash hit Renaissance World Tour is in advanced talks to distribute directly to AMC Theatres. Mega-agency CAA held preliminary talks with major studios and streamers two weeks ago, another source added, urging the players to be ready to bid on a project the icon has been developing for years, one that would include elements of her top-grossing 2023 live shows, parts of the long-gestating visual album "Renaissance" and a documentary-style account of making the record and building out the tour. The project is eyeing a Dec. 1 wide release, added insiders. By its end, the Renaissance World Tour is expected to gross close to $560 million in ticket sales, reports said.
— HAPPY BIRTHDAY —
Happy birthday to Jennings Lawton DePriest, Pinellas Sheriff Bob Gualtieri, and Bob Lotane.
___
Sunburn is authored and assembled by Peter Schorsch, Phil Ammann, Daniel Dean, Ryan Nicol, Jacob Ogles, and Drew Wilson.